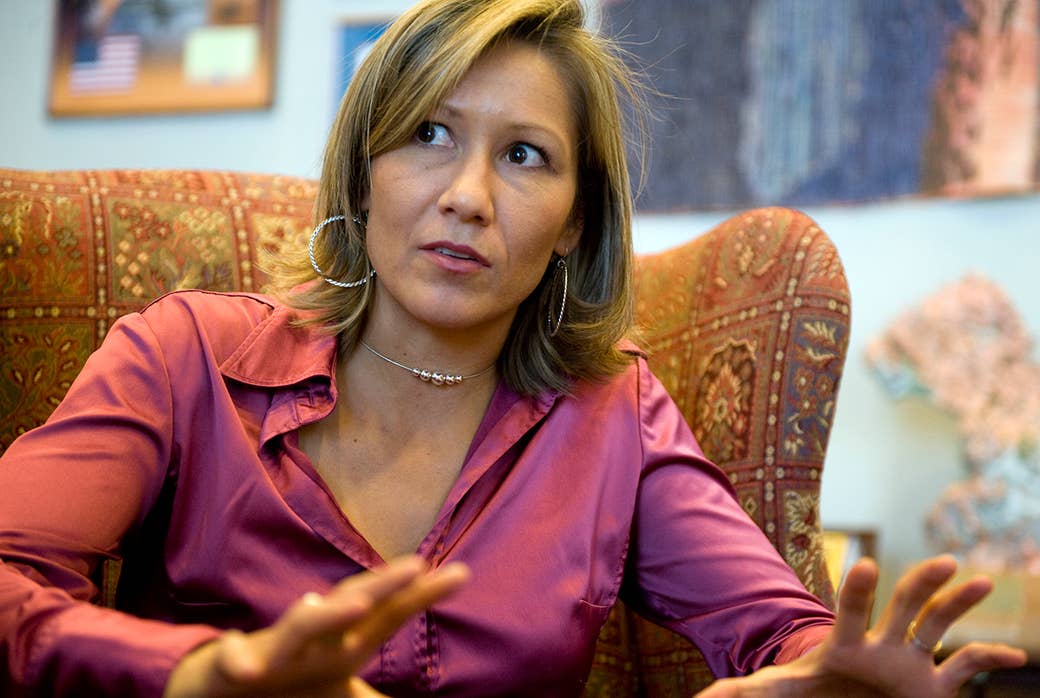 At the gym behind Our Lady Queen of the Americas Church in Washington, D.C., there is a regular 6 a.m. basketball game. Former felons, brought in by a nonprofit, play with a revolving set of people like economist Ike Brannon (worked for John McCain), Reggie Love (Obama's former body man), and a secret service agent — real athletes.
For a long time, there was another regular player: Amanda Renteria, now the political director for Hillary Clinton's campaign. A basketball walk-on at Stanford (and a varsity athlete in two other sports), Renteria developed a reputation over eight years of 6 a.m. games.
"If someone gives a really hard foul, that's kind of intentional, we still refer to it as 'the Renteria,'" said Bryan Weaver, who works with at-risk individuals and brings the former felons in his nonprofit program to the game, and is also married to Democratic strategist Maria Cardona.
The games are serious, Weaver makes clear, with their most recent rivals being Dan Pfeiffer's White House team. ("We hated them so much," he said.) And in a competitive crowd, Renteria stood out. "She hit Pat Summit in the face in warm-ups between Stanford and Tennessee and she wore it as badge of honor," Weaver said.
"I've played basketball in jail and she's the toughest, meanest person I've ever played with," he said. "She's this pretty Latina who comes on to the floor and is immediately an assassin."
Renteria has since left Washington for Brooklyn, and traded this kind of competition for an even rougher one — the political director role on a campaign with make-or-break expectations. That role has been the subject of much consternation, gossip, and expectation among Latino politicos. They called for Clinton to include Hispanics in her inner-circle and in decision-making roles to ensure that Latino voters are a priority — and now the time has come for Renteria to deliver.
Her portfolio — which includes keeping Democrats on Capitol Hill, Latino groups, labor, and others happy — isn't an easy one, though. Immigrant activists have made life difficult for Democrats over the last few years. Unions have been sharp opponents to President Obama's trade agenda, a tension that seems unlikely to abate. And there is also this: Renteria is new to the world of a candidate who has more than two decades of national political connections.
The opening strategy, however, seems to be working. In interviews with labor operatives, Capitol Hill lawmakers and staffers, and Latino activists, Democrats praised Renteria's early outreach and noted her deft ability to forge meaningful relationships on Capitol Hill, something the Obama White House has never quite prized. ("I know Amanda's coalition building skills and impeccable qualifications will be a tremendous asset to Secretary Clinton's campaign," House Minority Leader Nancy Pelosi said in a statement to BuzzFeed News.)
Xavier Becerra, chairman of the House Democratic Caucus, told BuzzFeed News he's been impressed with the efficiency the campaign has showed in communicating with him and his colleagues, for instance. Becerra has an established relationship with the fellow Californian, dating back to her time as Sen. Debbie Stabenow's chief of staff, the first Latina to serve in that role on the Hill. "They're in touch with a number of us, whenever the secretary is going to a particular area, and we've been able to give feedback on her visits to various places," he said.
Michael Trujillo, Renteria's campaign manager last year, said he only begrudgingly met with Renteria after he was contacted by Emily's List — but was immediately won over. (He also had his own basketball story: In October of last year, she walked onto a court between games — in a dress and heels — and hit eight three pointers before missing one. With an audience of bewildered men looking on, she sunk another seven.) "The power of Amanda is that in five minutes you're going to want to help her and by doing that you're helping the Clinton campaign," he said.
Outreach has been the primary early effort and Renteria's focus seems to be two-fold on the constituency level: labor leaders and immigration activists. Officials from AFL-CIO, SEIU, the American Federation of Teachers (AFT), the American Postal Workers Union, and the National Education Association (NEA) have all met with Renteria in recent weeks.
Carrie Pugh, NEA political director said she bonded with Renteria because they are both mothers. "She was incredibly gracious and interested in our issues, which is great in and of itself," she said.
And her biggest impact has been felt in Clinton's most detailed policy comments to date, on immigration last month in Nevada.
Multiple campaign officials said she didn't lead the immigration event, where Clinton tacked hard to the left, fully endorsing a path to citizenship for undocumented immigrants and saying she would go further on her own to protect parents of undocumented youth brought to the country as children (so-called DREAMers) from deportation, if Republicans don't work with her on a legislative overhaul. But Renteria was the one meeting with immigration and Latino leaders and she played a major role in translating demands she was hearing from skeptical immigration activists, hardened by a long fight with the Obama administration, into specifics by Clinton, in the early stages of a campaign that hasn't been big on them.
Trujillo said it was the Clinton campaign's "way of putting calamine lotion on those burns, that's why it feels so good."
"For me since the very beginning I've been very surprised she was reaching out," said high-profile DREAMer Erika Andiola. "On her end it's pretty smart, not only talking to the usual beltway folks but reaching out to the actual DREAMers."
And if Clinton's words sounded like something off an activist's wishlist, it's partly because an activist of whom the campaign thinks highly enough that they hired her, was consulted. Lorella Praeli, a veteran of the 2014 battle for Obama's executive actions with United We Dream, who often took on administration officials in private White House meetings, joins the campaign in June, but gave feedback ahead of the immigration event, a source told BuzzFeed News.
To Jose Parra, a former senior advisor for Harry Reid, what the campaign did on a Tuesday in Nevada was a major risk, but one that paid off, and likely lifted her currency within the campaign.
"On Monday it probably wasn't that rosy," he said. "It could have backfired, I wouldn't be surprised if there were people pushing back. But campaigns are built on those tense moments, when it's a 50/50 thing, do we go or not?"
Renteria's versatility as a senior staffer who can also serve as a high-profile Latina surrogate has also been on display since the campaign's launch. She was on, for instance, Al Punto on May 10, a Spanish-language Meet The Press analogue with influential anchor Jorge Ramos after Clinton's immigration announcement. When House Republicans recently torpedoed an attempt by Arizona Democrat Ruben Gallego that would have allowed DREAMers to serve in the military, she was there again, releasing the campaign's comment.
While a major cog in the operation now, a senior staffer in the campaign said it was Clinton and not Renteria who did the selling when the two met in New York City in February to discuss the position. Democrats from the Democratic Congressional Campaign Committee and California state party had both also courted her to take another shot at a Congressional run in a more-favorable presidential election year.
If Renteria's role has heartened outside observers for not being limited to Hispanic-specific outreach, though, her failed congressional campaign serves as a cautionary tale for the conventional but over-simplified "demography is destiny" calculus.
Renteria, the daughter of Mexican migrant farmworkers, lost by 17 points to Republican David Valadao, in a Central Valley district in California that is 70% Hispanic. In a wave election for Republicans, Valadao stood out as one of three House Republicans who supported a legislative overhaul solution proposed by Democrats in 2013.
Asked to appraise Renteria as an opponent, Valadao's communications director Anna Vetter said she couldn't be of much help, then offered this in an email: "If Amanda Renteria is as good at her role on Hillary Clinton's campaign as she was at running for Congress last cycle, then we look forward to having a Republican in the White House in 2016."
Democrats argue it was a terrible cycle for the party and Renteria shouldn't shoulder blame for the loss.
"It was tough getting folks out, I don't care what part of the country, folks stayed home," Becerra said. "She did a remarkable job against an incumbent."
Democrats who followed the race say Valadao, who is Portuguese, did not do anything to dissuade voters who believed he was Latino, as well. They also said Obama's delay of executive action on immigration until after the election sapped enthusiasm from Hispanic voters.
But while early returns on both Renteria and Clinton's immigration positions are positive among Democrats, they say minefields must be avoided as the campaign progresses. In the case of Renteria, they point to something familiar: A Latina political director for a Democratic presidential campaign, Katherine Archuleta, who held the position for Obama in 2012. They say Archuleta was political director by title, but was not actually making those decisions for the campaign.
"The concern has been her becoming another Katherine," said a prominent Nevada Democrat.
Archuleta was the Latina face of the Obama campaign, the source said, having meetings with Latino leaders, though it was known that she didn't have influence in guiding campaign strategy. With Renteria, the question is "When shit hits the fan will she have influence?" the Democrat said.
On immigration more broadly, the Nevada Democrat said activists have "Obama PTSD," citing the 2014 immigration battle and don't know if they can trust Clinton.

The senior Clinton staffer acknowledged this feeling among advocates saying Americans are feeling distrustful of anyone in government and anyone running for office, and are tired of hearing promises. And so on this issue, the campaign, the official said, is looking forward to proving that it stands strong on the stances that have been outlined.
In a conversation with BuzzFeed News last month, Renteria called it the difference between merely seeking to create a "coalition to win" the election "versus a coalition to make a difference" on policy issues, like immigration.
But those who know Renteria say, make no mistake, she wants to win badly.
"People underestimate her," said Weaver, her longtime basketball teammate. "They're in for a rude awakening when the competitive edge comes out. She plays politics the same way, it's an elbow sport with her and she really is resilient."