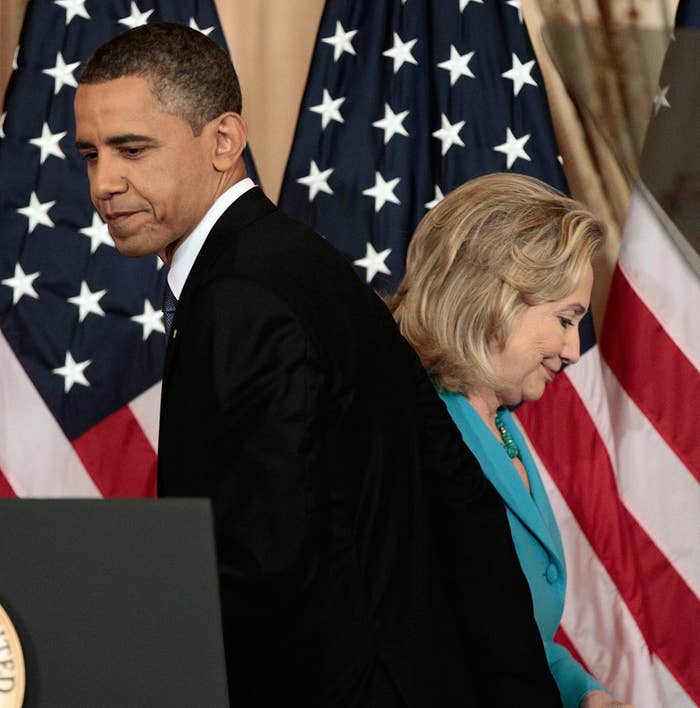 Hillary Clinton said she would be more lenient in enforcing deportation laws than the Obama administration has been, in an interview with Telemundo that airs Monday evening.
She said President Obama pursued a strategy of being tough on immigration enforcement in order to get Republicans to work with him to change significantly current immigration law — a strategy that clearly didn't work.
"I think that strategy is no longer workable," she said in the interview. "So therefore I think we have to go back to being a much less harsh and aggressive enforcer."
Clinton was asked by Telemundo how she would — as she has promised — go further than Obama on immigration, after saying she is looking for every legal way to keep families together. In the interview, she said deportation law has been enforced "aggressively" during the Obama administration.
While Clinton said felons and violent people still need to be dealt with, she said she has met the wives and children of people who were deported over minor offenses. She reiterated her call for "comprehensive immigration reform" and a path to citizenship, but said, "In the meantime, I'm not gonna be breaking up families."
"And I think that is one of the differences," she continued. "But I totally understand why the Obama administration... did what they did under the circumstances. But I think we've learned that the Republicans, at least the current crop, are just not acting in good faith."
Immigration advocacy veterans and DREAMer activists both said Clinton's comments represent a new and welcomed front for her as she continues to round out an immigration policy first outlined this spring in Nevada.
Frank Sharry of America's Voice said her characterization of the White House strategy is accurate, recalling an August 2009 meeting at an auditorium in the Eisenhower building where Obama told 150 to 200 assembled advocates, "I am not going to be shy about enforcing our current immigration law." He said the idea was to enforce the law aggressively in order to build support from Republicans.
"What Hillary is saying is we tried that and it failed, it's separating families," he said. He cited a recent study by the Migration Policy Institute found that of the 11.3 million undocumented immigrants, 8.7 million would be considered low priority for removal under Obama's executive actions, which are held up in court.
In his view, Clinton is saying, "If we're less harsh, most undocumented immigrants should be able to live without fear of deportation."
United We Dream (UWD) hit Clinton for receiving money from private prison corporations but acknowledged that her comments are a big deal and something it has been pushing all of the candidates to recognize.
"Our next President should be unapologetic about stopping deportations, and not excuse the Obama administration's record breaking deportation legacy as a reasonable political strategy," said Cristina Jimenez, UWD director.
National activist Erika Andiola, who is informally advising the Bernie Sanders campaign, hit Clinton for constantly "evolving" on immigration issues but said she agrees that this was a "horrible" strategy by Obama.
"It sounds like a good step from all the Democratic candidates to recognize that a record number of deportations is not the answer," she said.
In the Telemundo interview, Clinton wouldn't commit to focusing on immigration in the first 100 days, but said she would be "immediately looking for legislation to try to move toward comprehensive immigration reform."
She also continued a strategy of casting Donald Trump and the rest of the Republican Party as one in the same, calling the GOP frontrunner insulting for his comments about "Mexicans, immigrants, Muslims, women."
"I believe that the inflammatory, hateful rhetoric coming from Republican candidates running for the White House — is mobilizing the Hispanic community, as it should," she said, adding that she wants to be a voice for Latinos, particularly women.
As the campaign has launched Latinos for Hillary now during Hispanic Heritage Month, it has sought to ramp up its engagement with the Hispanic community but is also focused on mobilizing and speaking to Latinas, who are more likely to vote and bring their families to vote.
"And I'm gonna be calling out corporations," Clinton said. "You know, if you are a corporation that is selling to Hispanic consumers, and we know women do most of the buying in any part of our economy, then I'm gonna be saying, 'Why don't you have any diversity on your board?'"
Latinas start a lot of businesses, but don't get the credit, she said.
"So on businesses, on wages, on moving up the business ladder, I'm gonna be a very strong voice for Hispanic women."