Hillary Clinton Reaches Out To Meet With Hispanic Business Owners In Early States
Clinton's political director Amanda Renteria reached out to the Hispanic Chamber of Commerce to set up meetings with Latino business owners in early states, BuzzFeed News has learned.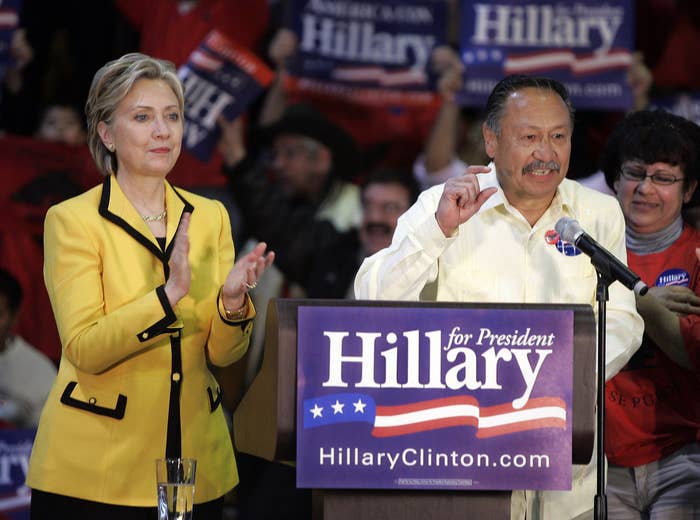 Hillary Clinton has reached out to meet with Hispanic business owners in the early stages of her campaign.
Clinton's political director, Amanda Renteria, played phone tag with the U.S. Hispanic Chamber of Commerce president Javier Palomarez for a week before connecting with him Saturday to deliver the request: events with the candidate and Latino business owners and community leaders, according to a source familiar with the conversation.
Palomarez confirmed the conversation in an interview with BuzzFeed News.
"The conversation was early in the process to give guidance and direction," Palomarez said. "She said the campaign will be deliberately and openly engaging the Hispanic community."
On the call, he said he got the sense that the outreach to Hispanic business owners is part of a focused approach towards local markets, but isn't just about connecting with the community in a state like Nevada that has a large Latino population, but also in states like Iowa and New Hampshire, where you might not expect the political need to do so. "We don't want to leave anyone out. This is for everybody," he said was Renteria's prevailing message.
"Hillary Clinton has a long, proven record of working with and for the Hispanic community to strengthen our families and our communities," Clinton campaign spokesman Jesse Ferguson told BuzzFeed News in an email. "Strengthening the Hispanic community is a top priority for Hillary, so her campaign began outreach on day one of the campaign."
That outreach puts an early spotlight on Renteria, who was the first Latina chief of staff in the U.S. Senate and a 2014 congressional candidate, and her role behind the scenes as the campaign gets underway.
Renteria also went on MSNBC Tuesday to talk about the campaign rollout. She came prepared with a response to a jab by Marco Rubio during his Monday presidential announcement, where he called Clinton the candidate of "yesterday."
"She's talking about the future, and when you do look at yesterday, you look at all the fights she's been waging long before this campaign," Renteria said. "Whether it was helping kids make sure that they got education, disabled kids, and she went door to door. She's been fighting for healthcare for kids and for moms and for women. That's who she is, and what we're working on now, what she's working about and talking about is the future."
Palomarez stressed that the Hispanic Chamber of Commerce works with both parties.
On April 29, the organization will hold a question and answer session with Ted Cruz and Hispanic business executives in Washington and is also trying to schedule Maryland Gov. Martin O'Malley at the same event, who has suggested he will run against Clinton for the Democratic nomination.
The growing electoral influence of Latino voters means Hispanic issues will never be too far from the presidential conversation. This week the Clinton campaign clarified her stance on licenses for undocumented immigrants, saying she supports them, a departure from what is considered a 2008 miscue, when she released a statement before a debate saying she would not support licenses in favor of an immigration overhaul.
O'Malley hit Clinton for changing her stance in a speech at Harvard Thursday.
Still, Clinton did not lose to Obama in 2008 because of the Latino vote — in fact she beat him 2-to-1 among the constituency, according to Pew, and has a long history with them dating back to the 1970s.
Those ties are expected to be put to the test if she becomes the nominee, with announced candidates like Rubio and presumed candidate Jeb Bush also expected to push for Hispanic support.