Hillary Clinton On Charleston Church Shooting: We Have To Face Hard Truths About Race, Violence, And Guns
Clinton, speaking at a conference of Latino elected officials, also made the case for preschool as part of her pitch to Latino voters.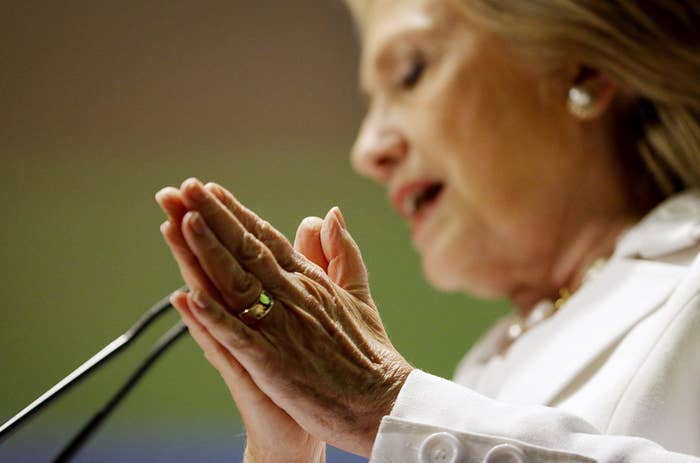 LAS VEGAS — Calling it a "massacre" that broke her heart, Hillary Clinton said the country must be honest with itself and face hard truths about race, violence, and guns during her remarks at the NALEO conference of Latino elected officials on Thursday.
"How many innocent people in our country, little children, church members, movie theater attendees, how many people do we need to see cut down before we act?" she said.
Clinton visited a technical school in Charleston, South Carolina, on Wednesday and said she felt great about the city and country after meeting the students. But when she arrived in Las Vegas, she heard about the church shooting, in which nine black worshipers were killed while praying by a lone gunman, and said the shock and pain of the crime strikes deep.
She invoked Martin Luther King Jr., who after the bombing of the 16th Street Baptist Church 50 years ago, told the victim's families "you do not walk alone."
"Today we say to the families of Mother Emanuel and people of Charleston, 'You do not walk alone.' Millions of Americans regardless of race, creed, and religion are walking with you in grief, solidarity, and determination," she said. "We will not forsake those who have been victimized by gun violence; this time we have to find answers together."
Returning to the state where she made detailed comments on immigration policy, Clinton also spoke about the issue and early-childhood education — which she argued is even more important because Latino children disproportionately do not receive preschool education.
Clinton has embraced a more liberal campaign than many expected early on and Latino voters are a big part of that calculation. During her previous visit to Nevada, Clinton tacked hard to the left on immigration, calling for a path to citizenship for undocumented immigrants, and telling a roundtable of DREAMers that she would pursue executive action if Congress once again does not pass legislation.
She said she will fight any effort to deport DREAMers, but received the loudest cheer of the day on Thursday when she reiterated her pledge to do executive action on her own.
"If Congress continues to refuse to act, as president I will do everything possible under the law to go even further than President Obama has attempted to do," she said of the president's administrative actions, which are held up in court.
Clinton was the second presidential candidate to address the group of Latino elected officials, after Ben Carson did Wednesday afternoon. Bernie Sanders will be addressing the convention Friday. No other Republican candidates attended the event, with many citing scheduling conflicts.
Clinton's campaign has made a number of high-profile Latino hires, like National Political Director Amanda Renteria and Emmy Ruiz and Jorge Neri, the duo that helped Obama get 70% of the Latino vote in Nevada in 2012.
On Wednesday, overlooking Las Vegas from the 22nd floor at the Aria Resort, Renteria spoke to a fundraiser for the Latino Victory Project, a Democratic fundraising effort. The audience included DNC's Henry Muñoz, California Secretary of State Alex Padilla, and Rep. Loretta Sanchez, who is also running for U.S. Senate against California Attorney General Kamala Harris.
She spoke about how important Nevada is for Clinton and singled out Ruiz, the state director, to cheers from the donors and elected officials.
On Thursday, Clinton said she has known DREAMers throughout her life, even before the term for undocumented youth brought to the country as children existed, and said she was taking a stand "right here and right now" against divisive rhetoric about immigrants.
"Immigrants who came here without papers but came here with a burning desire to make the most out of their God-given potential," she said. "So many people like the parents of DREAMers who deserve a chance to stay and I will fight for them, too."