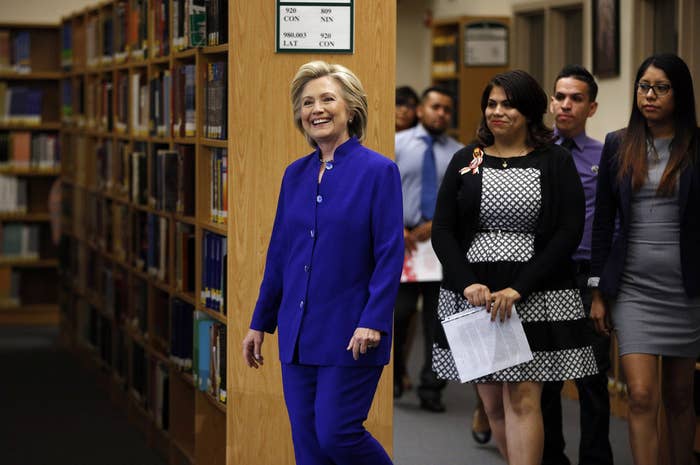 LAS VEGAS — Hillary Clinton tacked hard to the left on immigration at a campaign event here in North Las Vegas, outlining an aggressive and detailed policy agenda that called for a path to citizenship, protections for parents of children brought to this country illegally, and full-scale changes to the immigrant detention system.
Clinton's proposals for the immigration system— and the government's approach to undocumented immigrants — would expand President Obama's efforts, and go even further.
It was a noticeably progressive vision from Clinton, who has been a target of the activist community since leaving her post at the State Department. Last year, when she refused for weeks to articulate her stance on Obama's executive actions, protestors trailed her events, staging a series of loud and unannounced disruptions.
Her comments on Tuesday afternoon, made at a small "roundtable" discussion with students in the library of Rancho High School, are among her most thorough on domestic policy since the start of her presidential campaign last month.
Six DREAMers — or undocumented youth brought to the country as children — sat alongside Clinton at the Nevada event, her first in the key primary state. Each was a student at Rancho High and a recipient of DACA, the Deferred Action for Childhood Arrivals program that Obama launched through executive action.
When she opened the discussion, Clinton told the students she would like to "do more on behalf of parents of DREAMers who are not necessarily included" in the current deferred action plan — to the consternation of activists who pushed strongly for that measure to be included in Obama's actions last year.
As president, Clinton said, she would do everything possible to "avoid family breakup" — a "terrible experience" that isn't "smart" or "right."
Calling for full changes to the detention system, Clinton advocated broadly for "more humane treatment" — and specifically for a "higher level of care" for children, LGBT people, and others who could be considered more vulnerable in large facilities.
Clinton also promised to support and expand Obama's executive actions, pushing to allow more undocumented immigrants the right to apply for work permits and protections. She repeated her call to Congress for a comprehensive bill and a "full and equal" path to citizenship.
But if Congress does not undertake legislative changes, Clinton said she would pursue more executive actions herself. "I would do everything possible under the law to go even further," she said.
The appearance in Nevada instantly rippled through the community of activists at the heart of the immigration debate — many of whom followed the event by video and social media. They said on Tuesday afternoon that Clinton showed she would draw sharp contrasts to Republicans who have been more receptive to immigration changes, including former governor Jeb Bush and Sen. Marco Rubio.
"This is big," said Frank Sharry, an activist who leads America's Voice and worked closely with the Obama administration on their 2014 executive actions.
"Obama's executive actions cover some 5 million people, but leave out at least as many," he said. "She's saying she'll devise a process for them to apply — DREAMers' parents, LGBT families, and others with strong ties [to the country] will be able to get relief" from deportation.
Erika Andiola — a DREAMer activist whose high-profile return from Congress, where she was staffer, to Arizona to fight her mother's deportation garnered national headlines — said Clinton's comments were an encouraging sign.
If, as Clinton suggested, she would move to protect the parents of DREAMers, Andiola's mother could be protected from deportation, she said.
"This is a really great step recognizing what she could do," Andiola said. "I'm happy that this first step was greatly taken, now it's about making sure that accountability is there."
Cristina Jiménez, with the group United We Dream, said that the 2016 election may stand out as the first time in history that the country will be able to have a substantive debate on immigration policy and executive actions. "Full and equal citizenship for our communities, the protection of existing executive actions on immigration and a commitment to expand that relief were good to hear," she said.
Still, many activists mentioned Bush, the former Florida governor who supports "earned legal status" — rather than Clinton's endorsement of "full and equal citizenship."
Activists have said they will continue to pressure Bush on immigration — a demand he may find difficult to entertain in the midst of a competitive Republican primary.
Some, like Ali Noorani with the National Immigration Forum, who works with evangelicals and law enforcement, attributed Clinton's move to pressure not just from the left, but also from the right.
"It's great that Hillary is demarcating and differentiating herself between Jeb and other Republicans," he said. "But she's moving because leading Republicans are moving. She's moving because there is real pressure, not necessarily pressure from the left, but pressure from the right. That's the difference here."
He dinged both parties, adding that in 2008, Democrats had no reason to move to the left on immigration and Republicans have not been responding to the nation's interests at all, until recently.
Clinton's mention of family detention issues, which Noorani previously called a "scar" of the Obama administration, showed him she is responding to the fact that conservative faith leaders believe families should stay together, even if they're in deportation proceedings. "Somebody in her world is giving her a sense of how to approach this," he said.
That could be her political director, Amanda Renteria, who was working the phones speaking to immigration leaders even before the campaign was announced, to understand what community leaders wanted to see from Clinton.
That ask included many issues, like asking for an end to local police working with immigration enforcement agents in their jails. But it also called for Clinton to move away from her at times wooden, awkward tones on immigration last year during her book tour to a place with a more welcoming, inclusive tone focused on families, activists said.
Of course, cautious optimism from activists doesn't mean they are hanging it up and going home to put up Clinton 2016 lawn signs.
The National Day Laborer Organizing Network, or NDLON, hardly had a positive word for Clinton, though they acknowledged her comments were surprising.
"It is also an indication the Clinton campaign is concerned about the prospect of a pro-reform candidate winning the GOP nomination," Chris Newman said.
He argued that by "moving so far to the left so quickly, she has inadvertently increased pressure on the Obama administration to take additional significant action on deportation and detention in his remaining two years."
Jiménez already had a new ask, as well, calling on Clinton, if elected, to take immediate executive action.
"Saying that executive action will happen only if Congress fails to act could set up a long blame game between the president and Congress which we've seen before," she said.
Clinton concluded the event with a vow to the DREAMers to her left and right.
"I pledge to you that I will do everything I possibly can to make this an issue in the campaign," she said, "but more importantly, when I'm president, to put it at the top of my priority list."
It was a promise that Betsaida Frausto, one of the participants, said she will take to heart. Frausto is a recipient of DACA. She has the highest grade average of her peers — a 4.8 — and said she dreams of going to Yale and becoming a doctor.
"Before, my future was unknown," Frausto said after meeting Clinton. "Now I feel more secure. At the bottom of my heart, I know that she gets it."
"If there's a person who can help, it's her."