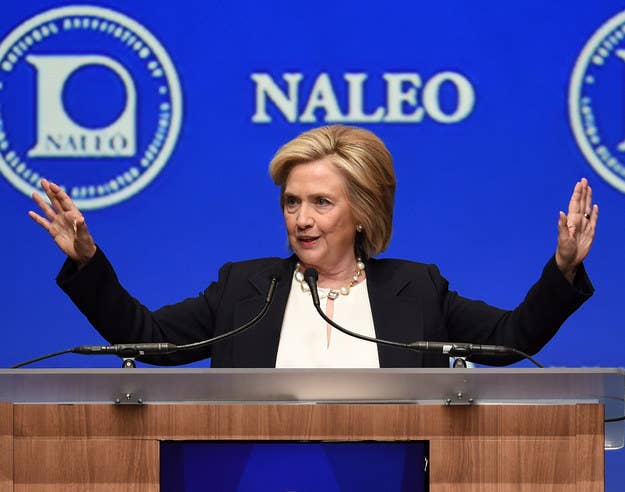 Hillary Clinton has hired Betsaida Alcantara as director of media planning for her presidential campaign, BuzzFeed News has learned.
Alcantara, 31, served as a senior advisor to Julian Castro at the U.S. Department of Housing and Urban Development (HUD) where she headed the communications team. HUD staff was notified in a memo sent out by Castro on Monday.
In her role with the Clinton campaign Alcantara will work on strategic planning centered on Clinton herself, helping to plan her interviews and media events, as part of a team led by Kristina Schake, who helped shape Michelle Obama's image. Schake, for example, had Obama go on late night television with Jimmy Fallon and make a trip to a suburban Walmart in Virginia.
In his email to staff obtained by BuzzFeed News, Castro said Alcantara has been instrumental in "helping reach people where they are."
"From a segment on The Daily Show with Jon Stewart to HUD's Twitter Town Hall with Zillow, she has done great work to engage the people that we serve, stakeholders and the general public," he wrote.
Castro has often been floated as a possible vice presidential nominee to join Clinton should she win the Democratic nomination, most recently by DNC finance chair Henry Muñoz and former HUD Secretary Henry Cisneros.
Alcantara, who is the first in her family to graduate from college, was born in the Dominican Republic and grew up in New York. She worked in the Obama administration for six years, with stints at the EPA and GSA as well.
Alcantara is the fourth high-profile Latina hire by the Clinton campaign, joining national political director Amanda Renteria, Nevada director Emmy Ruiz and director of coalitions press Xochitl Hinojosa.
On Friday, Univision anchor Jorge Ramos announced that his daughter Paola Ramos was joining Clinton as well. (The campaign told BuzzFeed News it is also in a communications role.)
The hiring of Alcantara continues the approach stressed by Clinton officials, like Renteria, of making Hispanic hires that aren't necessarily limited to Hispanic roles.
With the Latino vote seen as critical to winning the 2016 election, Clinton has made efforts to engage them, most recently speaking at the NALEO conference of Latino elected officials on Thursday in Las Vegas, Nevada.