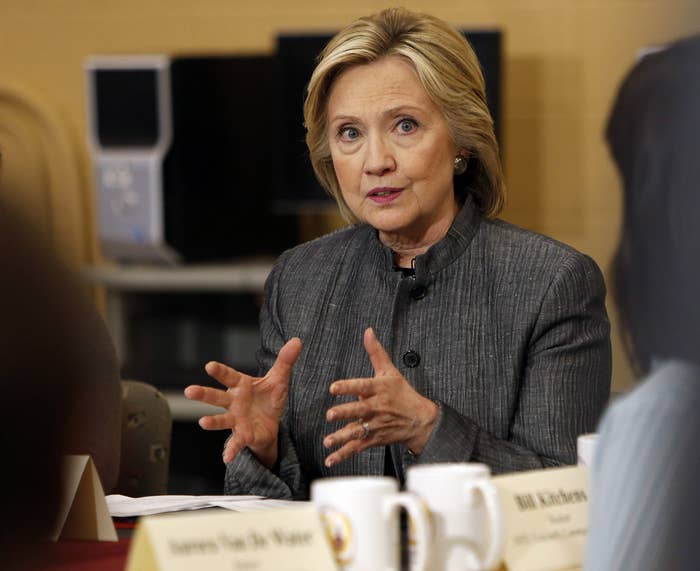 Just days before Hillary Clinton announced her campaign for president, her political director Amanda Renteria was working the phone, talking to Hispanic business leaders as well as national immigration advocates.
One of the calls was with Erika Andiola, a high-profile DREAMer activist who spoke with Renteria about what she wants to see from the campaign so the community she represents knows Clinton is serious about changing immigration policy, Andiola said.
Clinton's first 2016 foray into proving her immigration bonafides to activists will begin on Tuesday at a roundtable event at Rancho High School in Las Vegas, where she is expected to affirm her support for a path to citizenship for undocumented immigrants, say she supports the president's executive actions, and call out the Republican field for their shortcomings on the issue, sources familiar with the event told BuzzFeed News.
Clinton will meet with DREAMers, undocumented youth brought to the country as children, who have benefitted from Obama's 2012 Deferred Action for Childhood Arrivals (DACA) program, which gives them work authorization for two years and protects them from deportation, as well as undocumented parents of U.S. citizens who would benefit from Obama's 2014 executive actions, which are currently on hold pending legal proceedings.
The publicly announced event, her first in Nevada, the third state in the Democratic nominating process, will come after a private meeting with 12 local Hispanic leaders and activists, and before a fundraiser at the home of Brian Greenspun, who runs the Greenspun Media Group (which includes the Las Vegas Sun, Las Vegas Weekly, and Las Vegas Magazine).
BuzzFeed News spoke with nearly a dozen national immigration leaders about what they want to hear as Clinton begins rolling out an immigration platform.
The varied group — which included establishment leaders close to Democrats, DREAMers and undocumented workers, and leaders with ties to the faith and business communities — were nearly unanimous in their belief that while the ultimate goal is a legislative overhaul, Clinton must go further if she hopes to create a contrast between her campaign and Republicans like Jeb Bush and Marco Rubio, who are also calling for changes to immigration law.
"I want to hear, 'In my first year, immigration reform is getting done and it's getting done well,'" said Angelica Salas, from the Coalition for Humane Immigrant Rights of Los Angeles (CHIRLA), who often visited with the White House during the 2014 run up to the executive actions.
Janet Murguia, president of National Council of La Raza (NCLR), who made waves last year after calling Obama the "deporter-in-chief," said that until Congress acts, the Latino community expects the next president to not only commit to making immigration legislation a priority, but to "expending political capital to achieve immigration reform."
"For us, it means placing it at the top of her legislative agenda, working with Congress to broaden pathways for people to work and providing an accessible path to citizenship for longterm residents," she said.
Activists echoed Murguia's thoughts, and said they learned their lessons from Obama — who campaigned on making immigration a top priority in 2008 and 2012, but was unable to get it done. This is why Clinton should lean into the issue, they argue. They are ultimately hoping for the type of emphatic attention she devoted to criminal justice issues last week, and the signal that the issue will be a campaign priority, in a speech at Columbia University.
"What would get me to put a Hillary sticker on my car is if she said the president's executive actions didn't go far enough and didn't exercise the totality of discretion," said one activist whose organization has hit Clinton for her public comments on immigration.
Two sources familiar with Tuesday's event told BuzzFeed News that Clinton will stress support for a legislative overhaul and a path to citizenship and will ask students about how DACA is working — what is good about the program and what could be done better. But she may also ask about what more a president could do if Congress once again fails to pass legislation, suggesting that she is open to further executive action on immigration, which would delight activists who have seen legislation die in Congress too often to be excited about general calls for "immigration reform" from candidates.
"If she needs to act on her own or continue that program she's keeping those options available to her," said Andres Ramirez, a 20-year Nevada Democratic strategist.
And Clinton's early plan to meet with undocumented immigrants already checks a box activists have called for.
"She should meet with undocumented people, look them straight in the eye and tell them 'I'm not going to deport you,'" said Pablo Alvarado, executive director of the National Day Laborer Organizing Network (NDLON). "And tell them 'I'm going to go beyond DACA and DAPA.'"
Republicans like Bush and Rubio have laid out positions further from other candidates in their party. At a meeting with Hispanic evangelicals in Houston, Texas last week, Bush said he supports earned legal status for undocumented immigrants.
Ali Noorani, executive director of the National Immigration Forum, which works with business, law enforcement, and faith leaders, was at the conference in Houston last week. Noorani told BuzzFeed News that pastors and evangelicals have been active on the issue of family detention, something also repeatedly mentioned by other immigrant leaders.
"One of the programs that is one of the Obama administration's scars is their return to using family detention," Noorani said.
He said at their core, conservative faith communities are about family and they're against detaining families "in the middle of nowhere." And on the law enforcement side, they feel like they're caught in the middle between an "overzealous federal government focused on enforcement" and a community that wants to be able to trust its local police chief.
Here, Cristina Jiménez, managing director of United We Dream (UWD), said she hopes Clinton makes the connection between wanting to end the "era of mass incarceration" as she said last week and detentions that impact immigrants.
"This is the same system that is funneling immigrants and families into detention," she said.
Andiola, whose organization, the Arizona-based Dream Action Coalition, is releasing a memo Monday detailing what it wants from presidential candidates, said in her state embattled Sheriff Joe Arpaio still coordinates with immigration authorities, something activists want to see end. She wants to hear Clinton speak out on this issue, as well.
A source familiar with Clinton's message Tuesday said she will use it as an opportunity to lay out the areas like a pathway to citizenship and support for Obama's executive actions where Republicans "either have not or can not go because of their party's politics."
"From day one, this campaign has taken our outreach to the Latino community as a top priority from senior staff to junior organizers," Renteria told BuzzFeed News in an email. "Hillary Clinton has a lifelong record as a champion on issues important to the Latino community and she's been hearing ideas from folks involved in the immigration battle to figure out what are the next steps for the nation."
The RNC mobilized on the Nevada event Sunday night, arguing that Clinton is a flip-flopper who now supports licenses for undocumented immigrants after opposing them in what is considered a high-profile 2008 misstep.
Frank Sharry, who has worked closely with Democrats and the Obama administration on immigration for years said he had been worried that Clinton comes from a time in Democratic Party politics when immigration was used as a wedge issue, dividing Democrats and mobilizing conservatives. He also pointed to her early comments last year when she was confronted by Andiola in Iowa about immigration and said Americans need to "elect more Democrats," as well as when Clinton angered activists by saying the Central American children who crossed the border last summer should be given love but many should ultimately be sent back.
"It was like, 'Oh, god, we're going to party like it's 1996,'" he said.
Sharry was encouraged when she tweeted her support for Obama's executive actions and her change on supporting driver's licenses, however. He said she should lean in to immigration after the failure in the 2014 midterms, where Democrats like Mark Udall have been criticized for avoiding immigration. "This is now an issue that wedges Republicans and mobilizes Democrats," he said.
Eddie Escobedo Jr., the son of longtime Latino activist and Clinton supporter, Eddie Escobedo, who died in 2010, will be at the private event with Hispanic leaders Tuesday, as well as the fundraiser later in the day. When his 21-year-old son died suddenly three months ago, Clinton sent him a handwritten note.
For his part, he said he will carry a message that her support for a pathway to citizenship is good, along with her support for the executive actions. But he also echoed other activists who want to see the legal immigration system fixed, something that has personally come into focus for him. His sister-in-law did everything the right way, he said, but has been on a waiting list for five years and expects to wait another six years.
NDLON's Alvarado said that for years Democrats have been able to use immigration as an issue to bash Republicans, but Clinton should position herself to seize the opportunity to get it done.
"This is the moment for Hillary to be clear and come forward and decide if she wants the issue or the accomplishment," he said. "She can start right now shaping that legacy and I think it would be a great legacy for her to end deportations and make sure the 11 million undocumented have a path to equality, full rights, and citizenship to its full extent."