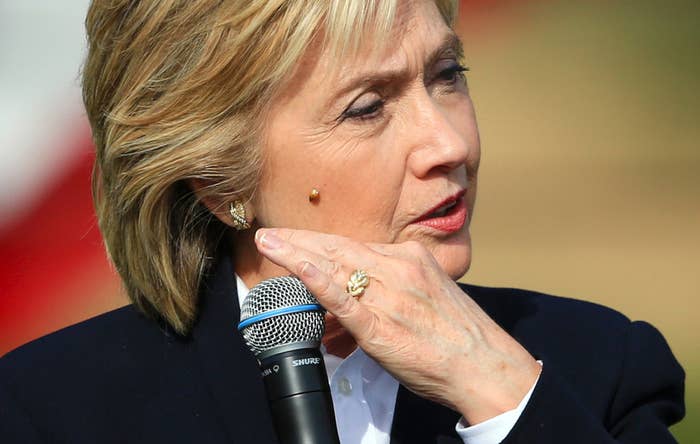 Hillary Clinton was interrupted by an immigration protester while presenting an award to chef Jose Andres at the annual Congressional Hispanic Caucus Institute gala in Washington, D.C. on Thursday.
Holding up a sign that read "Hillary for immigrants in prisons," Juan Carlos Ramos of the advocacy organization United We Dream Action stood near the stage, yelling at Clinton as she spoke over him. Ramos was protesting Clinton accepting donations from corporations that run private prisons.
Ramos told BuzzFeed News he was chanting "Hillary we're watching. My deportation will be your funding."
"Our message to Hillary Clinton is simple: Immigrant youth do not trust you," Ramos, who was swiftly removed from the event, said in an earlier statement. "It is time to drop the prison money and stand with our community — you can't have it both ways."
Clinton opened by saying that Republican presidential candidates, led by Donald Trump, don't see the Latino community the way she does. She said it's "a problem when the leading Republican candidate says Mexicans are rapists and drug dealers" and when they use an "offensive term like anchor babies," referencing Jeb Bush's use of the term. She also hit the Republican field over many of them supporting ending birthright citizenship.
"We need candidates who will stand up to this thinking," Clinton said.
The 22-year-old Maryland native Ramos began protesting Clinton shortly after.
United We Dream hit Clinton earlier this week with the same criticism after Clinton told Telemundo she would be less harsh and aggressive with her deportation policy than the Obama administration has been. Though she said it was done to pursue a strategy for a legislative overhaul of immigration with Republicans, she said she felt the strategy had failed and it was time to move on.
Ramos said despite this, immigration activists are used to promises that aren't always followed through on.
"She's saying, 'this is how it's going to be like when I'm president' but she's accepting money from people deporting our community, what does that say?" he said.
The RNC wasted no time in releasing a statement on the Clinton protest, saying she flip-flopped on immigration and free trade just this week, after she said she would not support Obama's trans-pacific trade deal.
"Each time Hillary Clinton addresses a Latino audience she gives the same empty promises she won't and can't keep, just like President Obama," the RNC said in a statement."
The Clinton campaign did not immediately respond to a request for comment.
Clinton is in the midst of ramping up her Latino outreach during Hispanic Heritage Month, launching a Latinos for Hillary initiative. She also went on stage during a Marc Anthony concert in Miami, and her campaign began a bilingual SMS texting effort to speak to Hispanics across the country.
While her broader poll numbers have slipped, Clinton is the presidential candidate regularly viewed most positively by Latino voters.
President Obama closed out the event in a much different mood than last year when his executive actions on immigration were delayed until after the election and the anger in his voice was evident because of the drumbeat of criticism.
At the time he said the administrative actions were coming and that Latinos had to have his back and help spread the word about them and defend them from attacks. They are currently held up in court.
He laid into Republicans this year, saying that you can't be against everything, like the issue of immigration. He said they should be for DREAMers and understand that economists say immigrants help the economy.
"Unless you were one of the first Americans, unless you're Navajo or Cherokee, somebody, somewhere came from someplace else," Obama said to the loudest cheer of the night.