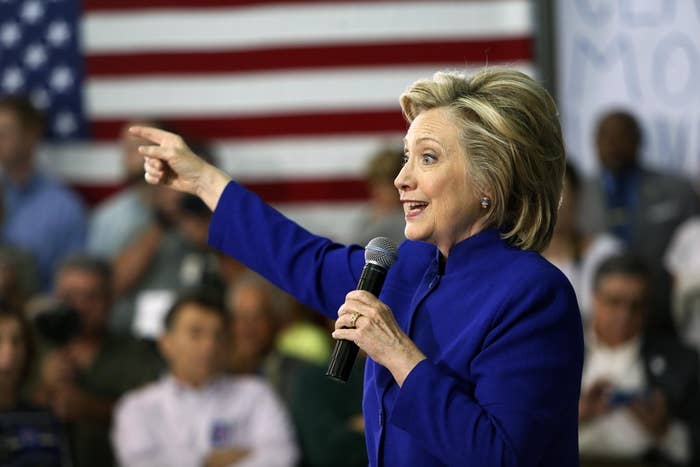 Hillary Clinton has hired an experienced operative to lead Hispanic media for her campaign, adding Harry Reid's senior adviser for Latino media, Jorge Silva, the campaign has confirmed.
Silva, who starts on Monday, is the latest example of the campaign's focus on bringing on Hispanic staffers and gives it a deeply experienced team in the crucial swing state of Nevada.
He developed and implemented Hispanic media strategy in states like Colorado, New Mexico, and some parts of California, in addition to Nevada, as the senior strategist for the Senate Democratic Caucus.
Nathaly Arriola, who worked with Silva under Reid and served on Obama's Hispanic media team during his reelection campaign, said he has been behind the scenes for every major push the Democratic Party has engaged in when it comes to the Latino community during the last four to five years.
She said the Obama campaign modeled their Hispanic strategy after Reid's successful 2010 reelection with a focus on regional and district-specific approaches to Latino media — something the sprawling Clinton operation can make use of.
"In a campaign full of spokespeople, in a well-established operation, you don't need another spokesperson," she said. "You need someone to run the operation and make sure folks in the states are being heard."
The addition of Silva now gives Clinton's campaign a strong team in Nevada, as he joins state director Emmy Ruiz and organizing director Jorge Neri, who both had the same roles in 2012 for Obama helping him garner 70% of the Latino vote in the crucial swing state.
The key to Silva's strategy with Reid was to identify the regional news organizations and newspapers and engage them, give them content, and provide access to Reid.
A source with knowledge of Silva's approach said the way this could work for Clinton is bringing her message to the Hispanic community, but tweaking it if a small community is more interested in one issue over another.
Silva also played a big role for Reid on another issue that has flummoxed and mobilized Democrats of late: how to deal with the LIBRE Initiative, a Latino conservative organization financially backed by the billionaire Koch brothers.
Because Silva was monitoring local Spanish-language newspapers, he noticed that LIBRE was doing small community events that no one else knew were happening. He flagged this up the chain in early 2012, before LIBRE would become well-known in the Democratic Party, and soon enough, Reid was thundering about the Koch brothers trying to infiltrate the Latino community on the Senate floor.
When the retiring Reid found out about Silva joining the Clinton campaign, he said it was a big deal, a source said, seeing it as another way of continuing his legacy of grooming Latino operatives.