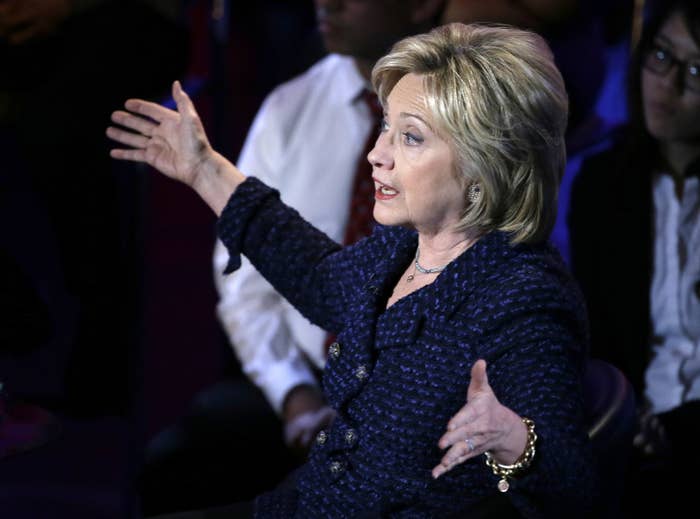 DES MOINES, Iowa — Hillary Clinton on Monday called for the end to President Obama's immigration raids begun in the New Year, marking her first comments after her initial statement of "real concerns" about them in December.
Clinton delivered that message at the Black and Brown Forum, held here in Iowa weeks before the caucuses, and featuring interviews with her as well as her opponents, Sen. Bernie Sanders, and Martin O'Malley. Immigration activists criticized her December remarks, which were more measured compared to the sharper statements against the raids from her opponents.
Fusion's Jorge Ramos reminded Clinton that the last time they spoke he asked her if she had a "Latino problem" because of her comments that the unaccompanied minors coming from Central America should eventually be sent back. He was pointed once again: Would Clinton as president become another "deporter-in-chief" as some Latino and immigration activists call Obama?
She said she would not be.
"I have come out against the raids," she said, calling them "not an appropriate tool to enforce immigration laws."
Clinton leaned on the American ideal of "due process," saying she has come out in favor of government sponsored counsel so immigrants are not lost in the process and have the ability to "tell their story."
While Clinton has carefully threaded a line between saying she would go further than the president on immigration and not knocking his policies, her opposition to the raids was a clear break.
Her campaign sent out comments attributed to Clinton as she finished speaking on the issue doubling down on idea that the raids sow fear, saying "we shouldn't have armed federal officers showing up at peoples' homes, taking women and children out of their beds in the middle of the night."
More than 10,000 children reached the border in October and November alone, the Washington Post reported. In a closed door meeting last week, the White House told lawmakers the raids were "a clear way to send a signal to folks in Central America not to come," a lawmaker who attended the meeting told BuzzFeed News.
Ramos repeatedly asked Clinton if she would rule out deporting children, and she repeatedly leaned on the importance of due process as well as changing refugee and asylum laws. She said she would end family-detention centers but, "I can not tell you a blanket rule" on not deporting children.
Clinton said the Latin American countries need to be helped as well, and campaign officials noted that the president requested $1 billion for assistance to the region.
In the spin room afterwards, Sanders campaign's Erika Andiola said she wasn't surprised with said that Clinton is always careful with the words she uses on immigration. "The fact that she got asked two or three times about it and she had to think about it says it all," she said.
"To us, that is a very easy question to answer," Andiola continued. Asked if Sanders would pledge not to deport children, she said, "Of course."
Awkwardly, Clinton was asked about an exchange in New Hampshire, put on YouTube and shared around the Latino and immigrant political space that showed her using the term "illegal immigrants," while talking up her border security bonafides and the repeated times she voted for a barrier on the border.
Asked to pledge not to say "illegal immigrants" again, Clinton said she would not, calling it a poor choice of words.
(The Sanders campaign's Andiola said this was bigger than that. "The word illegal is something important to the community — not just activists, but also voters," she said. "You have places like Arizona and Alabama where you don't have to be undocumented to be called illegal.")
To Ramos, the fence she was talking about sounded a lot like Donald Trump's controversial plan to build a border wall. Clinton stood her ground, saying that talking about border security and a plan for undocumented immigrants in the country is not a contradiction. Trump's plan for a wall and deportation is "foolish," she said.
Clinton's national political director Amanda Renteria echoed Clinton saying she will always look to make sure enforcement is humane and suggested the campaign will look to see what the administration does next.
"We want to keep thinking about what we can do to solve these questions and as more raids happen we'll see how the administration reacts," she said.
In a round of rapid fire questions at the end, Clinton was asked about an awkward controversy that arose when a Latina member of her digital team wrote a piece comparing Clinton to abuelas, or grandmothers in Spanish. The hashtag #NotMyAbuela trended from people, upset at the use of the word.

Clinton joked that unlike most grandmothers, she's running for president, so that's how she's unlike them, while people in the auditorium for the forum said they heard someone yell "Not my abuela!" while she answered.