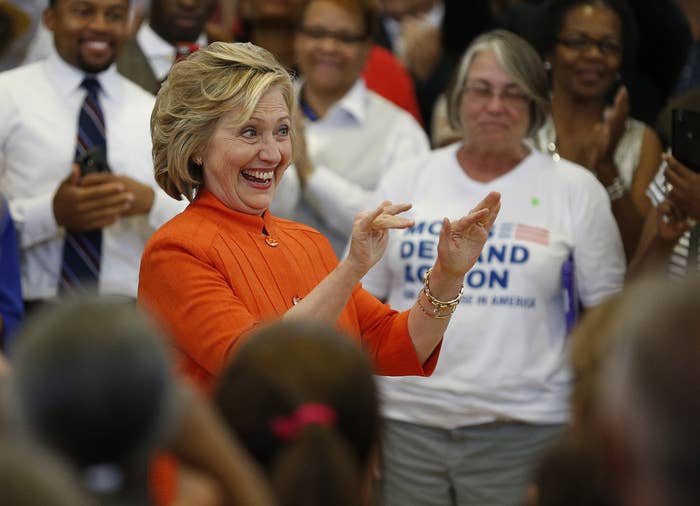 Hillary Clinton's campaign is bolstering its growing Latino outreach apparatus, tapping polling firm Latino Decisions to gauge attitudes of the Hispanic community, two sources tell BuzzFeed News.
The firm, led by political scientists and professors Matt Barreto and Gary Segura, has worked with immigration groups and unions like America's Voice and SEIU, as well as National Council of La Raza, Univision and the progressive Center for American Progress on polls.
The deal came through after weeks of back and forth negotiations between Latino Decisions and the campaign. Only Segura and Barreto are joining the Clinton team and the campaign contacted other contenders for the Latino polling role to tell them of its decision. The Clinton campaign did not respond to a request for comment by publication.
While the pollsters have been hired by groups on the left, they have not shied away from being critical of the Democratic Party, particularly after the disastrous 2014 midterm election and also presented an immigration stance Clinton eventually embraced at a major Nevada event during the Spring.
Latino Decisions found that 2014 featured low turnout and enthusiasm for Hispanic voters, compared to the 2010 midterm, and said it should be a wake-up call to Democrats to work hard to connect with Latinos, arguing that doing just that helped Sen. Harry Reid in Nevada in 2010 and Obama in 2012.
In a February presentation to the DNC's Hispanic caucus entitled "Winning The Latino Vote In A Post-Obama Environment," Barreto said broad support of Clinton by Hispanic voters hinged on whether she would embrace Obama's 2012 and 2014 executive actions on immigration or reject them.
In May, Clinton said she supported Obama's executive actions to shield millions of undocumented immigrants, which included parents of U.S. citizens, from deportation and said she would go further if Congress won't take up an immigration overhaul.
Democrats said the hire further signaled that the campaign will work hard to understand Latino attitudes, which differ among ethnic groups and across states, from Florida to Nevada.
Andres Ramirez, a 20-year Nevada veteran strategist, said many pollsters have similar techniques but "there's a difference when you're working with a firm that understands the political and cultural nuances of a particular constituency group."
He cited the call centers organizations use to call prospective voters and said Latino Decisions knows, for example, that having "a Cuban in Miami call a Chicano voter in LA" isn't a good idea because they might not be as forthcoming speaking to someone who doesn't sound like them and because the answers could be misinterpreted by the caller.
Democrats noted that this was the first time Latino Decisions was joining a campaign, giving Clinton props for bringing on a group that has never work at this level before.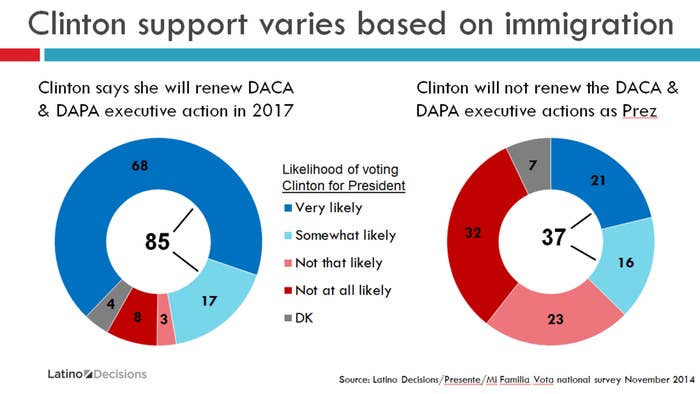 Hispanic conservatives were good-natured in their ribbing of Latino Decisions, with Republican strategist Luis Alvarado saying "I guess the jig is up" and Alfonso Aguilar, a former official in the George W. Bush administration, adding this was "their coming out" as Democratic pollsters.
But Aguilar, who has met Barreto, said Democrats would be wise to listen to him.
"I think he's objective, he'll open the eyes of Democrats and say 'If you think you have a hold on the Latino vote you better think again,'" he said. "That's the value Matt has."
Like all pollsters, Latino Decisions has been right and wrong. In 2010, Nate Silver wrote about how polls had underestimated Latino support for Harry Reid over Sharron Angle, after hearing from Barreto.
But in 2014, the polling firm floated that former Colorado senator Mark Udall was winning his race against Cory Gardner because the Latino vote was being miscalculated.
Gardner won the race, with a later joint Latino Decisions/NCLR/America's Voice poll saying Udall didn't do enough to differentiate himself from his opponent on immigration.
In their 2014 book, Latino America, Segura and Barreto argued that American politics in the 21st century will be shaped in large part "by how Latinos are incorporated into the political system."
The duo looked at how Latino attitudes differ across generational lines, whether they're immigrants or U.S. born, ethnicity, and in how they view the role of government.
They also analyzed the 2008 Democratic primary between Obama and Clinton.
It's often forgotten that Clinton beat Obama 2-to-1 among Hispanic voters in 2008, and Latino Decisions said her standing with them never wavered, because "three out of four Latino primary voters liked Hillary Clinton," giving her a strong advantage.
In the book, Hispanic voters are called her "Latino firewall," and her win in Texas, where the electorate was 33% Hispanic, helped her extend the hard fought primary.
Now with Bernie Sanders showing strength, Nevada and its one-third Latino electorate could serve a similar purpose, with the campaign bringing on operatives with experience in Nevada, like state director Emmy Ruiz, organizing director Jorge Neri, and Hispanic media director Jorge Silva, who joined this week from Reid's office.
In their book, Barreto and Segura said Clinton's strong performance could be credited to her extraordinary name recognition and effective Latino outreach effort.
Seven years later, the group is joining that effort.