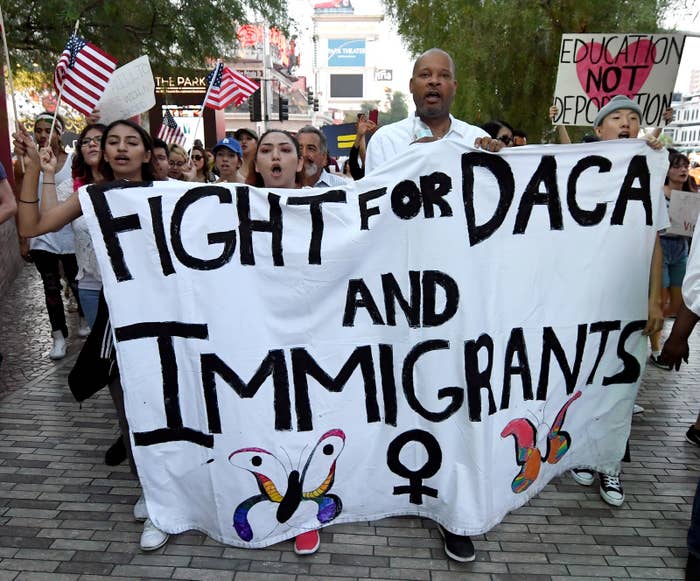 As part of a hardline deal to protect young undocumented immigrants from deportation, the Trump administration Sunday demanded funding for a border wall, as well as new restrictions preventing young children from Central America from entering the country illegally, a crackdown on sanctuary cities, and additional funding for immigration enforcement personnel.
In a list of immigration demands sent to Congress Sunday, the White House pushed for a harsher approach to immigration, including the removal of unaccompanied minors and the closure of what the White House called legal and physical "loopholes" enabling thousands of children fleeing violence in countries like Guatemala, El Salvador, and Honduras to seek refuge in the US.
The broad principles, grouped into border security, interior enforcement, and merit-based immigration, also seek to deny federal grants to so-called sanctuary cities and implement "E-Verify" — a program designed to make it difficult for employers to hire undocumented immigrants.
After unveiling the immigration principles, the White House emailed a letter Trump sent to congressional leaders that revealed the rough road ahead for any immigration deal.
"These findings outline reforms that must be included as part of any legislation addressing the status of Deferred Action for Childhood Arrivals (DACA) recipients," the letter read. "Without these reforms, illegal immigration and chain migration, which severely and unfairly burden American workers and taxpayers, will continue without end."

After a meeting last month, Trump, House Democratic Leader Nancy Pelosi, and Senate Democratic Leader Chuck Schumer surprised reporters and members of their own parties by saying they had made progress on an agreement to protect young undocumented immigrants, known as DREAMers, from deportation. However, Pelosi and Schumer have repeatedly emphasized that any deal they would sign onto would exclude Trump's proposed border wall, even if it included more general funding for enhanced border security. The president has previously said there could be no deal without those security reassurances.
In response to Sunday's proposal, Schumer and Pelosi issued a joint statement, slamming the White House's demands.
"The Administration can't be serious about compromise or helping the Dreamers if they begin with a list that is anathema to the Dreamers, to the immigrant community and to the vast majority of Americans," the statement read.

"We told the President at our meeting that we were open to reasonable border security measures alongside the DREAM Act, but this list goes so far beyond what is reasonable," they continued. "This proposal fails to represent any attempt at compromise. The list includes the wall, which was explicitly ruled out of the negotiations. If the President was serious about protecting the Dreamers, his staff has not made a good faith effort to do so."
Marc Short, the White House legislative affairs director, batted away questions about whether the principles were in line with what Trump, Schumer, and Pelosi agreed upon at their dinner, noting that he also attended the meeting and that the agreement "was a deal to work on a deal as fast as possible." Short added that Trump has been clear that this is a good-faith bipartisan effort, with the principles being sent to Democratic leaders on Sunday.
One concern among Democratic and Republican lawmakers in recent weeks has been that while Trump claims that he wants a deal to protect DREAMers, his staff, particularly senior adviser Stephen Miller, are poisoning its prospects by attaching provisions that are nonstarters. Hispanic conservatives who met with Republican members of Congress in the past week said there was frustration among lawmakers that there are "two competing groups within the White House."
"We don't have a President Trump problem, we have a Stephen Miller problem" was the message from the Latino Republicans, who said the lawmakers shared their concern.

"We used to joke about President Bannon. Now it's President Miller," one senior lawmaker said, according to a McClatchy report.
Last month, Trump announced that he would rescind the Deferred Action for Childhood Arrivals program, or DACA, which protected about 800,000 young, undocumented immigrants from deportation and allowed them to work and go to school in the US. If lawmakers cannot agree on a deal by March, DREAMers will start losing the benefits granted by the program.
While Trump campaigned on a hardline immigration platform — including a promise to build a border wall — he has repeatedly expressed his "love" for DREAMer "kids" and the prospects of a deal will hinge on whether the White House is flexible in its demands. A White House official seemed to hint at some degree of flexibility, telling Reuters in advance of Sunday's announcement that "funding for the wall is a priority for the administration. Whether it is part of DACA or there is a different pathway to get it done, it will remain a priority."
But questions emerged again Sunday as to whether Trump is aware of the scope of the plan that members of his staff have shared with Congress in his name. As administration officials briefed reporters on the White House's immigration principles, the president was instead indulging in a different issue that has preoccupied him in recent weeks.

"Nobody could have done what I've done for #PuertoRico with so little appreciation," he tweeted during the call. "So much work!"