GOP's "Rising Stars" Include Latinos From Florida, Utah With Future Ambition
Anitere Flores, who has been rumored as a possible Senate candidate if Marco Rubio runs for president, and Sean Reyes, Utah's attorney general in the middle of the immigration battle, spoke to BuzzFeed News after an RNC "Rising Stars" event.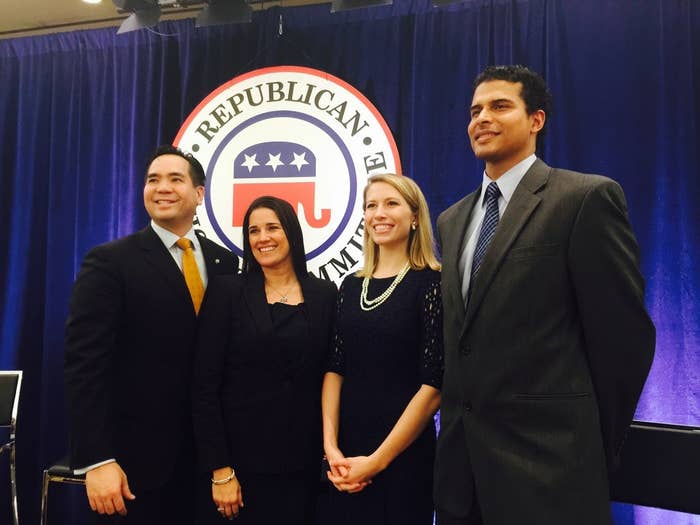 SAN DIEGO — With immigration still at the forefront of conversation, Republicans showcased a slate of women and minority Republicans at the party's annual winter meetings.
Though it hasn't translated into big electorate gains, Republicans have in recent years produced a class of younger, diverse lawmakers particularly at the gubernatorial level, like Govs. Susana Martinez, Brian Sandoval, and Nikki Haley.
On Wednesday, the goal was the next, next generation: Among them were Anitere Flores, a 38-year-old Cuban-American state senator from Florida, who has been mentioned by Republicans as a possible Senate candidate if Marco Rubio runs for president, and Sean Reyes, Utah's attorney general, a Mormon of Hispanic and Asian descent, who joined the multi-state lawsuit against President Obama over his executive actions on immigration.
"I think that it's important for people to see that folks in the Republican Party look and sound and talk like them," Flores told BuzzFeed News. "People now across the country can see the Republican Party doesn't just look like what you think it looks like, it also looks young, Hispanic, women as well."
The youthful Flores told the assembled group of Republicans that getting women to run for office is a passion of hers and told BuzzFeed News she tries to recruit Latina candidates when she talks at the Cuban-American bar association or to young women lawyers.
Reyes spoke about Utah joining the 25-state coalition suing the president over his executive actions on immigration that are being called unconstitutional by Republicans.
"For me that wasn't really a lawsuit about immigration policy, it was about procedure and the rule of law," Reyes said.
He noted that Utah was stymied by the Department of Justice when it wanted to pass a collection of bills aimed at addressing problems with the immigration system because Congress has the "absolute province" to pass immigration laws and he said it's this reasoning which shows Obama went too far.
"Everyone is frustrated that Congress hasn't done something about [immigration] and we call on Congress to act in a prudent but expeditious manner on that issue," he said. "But in the meantime, no amount of frustration can justify breaking the law. I and a number of my colleagues felt the president clearly overstepped his boundaries."
Flores reacted to the House GOP vote Wednesday to undo Obama's immigration actions, saying while she was troubled by the president's actions, the burden is on Republicans to lead now that they are in charge and taking on immigration through a must-pass Department of Homeland Security bill is not the way to do it.
"We need to come up with a solution and the solution isn't just, 'We don't like what Obama did.' OK, we don't like what Obama did, now what?" she said.
Reyes said his state of Utah and the Republican Party are probably more diverse than they're given credit for and said diversity is important because it shows communities that members of the party share their values.
Reyes also told the incredible story of being part of an October sting operation that stretched from Utah to Colombia, where he posed as an American who wanted to have sex with child sex slaves to help rescue 127 children as young as 10 years old.
He has also conducted stings in Utah and called on those in attendance to learn about Operation Underground Railroad, which helped lead the effort, and fights child sex trafficking.
"We can make a difference, all of you, the Republican Party can lead out on this issue," he said.
Flores, a daughter of Cuban exiles, talked about her strong opposition to another recent Obama announcement — his effort to normalize relations with Cuba — and said she disagrees with the conventional wisdom that young people support working with Cuba, while older Cuban-Americans represent the main opposition.
"There are a generation of folks my age, that look like me, that are opposed to Cuba, so I question whether it's a generational issue," she said.
She said the Cuban government has committed human rights, freedom of the press and freedom of religion violations for over 50 years and tens of thousands of people have died for the cause of a free Cuba.
"So as an American citizen I question what were all those lives for? If now, after 50 years, we're just going to turn the other way and say 'It's OK, we're just going to start having economic dealings with you,'" she said. "Freedom should be more important than economics. If the United States isn't standing for freedom then who is?"
She addressed reports that unnamed Republican sources think she would make a viable U.S. Senate candidate if Rubio runs for president.
"I'm not really sure, certainly there are a lot of different options," Flores said. "You just hope that people keep talking. We'll see, but right now I've got six years left if I win reelection in the Senate and I'm happy to stick with that and then we'll take it from there."
Hadley Heath, the director of health policy at the Independent Women's Forum and Conrad James, a physicist turned state House representative in New Mexico were also featured at the event.