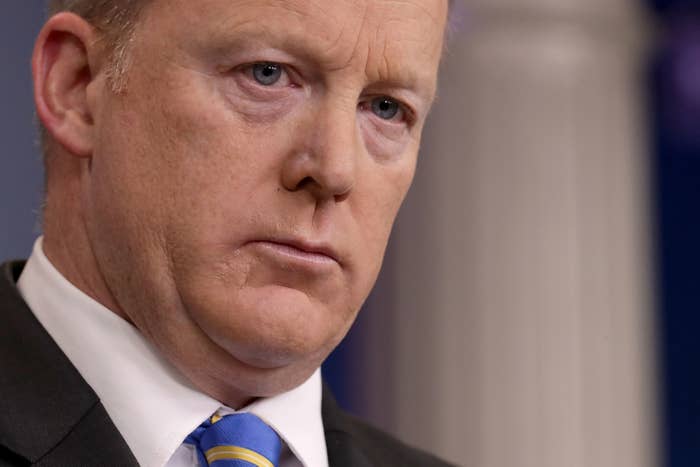 President Donald Trump plans to have press secretary Sean Spicer serve in a reduced and less visible role after his foreign trip wraps up next week. And an additional wrinkle is being considered as well: more press conferences by Trump himself, sources tell BuzzFeed News.
The New York Times and POLITICO reported that Trump was considering handing over press briefing duties to principal deputy press secretary Sarah Huckabee Sanders, which three sources confirmed to BuzzFeed News Thursday.
But they also say that the president is considering shaking up the existing on-camera briefing schedule, that has more or less been four times a week, by possibly doing less briefings in general. That plan would include more prewritten answers, as the president floated on Twitter last week, and notably, more press conferences from Trump himself.
As with any plan that the White House has not yet executed, and with a high stakes foreign trip still to come, the sources cautioned that the plans are not finalized, but a demotion of the controversial press secretary would only further fan reports of discord within the administration.
The move would come amid a whirlwind 10 days that saw Trump fire the FBI director James Comey, reportedly share classified intelligence with Russian officials who visited the White House, and now faces the prospect of widely respected special prosecutor, former FBI director Robert Mueller, investigating possible ties between the Trump campaign and Russia.
Spicer, who was criticized for misrepresenting the truth from the podium, was at times lauded by the president privately and publicly, with sources saying that even recently he told Spicer that he liked the high ratings of his press briefings. But a besieged Trump has also lashed out at his communications team, and Spicer appears to be the fall guy for problems that have included flatfooted responses to news the communications team did not expect — like Trump's firing of Comey and sharing classified information with the Russians.
Trump last week told Fox News that maybe he just won't have press briefings anymore.
"You don't mean that," host Jeanine Pirro responded.
"Well, just don't have them," Trump said. "Unless I have them every two weeks and I do them myself, we don't have them. I think it's a good idea."
While Trump yells about "fake news," in interviews and on Twitter, he truly has a love/hate relationship with the press, and wishes they would give him better coverage. More press conferences from the president would mean more opportunities for marathon turns at the podium like he did on March 23, when Trump took shots at the press but also seemed to have fun grappling with reporters.
"I do think he's his best messenger," said Jeffrey Lord, a CNN commentator and Trump supporter. "Even if they wanted to cease the White House briefing, which would get a lot of people upset, I think he should be doing more of these press conferences himself."