DREAMers To Homeland Security Chief: We Want To Meet With You And Obama On Deportations
"I knew that he had heard stories from undocumented people before, but I told him we're not just good for storytelling, a bunch of us are getting together to come up with recommendations on deportations."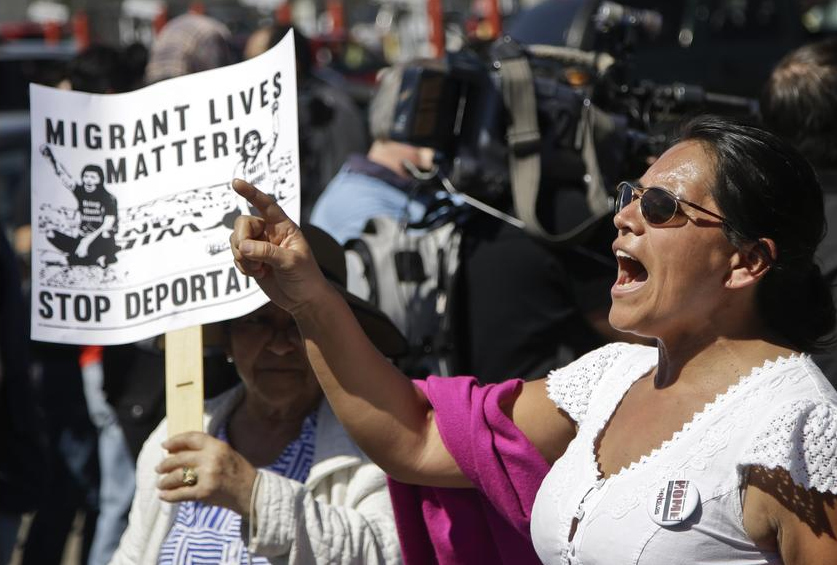 DREAMers and activists met with Homeland Security Secretary Jeh Johnson to talk about a planned review of enforcement policies that lead to deportations Tuesday afternoon. The immigration advocates were able to air their grievances and suggestions to Johnson as he listened and said he would take their points into consideration, but no concrete decisions were made.
Tania Unzueta, an organizer with the National Day Laborer Organizing Network was at the meeting representing both her organization and DREAMers who have formed a blue-ribbon commission along with other affected immigrants to give recommendations on deportations to the administration.
"I knew that he had heard stories from undocumented people before, but I told him we're not just good for storytelling," Unzueta told BuzzFeed. She said she asked Johnson if he would support a meeting between himself, the president, and members of the 25-person blue-ribbon group.
According to Unzueta, Johnson said that he possibly would support the idea and that he would look into it.
Erika Andiola, a prominent DREAMer and member of the blue-ribbon group, said they hoped Unzueta would speak forcefully in the meeting.
"She had to come very strongly to him, we wanted her to put across that we do know that there are ways under the constitution and laws that Johnson can make changes and give relief and expand [deferred action] to as many people as possible," she said.
The activists said it's no coincidence these meetings, first with the president and now with the head of homeland security, are happening as Obama reaches 2 million deportations. They said they feel the meetings often become a "pageant" or are merely political. But in this instance they saw an opportunity.
"Often with meetings with the White House in the past, none of the groups invited are fighting to stop deportations on the ground and they aren't the people who are directly affected by enforcement," Unzueta said. "For us asking for that meeting was something we could get out of it."
Unzueta said Johnson pointed to a recent decision by the Customs and Border Patrol (CBP) to release its use of deadly force policies, as an example of how he thinks reforms happen best.
"He said we have to understand he faces a lot of challenges, one of the first things he said was the way the recent border patrol guidance came out, that's how he thinks his work moving forward is going to be," Unzueta said. "With policies changed by the agencies, not by him putting out a memo."
The issue calls to mind fears activists have shared in recent weeks that even if the deportations review, which the president called for Johnson to carry out, comes out in a timely manner, local agencies may still decide not to honor the guidance from on high. They said the so-called Morton Memo, released by former Immigration and Customs Enforcement (ICE) director John Morton, that calls for prosecutorial discretion and a focus on criminals, is routinely ignored.
Juanita Molina, executive director, of the Border Action Network, who was also at the meeting with Johnson, said she was glad to discuss border enforcement policies that impact nearly 15 million people who call the southern border region home.
"The lack of accountability and oversight for Customs and Border Protection has created a culture of violence and impunity and resulted in too many lives needlessly lost," she said in a statement.
Congressman Luis Gutierrez told BuzzFeed the activist's fears are well-founded.
"That is a concern, the first thing that needs to be done is they need to implement and enforce the Morton Memo," he said, adding that the border patrol union had a meeting and censured Morton for his memo.
"This president of the United States and other leaders are people that create more fairness and more justice and then that justice and fairness is not carried out by the rank and file," Gutierrez said.
Andiola said the DREAMers wanted Unzueta to get the message across to Johnson and to the administration that the next time they have a meeting, it won't be enough for it to be a political meeting.
"It's going to be about what can change and what can be done on deportations," she said. "We're hoping we can make this happen, the pressure is not going to stop."