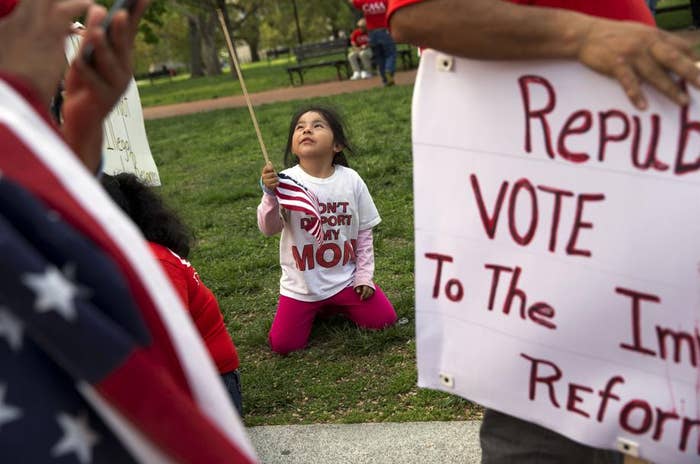 Grassroots immigration reform activists Wednesday lashed out at the Obama administration's decision to delay a review of deportation policies, accusing the White House of turning its back on a promise made to the families of undocumented immigrants to not break them apart.
DREAMer activists are also furious at a number of labor, faith-based, and other groups who sent a letter to the administration asking for the delay, charging they are being cowed by threats from Republicans to blow up immigration reform when no House legislation has been introduced a year after a bipartisan bill passed in the Senate.
"It is a betrayal to the community to try to give the White House cover," Lorella Praeli, director of policy and advocacy with United We Dream, said. "It is a betrayal to say we're going to put your lives on hold and continue to risk you and your family and give space to Republicans who have yet to show up on this issue. Both parties have played politics with our families for too long and any advocacy organization that is complicit with that has to be held accountable."
DREAMer and national immigration activist Gaby Pacheco said all advocates agree that Republicans need to act and that House speaker John Boehner can't be let off the hook, which is "why so many people had such a visceral reaction" to the letter by immigration groups.
"Because it goes against what everyone is working towards and that's holding both parties accountable for what they can and should be doing," she said.
The groups who sided with the president ranged from the National Hispanic Christian Leadership Conference and the National Immigration Forum to Service Employees International Union (SEIU) and three others. They said they strongly urged Obama to "move cautiously and give the House leadership all of the space they may need to bring legislation to the floor for a vote."
But that's unacceptable to activists, who say there will be between 50,000 and 60,000 deportations between now and the end of the summer.
Eliseo Medina of the SEIU, which was one of the organizations that signed on to the letter, said the country hasn't been this close to reform in 50 years.
"We have to keep in mind what the final goal is," he said. "Our goal at SEIU has always been comprehensive immigration reform, for 11 million, to legalize their status. Some people have given up on legislation, we have not. Consequently they're looking at the president to order administrative action, which we support by the way, but not to replace immigration reform. It would not be as expansive as immigration reform would be."
It has been no secret that some top Democrats like Senator Chuck Schumer were worried the pending Department of Homeland Security review would give Republicans all the ammunition they need to say the president can't be trusted to enforce the law. At a meeting between Schumer, Senate Majority Leader Harry Reid, Sens. Bob Menendez, Dick Durbin, Michael Bennet, and advocacy groups, the Democratic leaders laid out their belief that all fire should be focused on Republicans to see if they will actually begin to move on a legislative immigration fix, according to five sources who either had knowledge of the meeting or were present.
Sources said Reid was concerned that so much attention is being focused on Obama while House Republicans are getting off scot-free. Schumer said he was optimistic because Boehner wants immigration reform, but House Majority Leader Eric Cantor is the problem. But the feeling of the senators was perhaps best captured by Menendez.
"He talked eloquently and passionately about the president's need to act," a source who was at the meeting said. "He said he sees the pain every day but we can't forget the need for a permanent solution. Yes, we have to pressure the president but we can't just focus on the temporary while giving up the opportunity for full legislation."
Durbin added that when DHS Secretary Jeh Johnson was nominated, Durbin said he wouldn't get his vote for nomination "unless he committed he would deal with these enforcement issues."
A White House official told BuzzFeed that Johnson updated Obama on the status of the review and was asked to continue to work on it through the summer.
"He believes there is an opportunity for Congressional action; he has asked the Secretary to hold on releasing any results from his review until the window for Congressional action this summer closes," the official said. "As we've said, the President continues to be deeply concerned about the pain too many families feel from the separation that comes from our broken immigration system."
From a strictly political standpoint, it's clear that the administration felt it had no choice but to call the bluff of House Republicans and say it would stay out of the way until the end of the summer when administrative relief is back on the table. But each activist frustrated about the DHS review tied their anger to continuing to lose people to deportations, feeling that while both parties play politics, undocumented immigrants are needlessly sentenced to more family separation.
Eddie Carmona of PICO, a national network of faith-based community organizations, mentioned the case of Dave Johnson, an undocumented immigrant from Jamaica. Johnson had lived in his New Jersey community for 15 years. He has five U.S. citizen children, a U.S. citizen fiancée and even grandchildren. Carmona said Johnson was in detention for 10 months before he was released because of local calls and calls from Washington, D.C. But then when he came home one day there were black SUVs waiting outside his home and he was picked up again. Two days later, he had been sent to Louisiana.
"I would say President Obama have some courage get out there and do something," Carmona said. "What's holding him up? Our communities are frustrated."
Cesar Vargas, co-director of the DREAM Action Coalition, said his group's frustration comes because he recently spoke with 40 House Republicans and the verdict was the same.
"Rank and file, members don't think anything is going to happen," he said, adding that congressman Joe Barton told him he believes the comprehensive bills being talked about are a "Hail Mary." "There is support but the votes are not there yet," Vargas said.
Jeff Hauser of the AFL-CIO said deporting immigrants now while immigration reform is being discussed is like soldiers dying after peace talks have started during a war. "We should not be causing people to be victims," he said. "Be it three months or 12 months, sometime soon something like the Senate bill is going to be law. That's just wrong."
He put the onus on Republicans to move legislation.
"What they're doing is indefensible, morally wrong, putting politics over policy and destabilizing families and communities. The administration should act to limit the damage from the Republican delay," Hauser said.