DREAMer Activists Plan To Keep Confronting Hillary Clinton On Immigration
Another disturbance is planned Friday at the DNC Women's Leadership Forum where Clinton will speak, making it the third time in a week that DREAMers will make their presence felt at one of her events.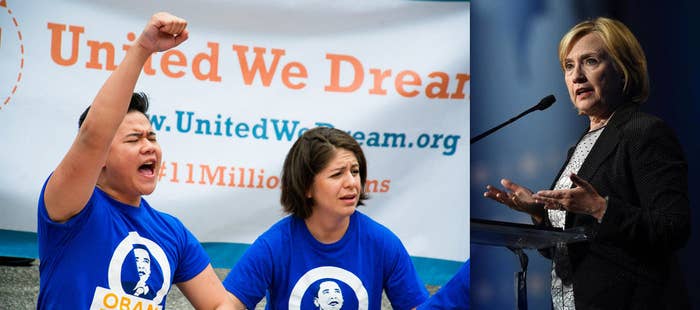 On the rope line at an event in Iowa last Sunday, three undocumented activists waited to ask Hillary Clinton about the delay of executive actions on immigration. Clinton flashed the group a thumbs up. But when the activists pressed her on the question, Clinton said, "I think we have to elect more Democrats," then kept moving.
Two days later, at a benefit in New York featuring Clinton, about six immigration activists interrupted the event, chanting, "Undocumented, unafraid!" Security removed the protesters. Afterward, Clinton took photos with fans and ignored questions from a reporter about the incident.
A group of activists have another confrontation planned for Friday morning.
The cadre of so-called DREAMers — undocumented youth brought to the country as children — will protest outside the Women's Leadership Forum, an event hosted by the Democratic National Committee, where Clinton is booked to speak.
The encounter was organized by the group, United We Dream. It will be the third time in one week that Clinton has had to deal with disruptions from activists on immigration.
High-profile DREAMer activists and immigration groups say there is no coordinated campaign against Clinton. But the activists who plan these actions identified the former secretary of state, who is expected to run for president again, as a central target of run-ins like the ones in Iowa and New York.
Clinton, they said, can expect continued questions at her public appearances about President Obama's delay until after the midterm elections of expected executive actions that would ease deportations — an announcement that riled the activist community earlier this month.
"One of the targets in the long run is going to be Hillary," said Erika Andiola, a national activist among DREAMers who filmed the confrontation in Iowa last weekend. Andiola posted the video on YouTube, and news outlets picked up the story hours later.
"She's Hillary Clinton, not just any old person," said Julieta Garibay, a United We Dream leader. "Right now for us, anyone who is standing in the way of justice for our families is against us. We wouldn't call her the primary target, but with the voice she has, we're frustrated with anyone who says there should be a delay or that there shouldn't be action."
Andiola, who runs the Arizona-based Dream Action Coalition, said plans to confront Clinton and other lawmakers over immigration are loosely organized, passed on by word of mouth inside the tight network of activists and undocumented youth.
What exactly the activists want to hear from Clinton is somewhat unclear: They said they don't expect deep policy comments from Clinton immigration at these events. But, the activists said, they do want more than the paltry lines she gave in between autographs last weekend in Iowa.
"We want to hear, 'I support DREAMers, I support families,'" said Cesar Vargas, who heads Dream Action Coalition with Andiola.
A Clinton spokesperson did not respond to a request for comment on the DREAMers.
But Adrienne Elrod, a spokesperson for Correct the Record, the research project aimed at defending Clinton, highlighted the former senator's past efforts on immigration and what she described as a lifetime endeavor to "help families and our nation's immigrants be able to earn and live the American Dream."
"In the Senate, she co-sponsored the DREAM Act on several occasions, consistently voted in favor of comprehensive immigration reform and introduced legislation to reunite families separated by the immigration system," Elrod said.
Clinton has been approached by activists on this issue before. In April, at a Clinton Foundation event in Manhattan, a 19-year-old attendee named Nova Bajamonti stood to ask Clinton a question, and tearfully announced "for the first time publicly" that she was an undocumented immigrant. Bajamonti told the story of how she left Croatia for the United States, but was unable to obtain a green card.
Clinton praised Bajamonti as "incredibly brave" and suggested she look into DACA, the Deferred Action for Childhood Arrivals program that allows young people brought to the U.S. as children to obtain legal status.
"I hope you will do that, and if you can't, come talk to us afterward, and we will help you figure that out," Clinton said.
As soon as the event ended, Clinton Foundation staffers found Bajamonti, who was already under DACA at the time. Less than a week later, Bajamonti said this week, the Clinton Foundation connected her with an immigration lawyer to help provide and process her DACA renewal application free of charge.
Vargas and Andiola, along with a 23-year-old undocumented activist named Monica Reyes, also confronted Sen. Bernie Sanders, another Democrat interested in running for president, who appeared at a different event in Iowa last Sunday. The Vermont senator criticized Obama on executive actions — a comment that earned praise from Reyes and other activists.
Andiola and Vargas are also eyeing the governor of Maryland, Martin O'Malley, who has a state record on immigration they love and is considering a run for president.
Their encounter with Clinton in Iowa provoked one Maryland activist to connect Andiola and Vargas with O'Malley, suggesting they find a time to meet, the two activists said.
"O'Malley has clashed with the administration," Vargas said. "He's one of the candidates not taking Latinos for granted."
Clinton, while on tour to promote her new memoir, said in an interview that the unaccompanied children at the border "should be sent back" to their families. The remark caused Fusion's Jorge Ramos, in another interview, to ask Clinton if she had a "Latino problem."
While she walked back her initial comments saying the children should be shown love and only some should be sent back, the questions now put Clinton in a tough spot politically: Dodging young activists on video looks bad, but the prospect of Obama's executive actions, which Democrats in key Senate races opposed before the election, is controversial with some. And while Clinton has critiqued the president on foreign policy since leaving the State Department, she has largely avoided domestic issues.
At the DNC women's forum on Friday, the DREAMers have no plans to infiltrate the event, but will make their presence felt outside the Marriott Marquis hotel. Clinton will be joined by Obama, Vice President Biden, and the chair of the DNC, Rep. Debbie Wasserman Schultz.
Vargas said it's Clinton they'll be watching.
"We want her to show she can be a president. Presidents take leadership when others won't."