DREAMer Activist Challenges Joaquin Castro Over Obama's Immigration Delay
At a Voto Latino event with Rosario Dawson, Joaquin Castro, and Eliseo Medina, a DREAMer repeatedly challenged them over Obama's immigration delay and plans for a new Texas detention center.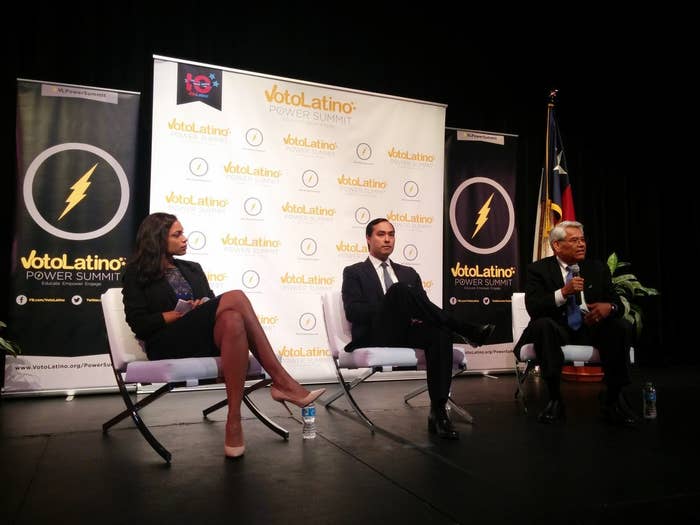 SAN ANTONIO — A routine panel discussion Saturday with Rep. Joaquin Castro and other activists turned contentious when one audience member challenged the panelists on President Obama's immigration executive action delay.
The Voto Latino event Saturday featured Rep. Joaquin Castro, longtime immigration activist for the SEIU Eliseo Medina, and the group's co-founder, actress Rosario Dawson discussing immigration policy. Marco Malagon, 32, an activist with United We Dream, an organization that represents DREAMers, stood up and publicly challenged them. Malagon held up his hand for a long time until he was finally called on by Dawson.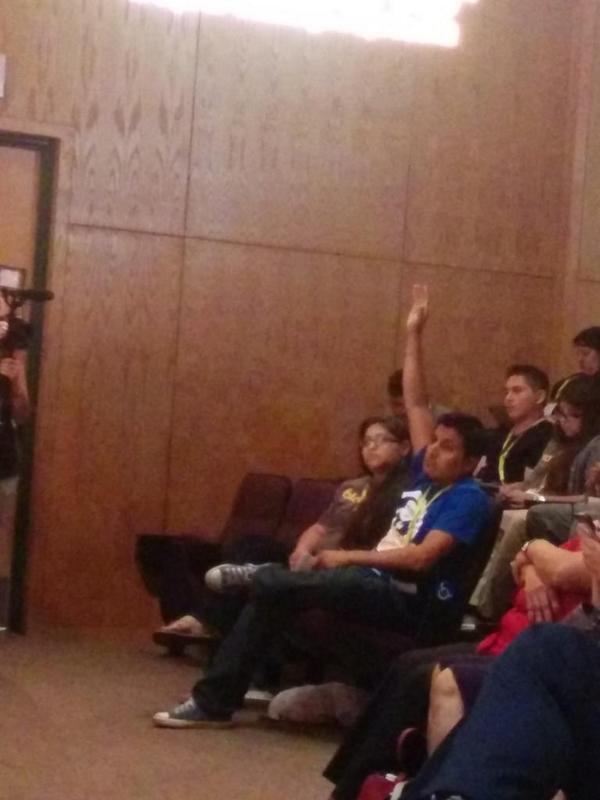 He had sharp questions for each panelist, asking Castro why he has not stopped a detention center being built in Dilley, Texas, and asking Dawson why Voto Latino doesn't feature DREAMers in its conversations about immigration policy.
Castro said one of the considerations is that detention centers have to exist, and that people can't just be out on the street. He said one of the issues he's looking into is how can conditions in detention centers be improved in general, but he said he is still talking to stakeholders about the center Malagon asked about.
But Malagon's most stinging critique was aimed at Eliseo Medina, a 50-year labor and immigration activist who holds an entrenched position with the SEIU labor union. Medina sent a letter to the White House along with faith organizations and others earlier this year asking for a delay to administrative actions to give Congress space to enact broader immigration legislation. Malagon said Medina was turning his back on the affected community quietly, but publicly on stage saying he was upset about Obama's decision.
"When we asked the president to give enough space to the Republicans to pass immigration reform — obviously they failed," Medina said after the event. "When they failed, we said the president needs to act because at the end of the day if we don't get comprehensive immigration reform that will cover everybody, we're gonna have to keep fighting this issue one at a time, again and again." And he referred to Malagon's criticism on his strategy that failed. "We have an obligation to take every chance to get it done, you don't always hit a home run when you swing but you have to keep swinging," he added.
After the event, Castro told BuzzFeed News, "It just shows the strong passion and spirit that this movement has always had and it continues. And it's part of what's necessary for change. But that movement also has to do more than berate politicians and even the White House because if that's the case then all we do is end up banging our head against the wall. It has to morph into a full-scale voter registration mobilization movement and if it doesn't then it's falling short."
Voto Latino founder Maria Teresa Kumar spoke in front of the crowd of San Antonio Latino college students after Malagon's questions and said the organization has featured DREAMers in its campaigns and said undocumented people can still encourage people to vote and share links with friends to do so. She spoke with him afterwards, where he became emotional saying the decisions by leaders have effects in the undocumented community.
"I'm standing up for the families that have been devastated by the lack of leadership from the Democratic party and the labor movement," Malagon said. "I have to stand up because that's the only tool that I have to protect our families. We know Eliseo and Catholic bishops sent a letter telling the president not to act on immigration reform and on the president's discretion. Now they see they made a mistake and they still tell us we're working, but I'm just asking them to give us a seat at the table. Those people who are suffering and those people who have everything to lose to be in the conversation."
Afterwards, he walked back criticism of Voto Latino, thanking them for hosting the discussion, but did talk about Castro's comments on stage that Malagon should register people to vote. He said it is illegal for him to register people to vote but said he brings citizen family members and friends to the polls and registers undocumented college students for the president's Deferred Action for Childhood Arrivals (DACA) program which allows undocumented youth brought to the country as children to receive work permits.
"I'm doing my best but I'm asking them to step out of their comfort zone and really be true leaders for the immigrant community," he said.