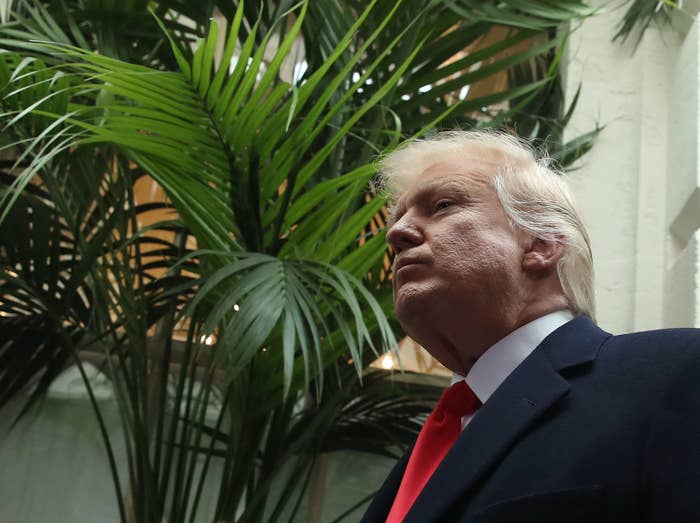 WASHINGTON — Donald Trump, who wrote a book about his preternatural ability to get deals done, lost in his highest-stakes negotiation yet. Trump failed to get House Republicans behind a badly battered health care bill backed by Speaker Paul Ryan, and the bill was pulled at the last minute on Friday afternoon at the president's request.
Trump, who barnstormed the country blasting leaders who he said had damaged the United States and promising that he would win so much that Americans would get tired of it, is decidedly on a losing streak, facing fresh questions over when and where he will find a signature victory for his young but stumbling administration.
The major health care defeat follows an injunction against a travel ban from Muslim-majority countries that itself had to be rewritten because the original executive order faced such steep legal challenges. Both of those setbacks came amid the cloud of investigations and allegations into ties between Trump's campaign and Russian officials that led to the resignation of his national security adviser Michael Flynn.
Trump isn't even winning in polls, which he used to frequently cite during the campaign. According to a new Quinnipiac national poll released this week, his approval rating is at 37% just two months into his presidency, when presidents have historically had high approval ratings.
His press secretary, Sean Spicer, sought to deflect blame from the president, saying three times that he "left it all on the field" in his calls and cajoling of Republican lawmakers but that "at the end of the day we can't force somebody to vote."
Still, Trump allies realize the blowup on health care is damaging to Trump and the prospects for passing his agenda.
"This is certainly an early setback," said early Trump adviser Sam Nunberg, who remains close to administration officials, noting that it's "bad" for his major first agenda item to fail. "They'll say Trump couldn't close the deal. I'm sure for him he knows those headlines will come."
But Nunberg added that it's overblown to say it harms Trump's reputation.
"He's sitting in the Oval Office," he said. "He closed that deal."
Rep. Chris Collins, a close Trump ally in the House, said he didn't want to blame the president, Ryan, or House leadership, but he went on to call the failure a "big black eye" for Republicans and said it "jeopardizes Trump's agenda for the next two years."
Jeffrey Lord, a public Trump booster on CNN, argued Thursday that Trump reminded him of Lyndon B. Johnson, comparing the backroom health care negotiations to the Johnson tapes of the former president's phone calls with lawmakers released years after he died. But Friday, as the health care bill died without a vote, Lord said Trump would rise again but pointed fingers at Ryan's failures.
"My view is he's a long-term ball player," Lord said. "When you look at his career, when he gets smacked down, he gets up. It doesn't necessarily need to be next week, or the week after that. My guess is that it will be at some point in the next four years."
As Trump's deal-making failed, he pivoted to another longtime skill: calling reporters to influence coverage of the very public Republican health care meltdown.
Speaking from the Oval Office, Trump told reporters, "I like Speaker Ryan. He worked very hard," but figures within the administration firmly put the blame on the Ryan rollout of the health care bill.
Two sources with knowledge of chief strategist Steve Bannon's thinking said he stayed away from the crafting of the health care bill once he saw the direction it was going — which he did not like — and got involved toward the end to salvage passing the bill, advocating along with Vice President Pence for block grants to be added against Ryan's wishes. The two sources indicated Bannon blames Ryan for the bill's failure.
"I don't think this hurts Steve internally, but the people it's exposed are Reince and Gary Cohn," one of the sources said. "If anything, Steve was working to try to get the bill passed with the Freedom Caucus."
Besides Ryan, Chief of Staff Reince Priebus, whose strengths were supposed to include his relationships on the Hill, could be in danger after the high-profile defeat.
"I would assume Reince is currently target No. 1 after this," said the source. "This is one of Reince's big portfolios; he worked with Ryan and tried to do it Ryan's way."
"This doesn't seem to be at all a priority for Bannon," said a source involved in negotiations with the White House. "He cares more about the border adjustment tax proposal, immigration and those type of issues."
For his part, Ryan said at a press conference that going from being the opposition party to governing comes with growing pains and "we're feeling those growing pains today."
But Lord said Ryan and the House Republican leadership's actions were "exasperating" after seven years of opposing Obamacare.
"It does not serve the president well and it only damages the speaker," Lord said. "What they should have been doing is getting these people in a room over time. Then the day after inauguration they should have appeared together on the Capitol steps, and they did none of that, so this is inevitable."
Calling health care the "toughest, thorniest political and policy issue that we currently have, Michigan GOP Rep. Bill Huizenga said Trump likely "learned through this process that politics is different than business... There are parallels between government and business, but they are not exactly the same."
"We're all independent contractors, right?" he continued. "And we have some 700,000 people that hire us and every two years do a job review. ... That's the difference that he's probably experiencing right now. There's no ability to sit someone down and say you're fired. It is up to our constituents."
But Arizona Rep. David Schweikert praised Trump for his willingness to work with everyone. "He met with Tuesday [Group], he met with Freedom [Caucus], he met with 'not aligned,' he met with rural and urban," he said.
Many Republicans were privately irked by how the rollout was handled. The repeated assertion by Ryan that he was "working hand in glove" with the White House on this effort seemed belied by the fact that the bill was rolled out in the House, and Trump's initial comment on the bill was tepid at best.
But in the past week, Capitol Hill leaders have increasingly put the onus on Trump. The president came to Capitol Hill to speak to House Republicans Tuesday morning and summoned various groups of members to the White House as the clock ticked down.
"President Trump was here to do what he does best, and that is to close the deal," Ryan told reporters after the meeting. On Wednesday, as he arrived at a meeting at the White House with Republican holdouts on the bill, Chief Deputy Whip Patrick McHenry told reporters that he was "bringing them to the closer."
By Thursday morning, House Republicans were already talking about the fate of the bill as largely out of their hands.
A Republican consultant who speaks with administration officials said victories will continue to elude Trump because he doesn't understand that contrary to how he ran his campaign, he needs to make friends and evolve.
"He's just trying to bully his way," the source said. "My fear is he's going to learn this later rather than sooner. He will eventually have a 'come to Jesus' moment, maybe when they take his phone away."
Some votes should have been easier for Trump to get, the source added, criticizing his lobbying of the Freedom Caucus "at the last minute" and the administration failing to give House members cover by losing the war on the airwaves to the Koch brothers and other establishment conservative groups over the health care bill.
Still, Nunberg maintained that Trump was "smart" to end the failing health care process today.
"If anything it shows that sometimes the best deals are the ones you don't make," Nunberg said, riffing on a line Trump tweeted in 2013 about business investments. "What was going to happen was there would be another week of negotiations, that would hold up his agenda items for another week, and more public airing of private grievances. He's cutting his losses and moving on."
In his remarks after the bill was pulled, Trump was already looking to return to health care when the terrain is more favorable in the future. He argued that once Democrats see Obamacare "exploding," they will work with him to make a "beautiful deal."
But for Trump, who wrote in The Art of the Deal that "more than anything else, I think deal-making is an ability you're born with, it's in the genes," his series of losses point to another more ominous part of his book for Republicans.
"You can't con people, at least not for long," Trump wrote. "You can create excitement, you can do wonderful promotion and get all kinds of press, and you can throw in a little hyperbole. But if you don't deliver the goods, people will eventually catch on."