This spring, Donald Trump attacked Gonzalo Curiel, the Mexican-American federal judge overseeing the Trump University lawsuit — and kept attacking.
This summer, Trump attacked the Khans, the gold star parents who lost a son in Iraq and slammed Trump during the Democratic convention — and kept attacking.
And now this fall, Trump can't seem to stop talking about Alicia Machado, the Venezuelan 1996 Miss Universe, catapulted to national prominence after Hillary Clinton mentioned during the debate that Machado was shamed by Donald Trump for gaining weight — and the latest in a string of non-politicians whose interactions with Trump have either damaged his candidacy, or become massive distractions.
The latest scattershot Trump salvo came before dawn, when he alleged that Machado had a sex tape.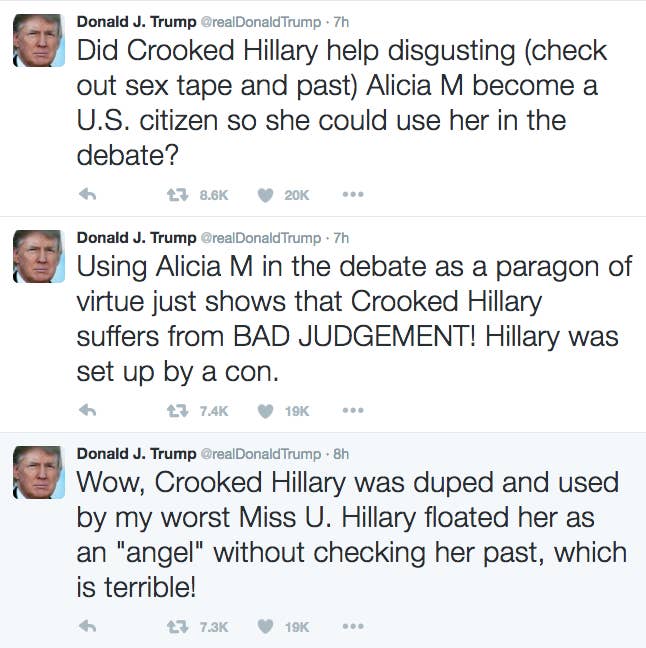 Clinton responded on Twitter, calling Trump's early morning attacks "unhinged."
"What kind of man stays up all night to smear a woman with lies and conspiracy theories?" her account tweeted.

On Instagram, Machado wrote that it was "not the first time the candidate insists on discrediting someone or insists on demoralizing women, minorities, and people of certain religions through his hateful campaign." She called his attacks slander and false accusations meant to humiliate and intimidate her.
In the days since the debate, Machado has made herself a fixture in the media and been a popular search term on Google, skyrocketing past even Kim Kardashian.
The Trump campaign and its surrogates have responded by questioning Machado's past, including allegations that she was a getaway driver when her then-boyfriend shot a man, and that she had threatened the judge on the case, though she was not charged in either circumstance. (In response, Machado told Anderson Cooper on CNN that she was "not a saint girl.")
The Clinton campaign became aware of Machado after an Inside Edition interview in May, in which she said Trump called her "Miss Piggy." She spoke of how he embarrassed her by taking her to a gym to workout in front of cameras and reporters and called her "an eating machine." Machado said she was becoming a citizen before the election to vote against Trump.
At the time, Clinton's Twitter account shared the video of the segment along with a message: "Congratulations on becoming a U.S. citizen, Alicia. Enjoy casting that vote." Machado responded by asking Clinton to stay "with us, with Latina mothers."

Soon Machado was connected with the Florida team, and knocked on doors to register voters for the campaign in the state in August, according to a campaign aide.
But how did a Florida surrogate, who also did events in Virginia, come to be mentioned a month later at the first presidential debate, a seemingly planned moment with maximum political potency with women, immigrants, and Latinos?
A campaign source said there was interest in using Machado's unique circumstances more as the race rolled on and the Latino team elevated her story for use in the debate during preparations.
"Why pick on Machado? He got kicked around in the debate but it was this thing about this woman," the campaign source said. "I'm starting to think there's a part of him that is really bothered by women, he wants to control them and when he can't he flips out."
Leon Krauze, a Los Angeles-based Univision anchor for the national network, said he believes the legacy of the Machado incident will be that it hurt Trump more with women, than with Latinos.
"I get what Clinton was trying to do, Alicia Machado is like a beautifully crafted stone, you get the female vote, Hispanics and immigrants with one single case," he said. "But from what we've been hearing on our end, the misogyny aspect of it resonates most, rather than the Latino aspect. There may be an impact with Latinos, but the main damage is with women.

Ana Navarro, a CNN commentator and Republican strategist who has remained staunchly anti-Trump, agreed. She said Trump can not restrain himself from charging wildly when he feels attacked even if it's an "idiotic thing to do."
"It is not helpful to see him and his surrogates trash Alicia. Hell knows no fury like a Latina who's been called fat," Navarro said.
Navarro, like Clinton spokesperson Jennifer Palmieri speaking to reporters Friday, noted that Trump similarly attacked another woman, Fox News anchor Megyn Kelly after a primary debate.
"His insults against Alicia are fat-shaming, bullying, and speak to a total lack of chivalry," Navarro said. "I think a lot of us are shocked that a powerful man can be so vile and petty toward a woman. It's kind of gross, really."

Clinton spoke with Machado during her drive to the airport Friday, thanking her for her "courage" as the issue has been unpleasantly elevated into a war of words with Trump, said Clinton spokesperson Nick Merrill.
Segueing to the day's events after eight tweets about Machado and Trump's comments about women, Clinton's Twitter account said "While Donald continues day 5 of his Machado meltdown, we'll be in Florida talking about national service."
But you got the sense the campaign was overjoyed, that thanks to Trump, Machado was still in the news.