Does San Antonio Mayor Julian Castro Want To Be The Vice Presidential Nominee In 2016?
Check out his Twitter account.
San Antonio Mayor Julian Castro is best known for being the first Latino to give the keynote speech at the Democratic National Convention.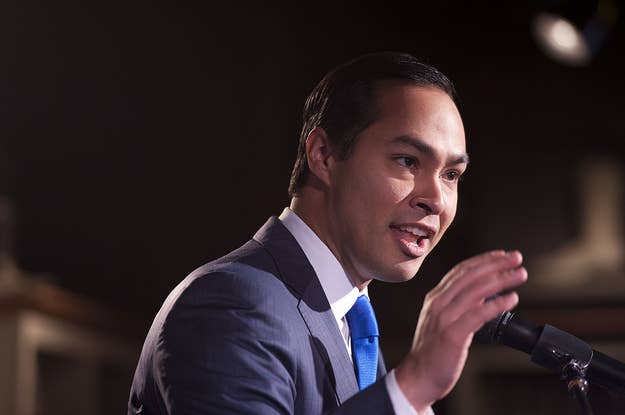 While the speech was well-received, a new poll by Latino Decisions of 2012 presidential voters finds that his popularity in the Latino community makes him a favorite to be named vice presidential nominee in 2016.
The question posed was, "If Democratic Presidential candidate selects Julian Castro as the Vice Presidential candidate what effect would it have on your likelihood of voting Democrat in the 2016 presidential election?"
Of the Latino voters polled, 32 percent would be much more likely to vote for the Democratic ticket and 30 percent would be somewhat more likely to vote for it. Altogether, choosing Castro would have a net +43 effect on the Democratic ticket, according to the poll.
Only Hillary Clinton and Joe Biden had higher favorability than Castro among Democratic politicians, the poll said.
It would seem that Castro himself, or whoever manages his Twitter account, liked what they saw from the Latino Decisions data because the account retweeted the poll.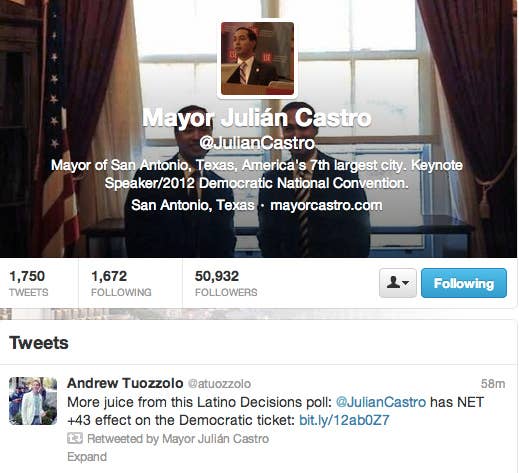 So is Castro, who was last seen on national television introducing beloved national anthem singer Sebastien de la Cruz, openly campaigning to be the Democrats' 2016 vice presidential nominee? The mayor's office did not immediately respond for comment.