Diversity Hiring Group: Entire Democratic Field Falling Short On Minority Hiring
Inclusv review of FEC data shows Clinton leading with 32% staff of color, Sanders 10%, and O'Malley 9%. Group calls for campaigns to release quarterly diversity reports, while O'Malley and Sanders campaigns blasts the numbers as false.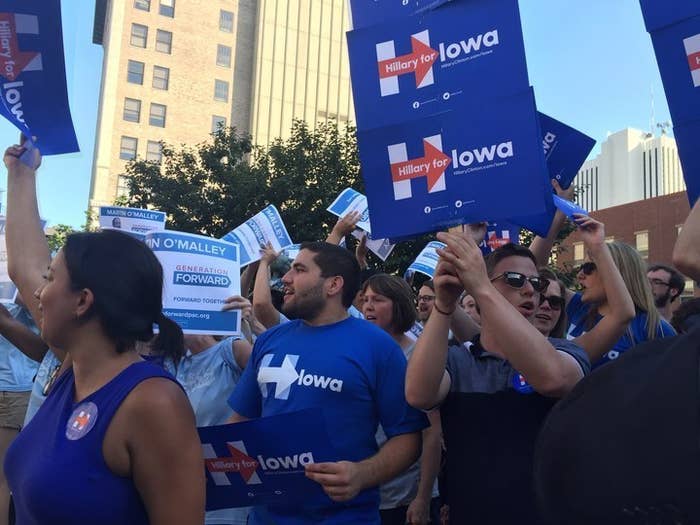 Diversity hiring group Inclusv has released staff diversity hiring numbers for the 2016 Democratic campaigns, which show that the Clinton campaign leads the pack.
But, the group says, all three campaigns are falling short on the issue.
The group, founded by Obama campaign veterans, says that Clinton is doing the best job on diversity: 32% of her campaign hires are minorities, based on July 1 FEC filings, followed far behind by Sanders at 10%, and O'Malley at 9%.
The group noted that the figures were estimates because of hires made after the filing deadline and called on the campaigns to release quarterly diversity hiring reports for the most accurate data to be available.
"In order for Democrats to win they have to inspire and generate enthusiasm in the communities of color," Inclusv co-founder Steve Phillips, a top Democratic donor, told BuzzFeed News, noting that 42% of Obama's voters were people of color.
The O'Malley campaign blasted the report, calling it false.
"As a board member of Inclusv and as the director of public engagement for Martin O'Malley, I am disappointed that the organization released numbers they know to be false," said Gabi Domenzain, who was brought on in a high-level role last month after serving as the director of Hispanic media for Obama in 2012.
Domenzain said she joined O'Malley's team prior to his launch, and is one of the highest ranking Latinas on a presidential campaign this cycle.
Sanders campaign called the information incorrect. "Of the 51 people on staff, 13 are minorities including African-Americans, Latinos and Asians. That's more than 25 percent," the campaign said.
The release of the diversity numbers comes after a disruptive protest this weekend by #BlackLivesMatter activists at the Netroots conference in Phoenix brought the issue of Democratic campaigns addressing issues important to black activists and voters to the forefront of the national conversation.
O'Malley was criticized and shouted down for saying "all lives matter" and "white lives matter," which the activists felt minimizes the history of blacks in the country. He later apologized. Sanders, who was criticized for trying to stay on his economic inequality message despite the protests, cancelled meetings afterwards. The next day, he tweeted the names of Sandra Bland and Eric Garner, two high-profile deaths the activists had mentioned.
"If staffers of color are not at the forefront within every department of your campaign, it's inauthentic to say you are ready to lead our nation on issues like immigration or criminal justice reform," said Inclusv co-founder Quentin James, the former black Americans director for Ready for Hillary, echoing the complaints by activists this weekend of the need for real engagement on minority issues. "If candidates want our support, people of color have to play prominent and vital roles within their campaigns."
In a statement, the Clinton campaign said hiring a diverse staff will continue to be a top priority. "From fundraising to our political operation to various roles in the early states, we're proud that we have staff in all aspects of the campaign that reflects America's diversity," a spokesperson for the campaign said.
The Clinton campaign has announced a number of Latino hires, and often states that the campaign does not believe in only hiring minorities for roles that only deal with minority issues. National political director Amanda Renteria, campaign treasurer Jose Villarreal, and Nevada state director Emmy Ruiz, hold high-level roles on the campaign.
Activists at Netroots said Clinton will have to answer the same tough questions the other candidates were faced with. During a Facebook chat Monday, she said that black lives matter.
"Everyone in this country should stand firmly behind that," she wrote. "We need to acknowledge some hard truths about race and justice in this country, and one of those hard truths is that racial inequality is not merely a symptom of economic equality."
The Sanders campaign did not respond to a request for comment before publication.
While Inclusv said some numbers would not be accurate because of the filing deadline, Domenzain took issue with the report saying O'Malley has zero Latino hires.
"The governor and his staff are committed to surrounding themselves with diverse voices as is exemplified by his leadership on issues most important to minority communities across the country," she said.