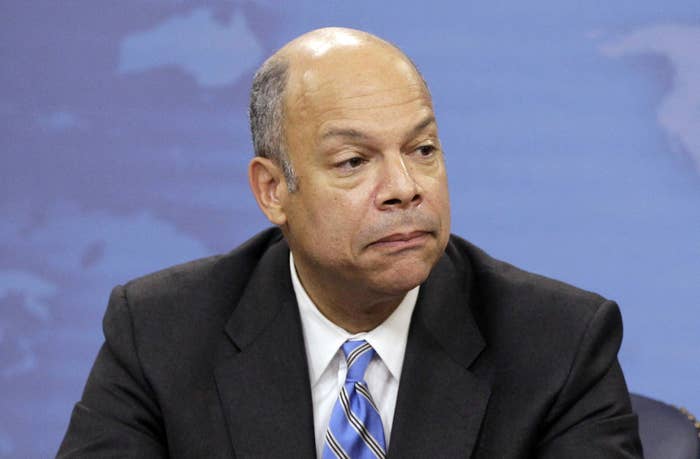 WASHINGTON — In a December letter to lawmakers, the head of the Department of Homeland Security Jeh Johnson said he shared their concerns over what could happen with the personal information undocumented youth shared with the federal government as part of the Deferred Action for Childhood Arrivals (DACA) executive program created by President Obama.
The fate of the program rests on what president-elect Donald Trump, who campaigned on deporting millions and building a wall along the southern border of the country, does after his inauguration. Many expect him to do away with the program as he said he would, though there have been nascent bipartisan efforts to extend protections legislatively.
In the letter sent last week, addressed to Michelle Lujan Grisham, the head of the Congressional Hispanic Caucus and obtained by BuzzFeed News, Johnson wrote to her and other lawmakers who had requested a response that "we share your concerns" over safeguarding the data of 750,000 DACA enrollees. The letter was first reported by Politico.
Johnson said the the federal government used the data for the administration of the program and cited decades of longstanding practice in regards to deferred action programs like foreign students affected by Hurricane Katrina and battered immigrant women under the Violence Against Women Act used for that purpose and not for immigration enforcement.
After being named "Person of the Year," Trump told TIME Magazine that the so-called DREAMers "got brought here at a very young age, they've worked here, they've gone to school here. Some were good students. Some have wonderful jobs." But after his election, reeling immigration activists scrambled to identify ways to defend the program and the vulnerable personal data of young immigrants because of his campaign rhetoric and policies.
In the letter Johnson said that since DACA began, the country has benefitted from thousands of DREAMers being able to "enroll in colleges and universities, complete their education, start businesses that help improve our economy, and give back to our communities as teachers, medical professionals, engineers, and entrepreneurs — all on the books."
Trump officials maintain that he will get rid of many of Obama's executive orders once he assumes the presidency but Newt Gingrich, a Trump confidant, told BuzzFeed News in December "somebody who came here at three years of age, speaks three words of Spanish — it would be pretty hard to believe you're going to uproot them."
Trump transition officials did not respond to a request for comment and his special counsel Michael Cohen declined to address what he thinks Trump will do with DACA.
Asked about whether Trump could surprise those who see him as purely an immigration hardliner, Cohen said "Mr. Trump will do what he believes is best for America, to Make America Great Again and that does not have any bearing regarding race, religion, creed or color. The only color he sees is red, white and blue."