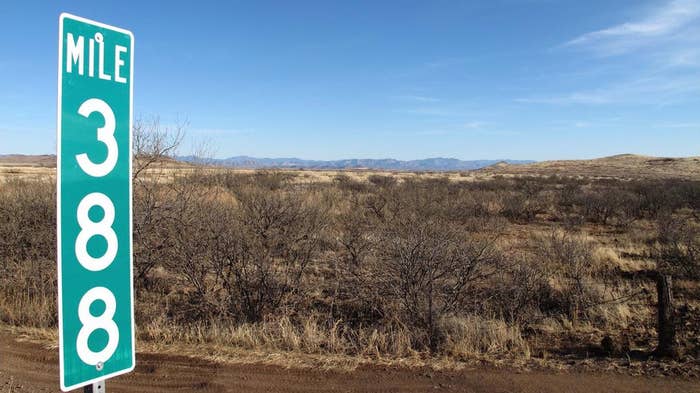 An explosive report leaked last week found that border patrol agents have repeatedly stepped in front of fleeing vehicles to justify shooting at the drivers and have fired at people throwing rocks at them across the border.
Now, civil rights and activist groups and Democrats are calling for the entire Police Executive Research Forum (PERF) to be released to the public.
Leaked to the Los Angeles Times last week, the report reviewed 67 cases that led to 19 deaths. The report also made two recommendations related to shooting at cars and rock throwers; both recommendations have been rejected by the border patrol.
"The border patrol acts with impunity and their budget keeps going up -- they're a rogue agency that operates by its own rules, if any," Frank Sharry of America's Voice told BuzzFeed. "This report they're sitting on finally sheds light on something we've known for a long time and it should be released."
"This is a real crisis in fatal uses of force," Chris Rickerd, policy counsel for the American Civil Liberties Union (ACLU) said, adding that there have been 27 deaths linked to the border patrol since 2010.
The report states that, "It is suspected that in many vehicle shooting cases, the subject driver was attempting to flee from the agents who intentionally put themselves into the exit path of the vehicle, thereby exposing themselves to additional risk and creating justification for the use of deadly force," according to the Times. Passengers were also struck by agents' gunfire in some cases.
"It should be recognized that a half-ounce (200-grain) bullet is unlikely to stop a 4,000-pound moving vehicle, and if the driver … is disabled by a bullet, the vehicle will become a totally unguided threat," the report states. "Obviously, shooting at a moving vehicle can pose a risk to bystanders including other agents."
In a statement to BuzzFeed, the border patrol described the report as an "internal advisory document" and said U.S. Customs and Border Protection agrees with the "spirit and intent of all the recommendations, and has already begun to take steps to implement the vast majority."
"U.S. Customs and Border Protection commissioned the internal CBP and Police Executive Research Forums (PERF) reviews to help develop and strengthen its use of force training and policies. The reports issued from the reviews remain internal advisory documents, as part of a deliberative process of developing and continuing to refine CBP policy. CBP agrees with the spirit and intent of all the recommendations, and has already begun to take steps to implement the vast majority. CBP's policy clearly states that agents and officers may use deadly force only when the agent or officer has a reasonable belief that the subject of such force poses an imminent danger of death or serious physical injury to the agent, officer, or to another person. Excessive force is strictly prohibited and deadly force is only to be used as a last resort. CBP is committed to maintaining the public trust, and will continue to engage with stakeholders on our use of force policy, training and actions."
Last year, the border patrol, which commissioned the PERF report, issued a document on use-of-force reviews, internal recommendations, and next steps. "CBP has agreed with the spirit and concerns underlying the more than 90 recommendations," the document stated. The reforms included increases in the number of hours of training, new equipment and technology to help avoid using deadly force, including less lethal forms of force like pepper spray, rubber bullets and tasers.
Testifying before the House last month, Department of Homeland Security Secretary Jeh Johnson said he expected border patrol to make use-of-force policies public "any day now."
Still, the border patrol rejected two of the recommendations made in the PERF report, "barring border agents from shooting at vehicles unless its occupants are trying to kill them, and barring agents from shooting people who throw things that can't cause serious physical injury," the Times reported.
Shawn P. Moran, vice president of the Border Patrol union, told BuzzFeed the border patrol was right to reject the recommendations.
"We feel if there is any restriction on when they can use force on rock throwers or vehicular assaults, the criminals we deal with will resort to those means on a more regular basis," he said.
Manuel Rodriguez, police chief of National City, a border town with a 60% Latino population, says shooting at fleeing cars is a terrible idea from a law enforcement and safety perspective.
"People get acclimated to what they see on TV or in the movies," he said. "In real life, depending how fast they're going the care is not going to careen before it hit the agent. If you're trying to stop a vehicle that's coming at you by shooting at it, you have less than a 10% chance of it avoiding you."
Rodriguez acknowledged that border patrol agents have a difficult and dangerous job, but he proposed a nuance that could allow for safer uses of force while still protecting agents. He said an outright prohibition or outlawing of shooting at cars could put agents in danger, but a restriction on shooting at cars except in the most extreme situations would make them safer and others as well.
The border patrol declined to comment on Rodriguez suggestion.
Activists point to people like Valentin Tachiquin, whose daughter was killed by border patrol agents, as an example of where these cases go wrong. He spoke with reporters on a call organized by Southern Border Coalition Group.
On Sept. 28, 2012, his daughter, a U.S. citizen and mother of five children, was at a friend's apartment in Chula Vista when border patrol arrived with an unrelated warrant. Valeria Tachiquin Alvarado, who a medical examiner later ruled had meth in her system, got in her car and fled. Border patrol maintains that Alvarado tried to run over an agent; an agent hung on the hood of her car and shot her nine times.
The family's lawyer argues the agent who killed her shouldn't have been allowed to work, having been suspended four times at previous law enforcement jobs for misconduct including crashing a patrol car and violating suspects' rights in the nearly four years that he worked as a sheriff's deputy, the Huffington Post reported.
"She was gunned down in broad daylight in a residential area several miles north of the border by an agent who should have never have been allowed to carry a badge or a gun," Tachiquin said, choking up. "Although her killing is still under investigation, nothing will bring my daughter, my beautiful daughter back. Since my daughter was murdered I have urged public officials to control the border patrol and to prevent future incidents of unnecessary violence."
Tachiquin, whose career was in law enforcement, added that he is heartbroken to learn that law enforcement agents would engage in the "shameful practice" of shooting unarmed civilians and that it is an example of an agency that has "a culture of violence that must be checked."
Lorella Praeli, director of advocacy & policy at the immigration organization United We Dream, said ICE is often referred to as a rogue agency by activists who say "don't even look at the border patrol because it's significantly worse."
"This is what happens when you militarize a border and terrorize a community," she said. "You create mistrust between law enforcement and the community."
A group of Democrats has pushed for more information about the conduct of the border patrol in recent years. A 2012 letter signed by 16 Democrats sought clarity on use of force policies by the border patrol, training of agents, transparency and steps taken when there is a complaint, and asked about reforms in light of troubling incidents.
Rep. Lucille Roybal-Allard, a California Democrat, told BuzzFeed the report raises alarming questions about the border patrol's use-of-force policies and "the agency's commitment to holding its agents responsible for their actions."
"After a series of deaths and allegations of troubling abuses, border communities deserve transparency and accountability from our nation's border enforcement personnel," she said in a statement. "I once again call on the border patrol to release the PERF report to the public and move quickly to implement its important recommendations. The American people understand that we can protect our borders without compromising our values."