Democrats Still Haven't Made Big Changes On Diversity Contracting
A mid-2014 report found that Democratic party spending was woefully short when it came to minority vendors. Six months later, Democrats are meeting with Hispanic-business owners and have Latino hires in the pipeline, but not much else to show.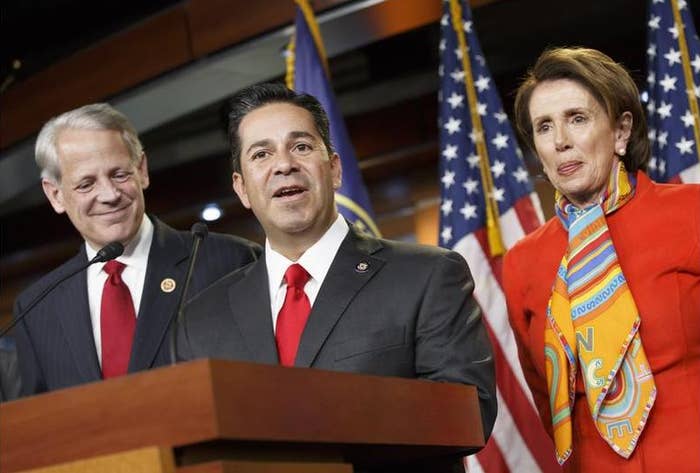 In September, a parade of executives from companies like BP, Verizon, and American Airlines walked into a conference room at the Grand American Hotel in Salt Lake City. The executives were there to meet with leaders from the U.S. Hispanic Chamber of Commerce to discuss improving diversity.
One other group shuffled into the room for their own meeting on the topic: officials from the Democratic National Committee (DNC).
The Democrats were just months removed from a damaging report by the group PowerPAC+ — the report revealed that only 1.7% of the $500 million the DNC spent on consulting went to businesses that are minority-owned or a minority principal.
In Salt Lake, DNC national political director Raul Alvillar, and Albert Morales in Hispanic engagement, told officials with the Hispanic Chamber of Commerce that bringing on minority, and in this case Latino vendors, was a priority. But the Democratic officials also said they were looking for the best candidates for the jobs.
Since then, Democratic officials have repeatedly met with Hispanic-owned businesses. The problem, others say, is that six months later, the meetings have happened, but minority vendors still have not been officially contracted by the DNC.
At the September meeting, USHCC president Javier Palomarez was frank but also offered to help.
"The DNC has had an abysmal track record of working with Hispanic business owners," Palomarez told BuzzFeed News. But as he often does with top companies, he saw the opportunity to surface Hispanic-owned businesses onto the DNC's diversity list, because he believes "Latino" is too often missing from the diversity conversation.
For their part, the two officials who went to Utah in September, Alvillar and Morales, have repeatedly met with at least four Hispanic-owned businesses. Those include, Yesmin Asmar, who owns event planning company Elite Global; Jeff Vigil, whose platform MyBusinessMatches.com serves like an eHarmony for businesses, linking up firms; and Carmen Castillo, the first Hispanic woman in the U.S. to run a billion dollar company, SDI International. DNC officials have also met with polling firm Latino Decisions to explore bringing them on to do work for the party.
When criticism followed the diversity report's release, the Congressional Black Caucus was said to be helping to find black-owned businesses for Democrats. But it's unclear what progress has been made on the issue.
Former CBC chair Marcia Fudge, who earlier told Politico it was clear the Democrats had no interest in addressing the issue, deferred to new chair G. K. Butterfield's office now. Butterfield's office did not respond to requests for comment by time of publication.
Angela Rye, a former CBC executive director, said the organization has often sought to help the DNC with this issue but there hasn't been much activity since the report came out this summer, adding that her understanding is that the DNC does not believe the report is accurate or comprehensive.
She said her stance is one many who care about the issue share.
"I am ready to help them, minority vendors are not hard to find," Rye said. "Talented staffers, folks that left the Obama campaign, I eagerly await their call. Whether doing media buys or polling or whatever. I'm happy to help them identify people."
Rye said a changing country needs a mindful and different approach.
"You have to meet people where they are and it is challenging — if not impossible — to do that while failing to hire people who look like them," she said. "You cannot remedy a problem you refuse to acknowledge exists."
Rye pointed to the idea of a yearly diversity vendors fair, supported by Congressional Hispanic Caucus and CBC members, as something that was presented but never went anywhere.
While the Hispanic business owners BuzzFeed News spoke to said they felt good about the possibility of securing a DNC contract after repeated meetings, DNC spokesperson Rebecca Chalif said the meetings thus far have been to grow relationships for the future.
"At the DNC we are always working to expand our relationships with minority owned businesses and will continue to look for new and innovative ways to bring more people from diverse backgrounds into the party," she said in a statement. "We know that one of the Democratic Party's greatest strength is our diversity and we work every day to ensure that the party's business practices live up to our commitment to that principle."
A source familiar with the process said the DNC has reached out to Hispanic, black, and Asian business owners.
Unlike the DNC, which has different types of vendors at all times, the Democratic Congressional Campaign Committee (DCCC) only contracts vendors during campaign season, which means their timeline is a little different.
But many point to the DCCC's new chair, New Mexico Rep. Ben Ray Luján, as a crucial move, placing a Latino congressman as the top campaign official for 2016's House campaigns.
In a statement, Luján told BuzzFeed News efforts will be undertaken to increase diversity.
"I am deeply committed to ensuring the DCCC takes all possible measures to increase diversity and create equitable opportunities for all people," he said. "We have been conducting a thorough evaluation of existing processes and working closely with the CBC, CHC and CAPAC to share best practices and ensure opportunities. We look forward to using the momentum of a new year and a new cycle to implement improved diversity practices."
A source with knowledge of DCCC matters told BuzzFeed News high-profile Latino hires are already in the pipeline at the DCCC.
Still, a top Latino strategist familiar with Democratic diversity hiring initiatives, who asked to remain anonymous to speak frankly, said the party has to change course fast.
"The 2014 election cycle should be enough proof for the party committees to dramatically change their approach to diversity. They spent hundreds of millions of dollars with little to no results. It only makes sense to proactively engage with people who understand these communities deeply. That requires systemic program change in the party and should start now, not after Labor Day in 2016," the strategist said.
Aimee Allison, senior vice president of PowerPac+, which released the initial report, said her group will meet with Democratic Party officials and activists in the coming weeks to give recommendations on how to "engage and respond to voters of color."
"We believe this transformation is part of a suite of changes the Democratic party will need to make to win and be successful moving forward," she told BuzzFeed News.
Allison said the CBC passed a resolution that it will present to the California State Democratic Party asking for a similar state party spending audit and believes the trend will continue anywhere that people of color make up significant voting blocks.
She also took on the idea that their report was not comprehensive enough.
"One of the recommendations will likely be to continue expanding research reporting in spending as one measure," she said. "The criticism that it's not comprehensive, well heck, no one has ever done it. It's not like this information is easy to find," she said, adding that the definition of what a minority vendor is wasn't even held to the highest and most difficult standard to reach.
Chuck Rocha, a veteran political strategist who runs one of the few Latino-owned political consulting firms in D.C., said he has seen changes from Democrats. Whereas it used to be difficult for him to get a meeting with the DNC, he said that's no longer the case. He also said there isn't much business to go around right now with the election over and 2016 campaigns far out.
"When that work starts happening, if it goes to another vendor, then we'll know all those meetings were for naught," he said.
When the spending report came out, the DNC pushed back, saying minority vendors aren't the only measure of success, sharing statistics on the hiring of minorities.
Allison said hiring minorities on staff is necessary but not sufficient.
"The DNC has a lot more work to do — none of the committees have an open contracting process," she said. "It's a systemic problem with the party. The DNC is going to need to go further than hiring a handful of people. It's about cultivating relationships on the ground with people working with people of color.
With minorities making up 40% of the party's base, she said, the success of the Democratic Party is at stake.
The Hispanic Chamber of Commerce president Palomarez said his is "not a civil rights organization, we're about business," but pointed to studies that show diversifying the business supply chain makes companies more profitable.
Carmen Castillo, one of the business owners who has met with the DNC, drew parallels between business and politics.
"You have to understand the country is changing so rapidly and that the only way to keep up is to do business with diverse suppliers," she said.
Rye was more direct.
"These people are part of the American fabric whether we're talking about black or brown people," she said. "Asian populations have been ignored. These are people who are a part of your base. If you want to be effective in communicating to your base; black, brown people, young women, you need to ensure you are hiring people who represent the best and the brightest in those spaces."