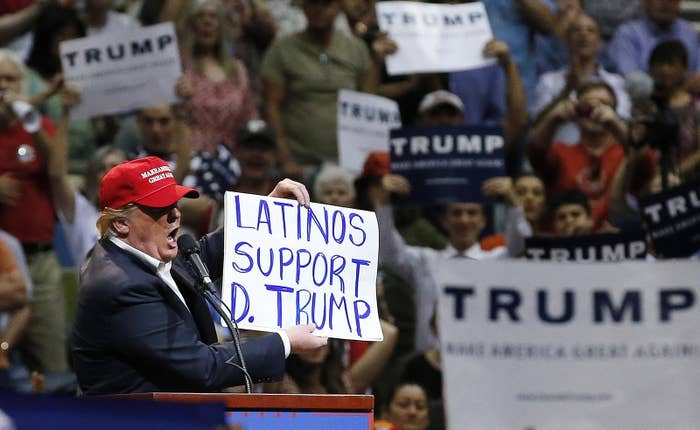 MIAMI — Is Donald Trump good for Democrats? Among Latino Democrats, there are concerns that the billionaire's anti-immigration rhetoric and unpopularity with Hispanics will actually cause the party to become complacent about reaching out to Latino voters.
In December, representatives for key immigration and Latino organizations made the trek to New York City, for a meeting with a group of liberal donors at George Soros' offices. The argument the donors heard was simple but direct, according to a meeting attendee: The Latino community is under attack by Donald Trump, and investing resources in actually turning these voters out could be the difference in the election.
Three months later, as first reported by the New York Times, the muscle arrived in the form of $15 million for a partisan immigration-focused effort that will seek to get Hispanics to the polls. For now, the campaign will be centered on Colorado, Nevada, and Florida — three traditional battleground states with large Latino populations.
The $15 million Soros effort is being led by the political arms of the Center for Community Change (CCC), the Latino Victory Project (LVP) and America's Voice, all coming together under a new super PAC, the Immigrant Voters Win PAC. The groups appear to have won an internal fight among liberal advocacy groups that surfaced in a BuzzFeed News report that members of the Democracy Alliance, a group of liberal donors, were trying to start their own Latino-focused group.
Although the effort has been met with approval, there's also a wariness about it. Some Latino Democrats say it's not enough (the difficult and principal task of finding and registering Hispanic voters is expensive). Others worry it's too wrapped up in immigration — at the expense of other issues Latino voters care about. Still more look at the map and wonder if the efforts against Trump should be expanded to states like Arizona, instead of Nevada, which suddenly seems more safely blue.
Most, however, agree on one thing: Trump isn't going to turn out Latino voters himself, and Democrats will be foolish to assume that is the case.
Rep. Joaquin Castro told BuzzFeed News that he sees the effort as a good start — but said Trump alone will not juice Hispanic voter turnout.
"The spending on engaging Latino voters is an incredibly positive thing," he said. "We have to be aware that although the Latino community is very upset about Donald Trump and the Republican Party, that's not a substitute for going out and engaging them in a way that gets them to the polls."
"This is a war and you want to use everything at your disposal — the Army, the Air Force, the Navy," said Ben Monterroso, executive director of Mi Familia Vota (MFV), which does work in the three targeted states, but isn't receiving the Soros money. "There's a lot of hope and expectations that our community is going to come out just because they need to come out."
(On the ground groups like PLAN Action and the Culinary Union in Nevada, SEIU and CIRC Action Fund in Colorado, and the New Florida Majority and Florida Immigrant Action Committee in Florida will be receiving funds from the Soros effort.)

Latino Victory Project's Cristobal Alex joked that Trump is a top Latino organizer — but said that isn't enough. "I fear there is more energy on the right and if we punch below our weight he could be president," said Alex, whose group is part of the $15 million initiative.
Brent Wilkes, the executive director of LULAC, also chided Democrats excited about facing Trump, saying, "You don't play roulette with Democracy and ask for a loaded gun. What about if it goes off?"

Many Democrats believe that Trump will do a lot of work for Democratic turnout, particularly in relation to the vaunted Obama coalition that delivered big wins in 2008 and 2012 with young women and people of color.
After the Republican debate in Miami, for instance, gleeful Democrats fanned out in the spin room to concern troll their GOP counterparts. DNC Chair Debbie Wasserman Schultz, whose district is 28% Latino, noted that pundits talk about the voters Trump is activating but Latinos also "would be very motivated to turn out against him and I think that he has awoken — the giant wasn't completely asleep — but I think there are a lot more minority voters in general that are going to be very motivated to make sure he is never president."
Guy Cecil — the lead strategist for Priorities USA, the pro-Clinton super PAC that has unveiled a $4.5 million effort to turnout Latino, black, and women voters — was at the donor meeting in December. He said Trump provides a "huge" opportunity with Hispanics, but said the economy, the cost of college, paid family leave, and raising the minimum wage are also "steps on the economic ladder where there is a strong contrast with Hillary Clinton" and Trump.
"There's no question that immigration is going to be an important issue but it's not the only issue when it comes to communicating with Latino voters," he said. "From Spanish-language to English-dominant households, it would be a travesty if we don't do everything we can to reach out to those voters."
The biggest challenge is actually registering Hispanics. Democrats need to reduce the number of eligible but unregistered voters. Antonio Gonzalez, who has led the Southwest Voter Registration Education Project for 30 years, said the number currently stands at about 14 or 15 million people.
A number of groups are already engaging that challenge, helping Latinos become naturalized citizens and helping register those who are citizens. The Florida Immigrant Coalition, for example, will be a beneficiary of the $15 million initiative. The group wants to do more events like the one they organized on Saturday: 1,200 people stood in line outside Marlins Park in Miami to become American citizens. Many Hispanic immigrants have said they are naturalizing and registering to vote against Trump because of his anti-immigrant rhetoric.
But Mi Familia Vota, which has registered 13,000 voters this cycle — including 4,000 in Florida, 1,000 in Colorado, 2,500 in Nevada, as well as 1,000 in Arizona — says it can't do more unless funding comes its way.
"Mi Familia Vota is not seeing the resources coming in to close the gap for the people that are not registered," Monterroso said. "Who is going to do that job?"
Wilkes, the executive director of LULAC, agreed that he'd like to see more resources but is happy they exist in the first place. "Would I like to see resources coming to Mi Familia Vota, LULAC, and NCLR? Yes, I would but I'm not going to poo poo those efforts."
The efforts most activists and advocacy groups want involve messaging beyond immigration, and beyond a handful of traditional battleground states. Some see opportunities to make inroads with young Latino voters off Trump's rhetoric — but that will involve finding, targeting, and messaging to these voters. Gonzalez said efforts like these will grow if party leaders and donors decide to make states like Pennsylvania and Arizona targets along with Colorado, Nevada and Florida.
"There's a debate about Arizona," Gonzalez said. "The debate is if you invest a lot of money will it result in a purpling of the state. Some donors agree, some don't. Some party decision makers agree, some don't."
That kind of calculus, however, is not as sexy to many donors because it's not about changing the short term. In private, some Latino groups are having a different kind of conversation, one that's more about growing Latino political power for 2020, 2022, and beyond.
At the National Association of Latino Elected Officials (NALEO) gala on the same night that key states like Florida voted, the organization's executive director Arturo Vargas addressed the "dirty little secret" — the urgency of improving Latino voter participation.
But privately, in an email to national Hispanic leaders obtained by BuzzFeed News, Vargas unloaded on the Soros effort, writing that "once again our community is being played by wealthy partisan donors at our community's own expense."
Calling it a last-minute "money dump," Vargas said it was insulting that the money was going to a non-Latino led organization — "obviously the wealthy donors do not believe we Latinos are capable of managing resources," he wrote. "There will be no building of the Latino civic infrastructure. There will be no building of true Latino political power," he added.
Hispanics will be told that "this is the most important election in our lifetimes," he said, arguing that they heard the same thing in 2008 and 2012, and they will vote but they won't get "better wages" or "immigration reform."
"And come January 20, there we will be, the Latinos, hat in hand, begging for the new president to appoint at least one Latino to the cabinet and to throw us a few other scraps," he wrote.
The wealthy donors will have moved on, achieving their partisan outcome at Latinos' expense, he concluded, and said that the worst part is that Latino organizations and leaders will be blamed for the community's political apathy — "that is the real dirty little secret."
For Monterroso, truly engaging Latinos to stop Trump is about across the board, robust efforts that go beyond immigration.
"We're being irresponsible not doing everything we can do," he said. "I don't want to get to November 8th and think that one more phone call, one more voter, would have helped."