Democrats Scramble To Hire Latinos After Colorado Midterm Loss
The Democratic National Committee has met with at least six Latino candidates for national press secretary and director of Hispanic media positions.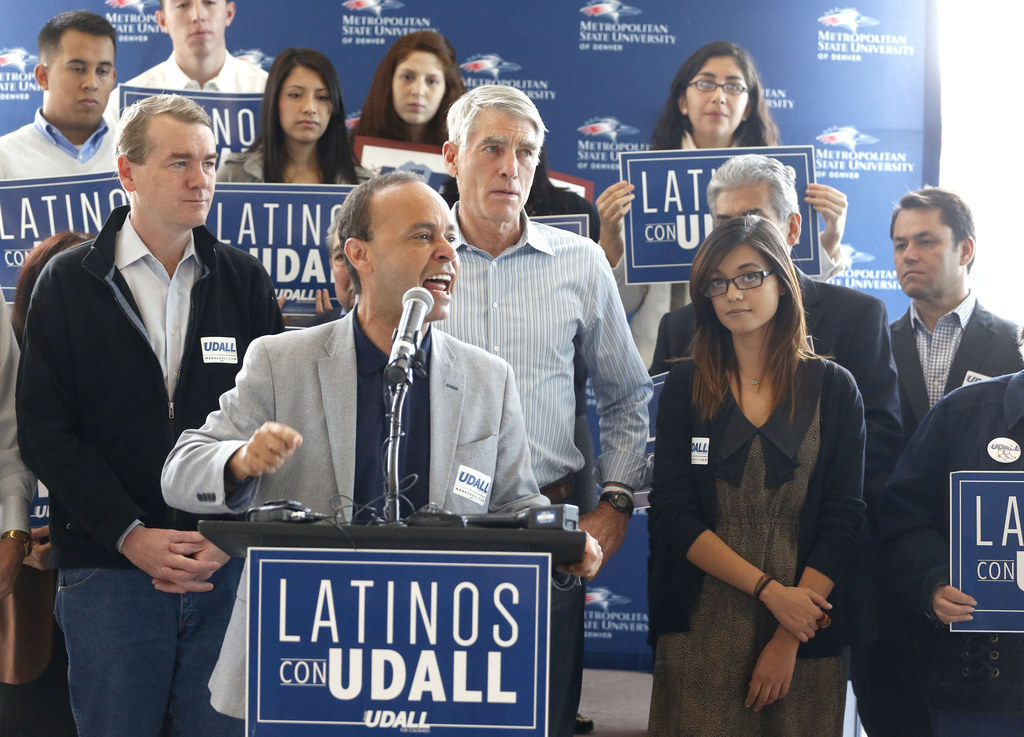 While Democrats wait for a post-election review of what went wrong in 2014, the party's leaders are already moving quickly to address something they don't need a report to tell them — that re-engaging Latino voters is crucial for success in the 2016 presidential election.
Sources tell BuzzFeed News the Democratic National Committee (DNC) is actively meeting with Latino candidates, not just to replace the previous Director of Hispanic Media Pili Tobar, who left to be communications director for Arizona Rep. Ruben Gallego, but also for a national press secretary role. One source who met with party officials said Democrats have met with at least six candidates, and the DNC said that while it didn't want to give specifics about a hiring process that is still ongoing, the actual number is higher than that.
Sources that have met with DNC staff, and others with knowledge of the conversations, said the focus on Latino outreach by the party is a result of the stinging November loss in the Colorado Senate race between Mark Udall and Republican Cory Gardner.
"Obviously that's a loss none of us wanted to see at all," said Jose Parra, a Democratic strategist who worked for Harry Reid. "It sets back the party, it sets back the community, the fact that Udall was so good on these issues in the community."
After Udall's loss, some Democrats criticized him for avoiding the issue of immigration rather than drawing sharp contrasts with Gardner, who had opposed overhauling immigration laws but ran a campaign with an inclusive tone.
Tobar was sent to Colorado two weeks before the end of the campaign. Some noted it's common practice as races come down to the wire to send people where they are needed but others said it was further evidence Latino outreach was a clear weakness of the campaign.
"Colorado was a wakeup call for lots of us and there will be five Colorado's coming up in 2016; it's a priority for lots of us," said Chuck Rocha, a veteran political strategist who runs one of the few Latino-owned political consulting firms in D.C.
DNC Communications Director Mo Elleithee said the Latino outreach focus is not just a reaction to the Colorado loss, calling that interpretation an "oversimplification," but added that Democrats have a "tremendous story to tell but we don't always tell it" when it comes to Hispanics.
Democrats have virtually run the table with Hispanic voters since House Republicans beat back George W. Bush's attempt to revise immigration laws a decade ago, a running intra-party battle marked by bitterly anti-immigrant rhetoric that has alienated many Latino voters.
But the Democrats' broad political advantage hasn't always been reflected in the party's structures in Washington, a former director of Hispanic media for the Obama administration, Luis Miranda, said.
"Leadership at the party and in major campaigns doesn't always accept the need to integrate that diversity, and all too often the hiring of minority outreach staff is treated as needing to just check a box," he said. "If they're going to keep their lead they need to really empower diverse talent throughout the party, campaigns, and allied organizations — and not just on minority outreach but in every aspect of their operations."
BuzzFeed News previously reported that the DNC has not yet made many improvements in its hiring of diverse contractors after a 2014 report was critical of its practices.
But many see it as a good sign that Democrats are interviewing Latino candidates for the national press secretary role as well, noting that the way to effectively speak to Latinos is by hiring multiple people who understand and come from the community.
Still, they point to a problem with how the Hispanic media director role has been structured up until Tobar's departure.
"One ridiculous habit of party committees is to make their Western regional desk also in charge of all things Latino/Spanish," a source said. "This sends a horrible signal that messaging to over 50 million Latinos in this country is only worth half a staff person, and that the Latino who does that job has to do three times as much work as a national comms director, regional desk, and translator to be viewed as an equal to their regional counterparts internally."
One person who met with DNC officials before the end of 2014 said they were told the role would continue to be structured this way, but Elleithee, noting that sometimes staffers have to pull double duty because of budgetary challenges, said, "We will have a full-time national Hispanic communications director do exclusively that. In the past the DNC has split the role."
Elleithee said he has leaned on longtime Democratic strategist Maria Cardona to help find qualified candidates, and he noted there is no shortage of qualified Latinos for both roles.
Cardona, who is part of the task force put together to release the post-election assessment, told BuzzFeed News the review isn't complete. However, the prevailing notion in conversations across the country — which include pollsters, campaign staffers, and people in places like Colorado, where the party feels it should have done better — is that Democrats ran away from their message instead of doubling down on it.
She said Democrats are being picky when it comes to choosing the Hispanic media person. "They want the highest caliber person they can find," she said. "This is going to be a position that is no longer at the margin, no longer an after thought in terms of press strategy, this person is going to be at the table."
"It's one of the most crucial positions in that building," Rocha said. "It's the single most important hire the DNC has all year long."
Cardona added that she has sent candidates the way of the DNC for the national press secretary position and that officials "would be over the moon" if the eventual hire ends up being Latino.
The DNC has already hired Raul Alvillar as its political director.
"The Raul position didn't happen overnight," Rocha said. "He's a seasoned veteran; there haven't been Latinos working at the higher echelons of political campaigns — I respect that."
The challenge for 2016, Cardona said, is to bring even more Latino voters to the polls by honing in on the importance of two Obama policies to the community: health care, which 10 million more Latinos are eligible for, and protections for almost half of the undocumented population in the U.S.
Many who have worked in Hispanic outreach for the party and campaigns said they only are reached out to around elections and some specific incidents still leave staffers smarting.
One Latino operative recalled that, in 2009, a press officer trying to get a Hispanic media interview for the Cabinet Secretary he worked for got this response from more senior staff: "It's not 2007 anymore, we don't need to talk to them."
Gabriela Domenzain, an Obama campaign veteran, said successful Latino outreach going forward isn't a given.
"The Obama campaign was the first truly bilingual and culturally sensitive campaign in history," she said, pointing to details like the attention to different accents — Puerto Rican and Colombian in Spanish-language ads that aired in different parts of Florida and Mexican in places like Nevada. Obama also, strategists said, thought about Latino voters — and operatives — from the beginning of the campaign.
"The way Obama did his campaign in 2012 and Reid did in 2010 should be standard operating procedure across the party," said Parra, noting that Reid has three Latinos working on communications for him. "It has to be integrated with the whole communications effort, done way out in advance, not two months ahead of election day. You have to remember that voters are people, you can't turn off the switch for 10 months and then turn it back on."
Latino Democrats have also pushed the party to add a Latino pollster, something Elleithee said is under consideration.
"We haven't figured out what our entire polling operation is going to look like but we've started having those conversations. It's very much on our radar," he said.
There was some praise for the DNC, like the work of Albert Morales, who serves as a liaison between Alvillar and those on the outside. Morales has conducted outreach with groups like the Hispanic Chamber of Commerce, as BuzzFeed News previously reported.
And Rocha, who said Democrats shouldn't be blamed for Udall's shortcomings in Colorado, said the increased focus on Latino outreach is the right focus at a crucial time.
"Luckily, Republicans are still against raising the minimum wage and still want to deport people — that's why we need the perfect Latino press secretary," he said.