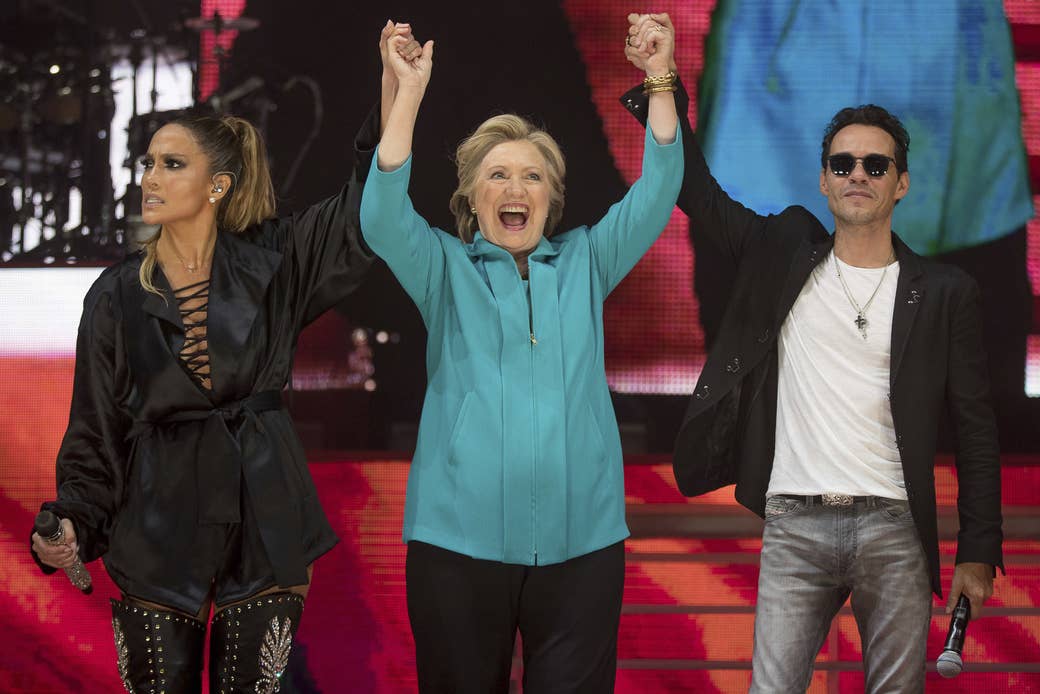 MIAMI — In true Miami fashion, the rains came quick and heavy — at least four times — as Jennifer Lopez, Marc Anthony, and Gente de Zona performed at a get-out-the-early-vote concert for Hillary Clinton Saturday under the glass-rimmed hotels and residential towers of downtown Miami. The mostly Latino crowd of 7,500 people moved fast, not to leave, but to retrieve their umbrellas. They weren't going anywhere.
And by the time Lopez looked ready to wrap her set, Clinton came onstage. Her lines could have used some workshopping (after J.Lo's "Let's Get Loud" she said, "Well, I say, let's get loud at the voting booth!") but no one left. They cheered for her, seemed genuinely excited to see her standing with the divorced Lopez and Anthony, and when she echoed Michelle Obama's now-famous line "When they go low..." the crowd thundered back in unison with Clinton, "we go high!"

This crowd was packed with young Cubans, Venezuelans, and Puerto Ricans — the Latino vote everyone talks about.
Ten days earlier, Clinton took the stage after her last debate in working-class and predominantly Mexican-American North Las Vegas, sharing a stage with Mexican music legends Vicente Fernandez and Los Tigres del Norte. The older debate-watch party crowd went wild as Bill Clinton embraced Fernandez, while she addressed the audience.
Hours earlier, when the sun was still out and Clinton appeared on the big screen, walking towards the debate site, the crowd gave its first big cheer of the night. Local Spanish-language radio DJs helped fuel turnout for the event with PSAs. Ultimately, the campaign's 2,700 RSVPs turned into 6,500 energized attendees.
This is the Latino vote, too.
These kinds of events, and the attentiveness of Clinton's campaign toward Latino voters, may be paying unexpected dividends. The campaign is encouraged by early voting in Clark County, which is 31% Hispanic and where 75% of Nevada residents live, as well as other states with large Latino populations, like Colorado and Arizona. While black turnout in the early voting states has been lower (and potentially troubling for Democrats) with Barack Obama no longer on the ballot, Latino and Asian voters are showing apparent strong enthusiasm for voting so far.
There is excitement from Democrats and Latino leaders, but privately also concern: What happens if Latinos don't turn out after historic attacks on Mexicans and immigrants and Trump on the ballot?
"Yes, I'm worried, I don't want to say the worry is just for the Latino community, but for the country," said Mi Familia Vota executive director Ben Monterroso, whose group works on registering Hispanic voters and getting them out to vote in key swing states. "If we don't turn out, what happened?"
While he expects a record number of Latinos to vote, he said, there will still be 10 million out of 27 million eligible Hispanics who didn't register to vote and 5–6 million people who were eligible but didn't become US citizens. "So we have a lot of work to do. I'm always afraid, as a good organizer, the campaign doesn't end until the day after Election Day."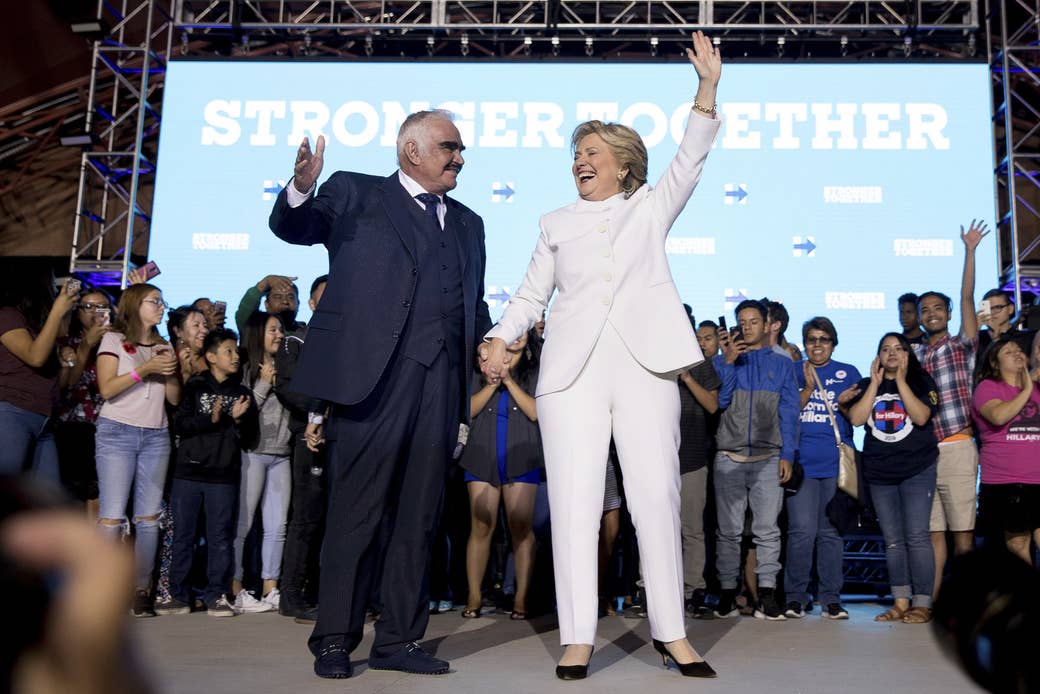 Albert Morales, a Democratic veteran who ran Hispanic engagement efforts for the DNC, credited the campaign's Nevada state director, Jorge Neri, for "putting on what will probably go down as one of the most consequential events in presidential Latino politics" with Fernandez and Los Tigres del Norte. "Sometimes people need to see that," he said, noting the unexpected turnout. "That when you make an investment there is a return." And while he said he expects record turnout on Nov. 8, he too noted how devastating falling short would be for future elections.

"Of course, it would be harmful," Morales continued, adding that it would be a tough sell for the Ben Monterrosos of the world engaging donors a year from now looking towards 2018. "How do you go to donors and say, 'I need $300,000 for a voter registration effort in South Texas' [after depressed turnout]? Of course it's going to hurt your argument."

But while Latino leaders expect big Hispanic turnout, they are also angry that Democrats and progressive groups have not looked to expand their investment beyond traditional battleground states.
Within the Clinton campaign there is increasing confidence that Latinos will show up to vote in unprecedented numbers, with two staffers telling BuzzFeed News they believe Clinton's margin could reach an unheard-of 80%. (Obama's 71% figure was widely seen as impressive.) Along the same lines, Romney's 27% support was considered to be dismal but Trump is expected to achieve a historically awful number from the Hispanics he claims love him. Still, a wide margin is one thing — big-league turnout is another.
"If Latinos don't turn out, it would be horrible," said one of the campaign's top Latino staffers, adding that they expect record voting.
And with Election Day barreling closer, it's not just Democrats who want to see Hispanics punish Trump.
"If, after Trump called Mexicans 'rapists,' attacked Judge Gonzalo Curiel, attacked Alicia Machado, kicked out Jorge Ramos and Jose Diaz-Balart from press events, never gave one national Spanish interview, and spent his entire campaign hitting immigrants, Latinos still don't go out and vote in massive numbers against him, then my community will have lost its right to speak," said Republican strategist and CNN commentator Ana Navarro.
She said Hispanics will not be taken seriously if they do not react to Latino immigrants being Trump's punching bag for 18 months. And true to the anti-Trump passion she has brought to her 2016 TV appearances, Navarro said Hispanics should vote unless they are healing broken bones in traction, "are in a coma or are being held hostage, or have been kidnapped by Martians — there is not one damn excuse not to go out and exercise the power of your vote. Not one.
"If we let that happen, we are laying the foundation to be at best ignored, at worst attacked in future elections. I can't even bear to think about it."