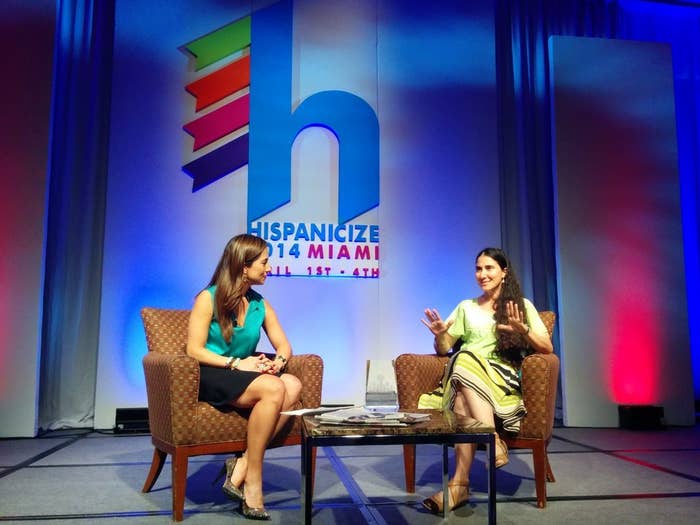 Cuban dissident Yoani Sanchez said at the Hispanicize conference in Miami Tuesday that the current situation in Venezuela brought to mind parallels in Cuba , and also lauded protesters while blasting the government of Venezuelan president Nicolás Maduro. Sanchez spoke at the conference, where she was given a "Latinovator" award, before being interviewed by Fusion's Mariana Atencio.
Sanchez described differences between Cuba and Venezuela before jumping into what the countries share.
"We're not the same, Hugo Chavez and Nicolás Maduro didn't break the economy and completely stifle information," Sanchez said. "Venezuelans still have social connections, which we're seeing in the protests."
She said the countries have similarities in that their governments have brought the people down a dangerous path. "[Venezuela] has hijacked the name of the country to speak for the government," she said.
She said she didn't have a message for Venezuelans because they are managing their fight on their own.
"I can't say do this or do that because they're the ones teaching us lessons in rebelling," she added. "I would say, I'm paying attention, I'm learning and thank you."
Sanchez also elaborated on her announcement from earlier this year about her plans to create the first digital Cuban newspaper without censorship.
She said the effort, which she plans to launch in April or May, doesn't have the luxury of finding reporters to cover issues in the same ways other outlets might.
"We can't just look for a reporter to cover the economy, for example," she said. "They have to have the valor and understanding of a Cuban who will be targeted by government. It's about, do you have the bravery to do this? Are you willing to learn to be a journalist?"
Since Cuba lifted travel restrictions, she has been able to travel, but she said she still fears someone will come on to the plane and take her off. She said surveillance on her has been upped since she returned to Cuba after making some high-profile speeches which were critical of Cuba, but she has no plans to abandon her home country.
"I have hope, if I didn't I wouldn't stay in Cuba," she said.
"I have conviction and faith that my country will change and that our children will be able to see a change. There will be difficult times but I will pass them in Cuba making a newspaper."