After mounting pressure from DREAMers and activist organizations to get Democratic leaders to take a stand on the record number of deportations by the Obama administration, the Congressional Hispanic Caucus (CHC) is set to vote on a resolution Thursday to ask the president to slow deportations and increase his use of prosecutorial discretion, sources told BuzzFeed.
Salvador Sarmiento, national campaign coordinator for legislative affairs at the National Day Laborers Organizing Network (NDLON), told BuzzFeed he was briefed on a draft of the resolution by a congressional staffer who had read it. He characterized the resolution as aiming to slow deportations and increase use of prosecutorial discretion.
"This is not a statement that's going to move the process forward," Sarmiento said. He described the language as both mild in tone and in terms of what is being asked of the president.
The draft was circulated by Rep. Luis Gutierrez at last week's CHC meeting. A congressional staffer with knowledge of the CHC said there will be a meeting of the CHC Immigration Task Force Wednesday where the resolution will be discussed. The discussion draft resolution would then be voted on Thursday after consideration by the task force.
The planned resolution by the CHC comes after a slew of movement on the deportation front in the last week. Senators Menendez, Harkin, and Schumer came out in support of executive action by the president to do whatever he can to slow "needless" deportations. Janet Murguia, the head of the National Council of La Raza, ended the group's silence that has led to criticism from other Latino advocacy groups, calling Obama the "deporter in chief" Tuesday.
At a town hall meeting Wednesday focused on encouraging Latinos to enroll in health care, Obama was asked about the deportation question and his standing in the community repeatedly. "I am the champion in chief of comprehensive immigration reform," Obama shot back. "But until Congress passes new laws, I am constrained in what I'm able to do."
Sarmiento said the coming CHC statement, which reportedly ends with a list of people that would benefit from expanded prosecutorial discretion, restates what Democratic leaders said last week. "If this is the Hispanic caucus, they need to be leaders not followers on this issue," he said.
Erika Andiola, a high-profile DREAMer and national immigration activist, said she heard about the coming resolution and is not impressed.
"I heard they were going to comment, but it's a low-hanging fruit kind of thing," she said.
"We're asking the president to expand deferred action for as many people as the law says is possible," she added. "We want Democratic leaders and the CHC to come out asking the president to do more. The majority of immigrants in this country are Latino. Why not try to protect the people you're trying to legalize?"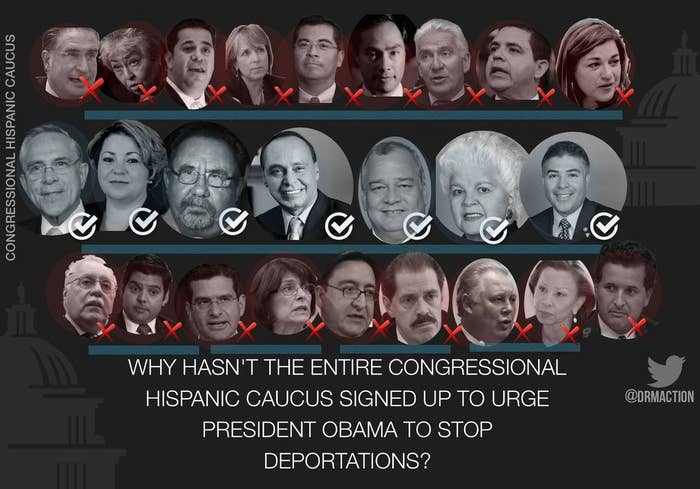 Cesar Vargas, co-director of the DREAM Action Coalition and National Activists for the DREAM Act, posted the photo above on Facebook with the caption, "Who in the Congressional Hispanic Caucus (CHC) has our back?" He said he's aware of the coming resolution but wishes the CHC would use the influence it wields to push back against deportations.
"They're now following, they're responding, they're not being proactive," he said and called on CHC leaders like chairman of the House Democratic caucus Xavier Becerra, CHC vice chair Ben Ray Luján, and up-and-coming Joaquin Castro to step up individually.
"Becerra, Ray Luján and Rep. Joaquin Castro — we really want to be able to hear from them. When are Democratic Latino leaders going to be outspoken on this?"
Becerra's, Ray Luján's, and Castro's offices declined to comment for this story.
A source close to the CHC said it formally asked the president to use prosecutorial discretion in early 2011 and has been consistent in calling on him to dial back deportations since then. The new resolution would then be the first formal statement this year on deportations.
Both Vargas and Sarmiento mentioned that Reps. Luis Gutierrez and Raul Grijalva have been leaders on the issue, including on the December letter sent to the president, calling for a suspension of deportations and an expansion of deferred action. Both activists said other groups like the congressional black caucus have been leaders on the issue but have not gone as far as they would because the CHC has not commented.
"They understand that immigrants are in a state of crisis, but have held back because they don't see the CHC moving," Sarmiento said.
Still others say perspective is needed on who is holding back an overhaul of the nation's current immigration laws.
David Leopold, former president of the American Immigration Lawyer's Association, said that while that the president should ensure people who qualify for relief under the Senate bill should not be deported, he puts the blame squarely on House Republicans for not moving new immigration laws forward.
"I think it's important to keep focused on the root of the problem, and that is John Boehner and his caucus," Leopold said. "If Boehner put an immigration bill on the floor tomorrow it would pass. So the real deporters in chief are John Boehner, Eric Cantor, and Kevin McCarthy. They could end this madness tomorrow if they'd allow democracy to work."
He also warned about the limits of executive action.
"Any executive action the president takes to stop deportations would be temporary. What happens in 2017 when we have a new president? The immigration disaster in this country needs a permanent fix," he said.
Lorella Praeli, director of advocacy and policy at the immigration organization United We Dream, said there needs to be a legislative solution but also an administrative strategy.
"This is not just a president Obama issue, but one for the Democratic Party, and everyone who supports immigration reform has to call for an end to deportations," she said. "Day by day we're losing people who would benefit. To me, it's hypocritical to want immigration reform but stay silent on deportations."
Each activist argued that while DREAMers are often the face of immigration in the United States, there are countless others who are affected who don't qualify as DREAMers. One such person is Sergio Garcia, an undocumented immigrant lawyer who the California Supreme Court recently ruled could practice law. He believes Latino congressional leaders need to take a stand where Obama says he can't.
"It's funny for the president to claim he is the champion in chief of immigration reform and only be deporting people," he told BuzzFeed. "Therefore the Latino Democrats must no longer stand with the president on this issue and must stand with the people."