Colorado Democrat Didn't Embrace Immigration And That's Why He Lost, Advocates And Pollster Say
Mark Udall blurred the difference between himself and Cory Gardner on immigration in Colorado. That had a downside.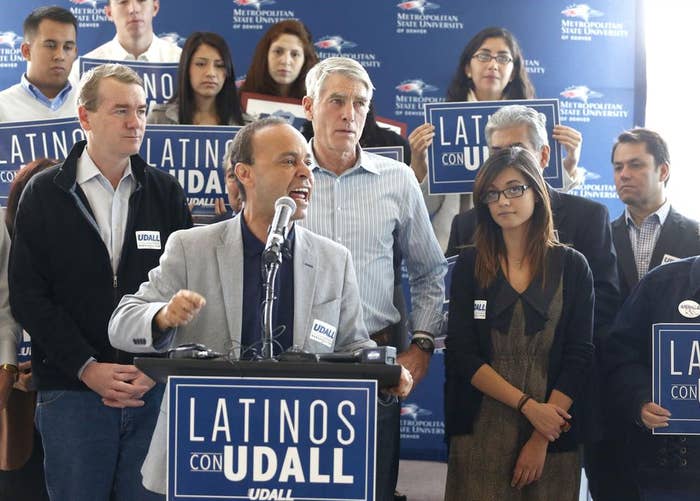 In the run-up to Tuesday's electoral washout, Latino Democrats and immigrant rights activists knocking on doors for Senator Mark Udall brought up the same concern: The candidate's decision to avoid talking about immigration in the election was making it hard to get Latino voters excited about him.
And as Democratic groups argue over blame and strategy, advocates and pollsters are pointing to Colorado to make the case that the strategy of avoiding immigration — which extended to President Obama delaying executive action on behalf of undocumented immigrants — may have done more harm than good.
"I just think that it's unfortunate that Udall did not embrace the issue of immigration sooner in a more consistent way," said Ben Monterroso, executive director of Mi Familia Vota, who canvassed on the ground in Colorado with undocumented youth. The election, he said, is "an indication that elected officials must embrace us and the issues we care about strongly to make a difference in our community," Monterroso said.
Immigration was not the only issue at play in the race, of course. Exit polls showed that 55% of voters disapproved of President Obama's broad performance as president, a factor at play across the country. But immigration politics followed an unusual path in Colorado: Gardner presented himself as a pro-immigrant candidate despite opposing Obama's immigration reform efforts; and Udall decided not to dwell on their differences in favor of a singular focus on reproductive issues pitched at appealing to women.
New polling data supports advocates' contention that Udall's defeat may have had something to do with immigration.
According to a Latino Decisions election poll that connected with 400 Latino voters in Colorado in English and Spanish, on cell phones and on landlines, voters were not well-informed on the distinctions on immigration stances between the two candidates.
A Colorado advocate with knowledge of the poll set to be released Wednesday said only 46% of Latino voters said they knew Udall's stance on immigration and beliefs on Gardner's stance were all over the place, with 21% saying he supported a path to citizenship, 38% saying he opposed "comprehensive immigration reform," and 20% saying they didn't know his stance.
And while Latino voters did turn out for Udall — in slightly higher aggregate numbers, according to early figures, than they voted four years ago — their share of the vote didn't rise as fast as some expected. (Latinos make up more than 20% of the population of Colorado, according to federal figures.)
So while Udall won 71% of the Latino vote, according to Latino Decisions, he fell short of Obama's 87% showing in 2012 and Michael Bennet's 81% in 2010, with the lack of clear distinctions on immigration as part of the reason why.
"Udall definitely underperformed the last two Democratic campaigns," said Matt Barreto of Latino Decisions who declined to talk specific numbers from the embargoed poll.
(The poll didn't survey non-Latino voters, and of course it's possible that he could have lost more of those voters than he did by talking more about immigration.)
He said that in 2010 Bennet leaned in to immigration "pushing like hell for a DREAM Act vote in September" of that year. "Bennet was going around stumping on that and he got rewarded with 81% of the Latino vote." Barreto said Bennet's opponent Ken Buck was also a Tea Party candidate prone to say controversial things and Gardner likely learned some lessons on keeping his rhetoric measured.
Udall was one of the most outspoken senators outside of Senate leadership on calling for Obama to act administratively to slow deportations of undocumented immigrants, while Gardner opposed the DREAM Act and supported a Steve King bill to end Obama's Deferred Action for Childhood Arrivals (DACA) program, which protected undocumented youth from deportation and gave them work visas.
Udall's campaign spokesman Chris Harris recently contested the narrative that Udall wasn't maximizing Latino support, telling MSNBC that Udall had gone after Gardner on immigration in debates, conducted dozens of Spanish-language interviews along with his stance on Obama's executive actions on immigration.
And of course, Udall wasn't alone on election night, as a GOP wave swept the country and Republicans took control of the Senate.
Still, one advocate active on the ground in Colorado said the first Spanish-language ads the Udall campaign ran focused on veterans, not on immigration. The campaign had said it believed it didn't need to run ads on immigration because the voters know the difference between the candidates.
"This is bullshit and it's not helpful and it's inaccurate and then they kept saying it," the advocate said.
Another longtime Democratic political strategist who conducted Latino outreach in Colorado in 2012 said the state is a case study in Hispanics wanting to hear issues articulated in English as well.
"It's not let's only talk to Latinos in Spanish-language, a chunk want to hear English dominant narratives on their issues," the strategist said. "The nut that needs to be cracked is both how do you lean in harder on immigration to Spanish language voters but also to English-language voters as well."
Monterroso said 2014 was a statement election for Latinos.
"To me the Latino community has spoken strongly — the issue of immigration reform is our issue, if you want it to disappear you need to deal with it," he said. "Our community is not going to let it go away."