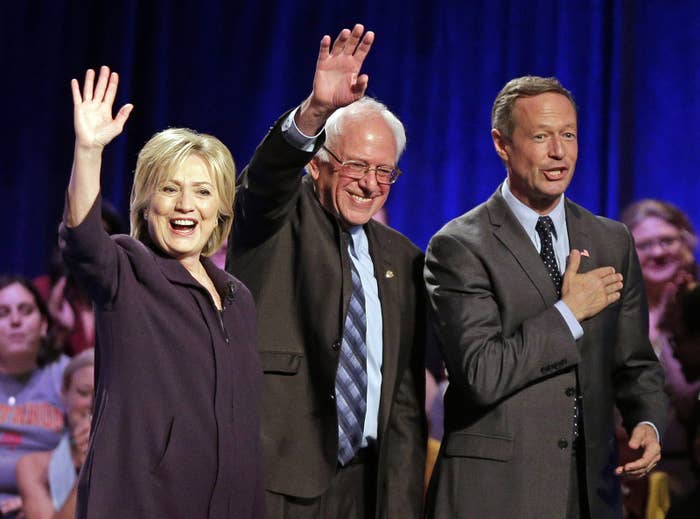 Ahead of the second Democratic debate, Hillary Clinton's campaign released a memo titled "Winning the Latino Vote," which details the campaign's strategy with Hispanics, her record on issues facing the community, along with requisite bashing of Republican rhetoric and policies.
But at the top of the memo, first obtained by Monica Alba of NBC News, there is also this:
"As early as May, Clinton traveled to Nevada to hear directly from DREAMers about the challenges their families face and express her commitment to defending President Obama's immigration executive actions."
That one springtime event may have proven critical in the Democratic primary. Her detailed, robust, and liberal immigration platform blunted attacks from immigration activists on the left who were rendered temporarily speechless and impressed.
The event blocked for someone to challenge Clinton from the left on immigration — beating Martin O'Malley to the punch on a perceived progressive strength. And the event provided a very clear, very liberal immigration agenda for Clinton as a general election candidate that will likely be in sharp contrast to the eventual Republican nominee's.
Though Bernie Sanders and O'Malley have released more details of their executive action plans this week, all of the Democratic candidates are in similar places on immigration: They support significant changes to the current immigration system and would go further than Obama administratively in terms of stopping deportations, but it has thus far been difficult to stand out as they've jockeyed to pledge support for the most progressive immigration policies that would be legal under the law.
O'Malley's initial plan, a June white paper, was widely praised by figures like influential Univision anchor Jorge Ramos and immigration activists alike — though it produced little traction for the candidate. And Sanders, after criticism over comments he has made throughout the years about how immigrants affect American wages, has hired some of the top immigration activists in the country and announced new executive action details at a Nevada event on Sunday.
Since then, both the struggling O'Malley and significantly more successful Sanders have become more critical of Clinton. At a lunch with an undocumented family Thursday in Austin, Texas, for instance, O'Malley accused her of "speaking out of two sides of her mouth" on immigration — and presumably will raise the immigration issue in Saturday's debate.
Both could challenge Clinton's record on immigration ranging from her flip on driver's licenses for undocumented immigrants, comments about unaccompanied minors who came from Central America, and this week in New Hampshire where she said she voted to "build a barrier to try to prevent illegal immigrants from coming in," but when O'Malley and Sanders have tried to attack Clinton as not going far enough on issues that matter to activists, the hits haven't yet broken through.
The campaign writes that Clinton would "phase out private immigrant detention centers" — O'Malley and Sanders have said they would close them. But Clinton talked about detention centers on May 5, too, saying she was "very worried about detention and detention facilities for people who are vulnerable and for children."
That May event in Las Vegas, with the aggressive, out-of-the-gate policy proposal has paid dividends. As her campaign's memo points out: polling shows Clinton is dominating her opponents with Latino voters.