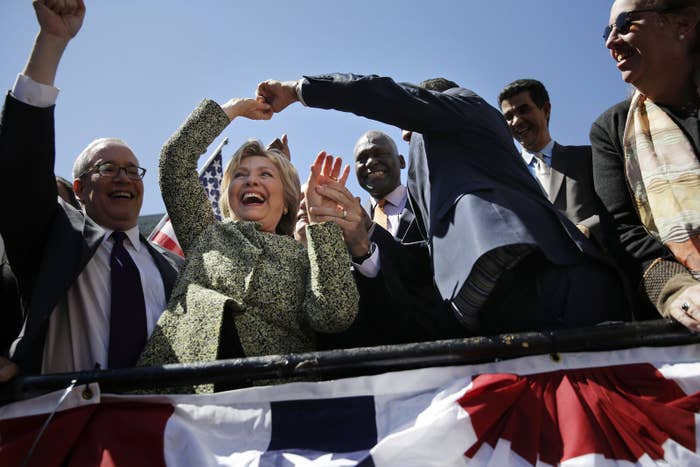 Hillary Clinton danced merengue in Washington Heights and played dominos in Spanish Harlem with one thing in mind: reminding Latinos in New York that she has known them — and worked for them — for years as the former senator from the state.
And while her numbers with Hispanic voters were lower than they have been in other states with large Latino populations, and lower than they were against Barack Obama in 2008, Clinton beat Bernie Sanders big in New York, garnering 63% of the Hispanic vote, according to exit polls.
Time appears to be running out for Sanders — he has to actually win major states by comfortable margins — but the results suggest his campaign has made some inroads with Latinos.
Clinton won more than 70% of Hispanic votes in Texas and then 69% in Florida. In Arizona she won by similar margins in large Latino districts.
And the numbers are also a drop from how she did against Obama in New York in 2008, the state with the fourth largest Latino population, when she beat him nationally 2-to-1 among Hispanics but decisively 73% to 26% in New York.
"We've effectively proven that the Clinton campaign's theory that Latino voters would provide a firewall is a great fallacy," said Sanders deputy political director Arturo Carmona.
The campaign pointed to Illinois, where it had perhaps it's most impressive showing with Latinos in a big state battling Clinton to a draw, as well as Nevada and Colorado where it did well with Hispanics.
Despite the loss in New York, the campaign sees a silver lining in its progress with Latinos.
"This bodes well for us, particularly for California where we will in fact win the Latino vote and the state," Carmona added.
The Clinton campaign noted that they were outspent by Sanders 2-to-1 in New York in Spanish-language media and said it is in good shape in California, noting the endorsement of the United Farmworkers, among other groups. The campaign argued that while Sanders staffers continually say they're going to win the Latino vote in key states, they have struggled to do so.
In the days leading up to the New York primary, Sanders staffers pointed to a NY1 poll showing the Vermont senator leading with Hispanics 55% to 38% in the state, though the poll only surveyed 83 Latinos.
Next up on the Democratic side are Connecticut, Delaware, Rhode Island, Maryland — all with primaries on April 26, as well as the next major prize of Pennsylvania, with 189 available delegates.
UPDATE
This story has been updated to reflect the latest exit polls.