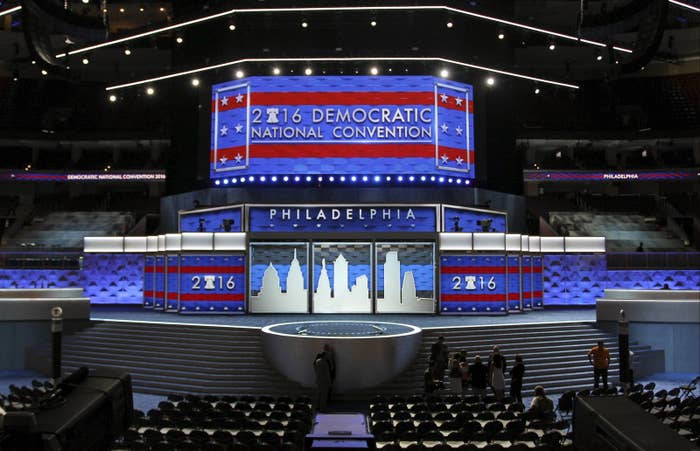 PHILADELPHIA - Hillary Clinton's pollster believes Donald Trump has irreparably damaged himself with the Hispanic electorate — but he won't yet say the campaign thinks it can reach dramatically higher percentages of its support, either.
"I think 75% is a difficult number to reach. I think it's possible, but it's not essential," Joel Benenson told BuzzFeed News in an interview before Clinton picked Tim Kaine, whose Spanish fluency the campaign believes will help them reach Latinos, as her running mate.
Benenson instead pointed to recent polls like Univision's that show Clinton with a nearly 60-point lead on the question of who would represent the views of Hispanics better and nearly 75% of voters finding Trump's attack on the Mexican-American federal judge Gonzalo Curiel as racist.
"It may be very difficult for a Mexican-American Republican to be enthusiastic about him after his comments about Curiel," Matt Barreto, who joined the campaign from Latino Decisions as a consultant, said.
"Nothing Trump is saying any day he's out there improves his numbers on those issues, on those character dimensions," Benenson added.
Barreto, meanwhile, said he's confident the campaign is going to improve on Obama's 71% number with Latinos and Trump is not going to reach the 27% that Romney did in 2012.
With Sanders headlining the first night of the convention Monday, both noted that bringing over young Latino voters energized by his policies and rhetoric will be key to consolidating Hispanic support. Barreto argued that Clinton and Sanders working together on a plan to eliminate college tuition for families making under $125,000 a year was a step in that direction.
"College affordability is one that rings high and climate change issues have a lot of salience among younger Latinos," he said, along with immigration, because they are peers and friends of DREAMers, whose parents would have been DAPA recipients.
"The debate here is in part about the soul of America," Benenson said. "Will we be a country that embraces diversity? The alternate vision of Trump and Pence divides, dismisses and demeans people. Younger Latinos, black millennials, that whole cohort — as a generation they believe in tolerance."
How Clinton performs will be best embodied in two states: Florida (a state that is part of the Obama coalition legacy) and Arizona (where a win would be cataclysmic, and almost certainly indicative of a landslide victory).
In Florida, the Clinton campaign sees a Latino electorate that has been changing demographically and becoming more Democratic every cycle, with even newer generations of Cubans becoming less conservative. The Cuban-American community is still high-profile in the state, Barreto said, but now only makes up about a third of the Latino vote in Florida.
"Five cycles ago, the majority of Florida Cubans were voting Republican," he said. "But that has changed with Puerto Rican migration to Florida over the last four years or so. Puerto Ricans have historically voted Democrat at high rates."
Besides demographics, the pollsters believe Trump will be a driving force for Latinos, the way polls show he is for other groups like blacks, Mormons, and women.
"We think that Trump and his hateful rhetoric is putting more states into play," Benenson said. "Arizona is one of those states — but Utah is one of those states, too."