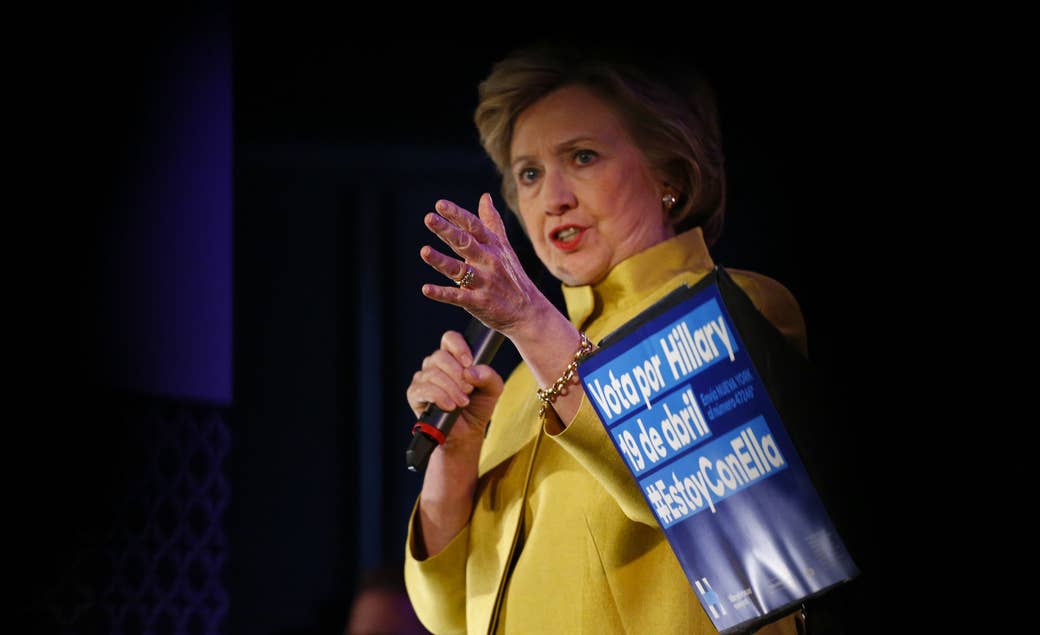 In 2012, the Obama campaign's deputy Latino vote director Alida Garcia was frustrated that, while the campaign had Hispanic operatives training staff, it would not commit to the hiring of a full-time Latino vote director and a more robust program in Ohio.

The same can't be said four years later. The state Obama won by 104,000 votes features 199,000 eligible Hispanic voters in 2016. The Clinton campaign has added Latino vote directors in nontraditional states like Ohio, Virginia, North Carolina, and Pennsylvania, along with the quadrennial constants of Florida, Nevada, and Colorado.
"If you're not investing and thinking about engaging Latino communities, you're basically leaving high percentage votes on the table," Garcia explained, of the opportunity Ohio Hispanics present in the traditional swing state.
That investment is happening without fanfare in places like the southside of Milwaukee, where the Wisconsin deputy political director is focused on speaking to local Hispanics; in Iowa, where the campaign is hiring a senior staffer to work on Latino outreach in conjunction with the state Democratic Party; and even in Nebraska, where it's organizing in the largely Latino south side of Omaha and has met with local Latino leaders.
But the campaign is also ramping up three higher-profile national programs aimed at Hispanics, all announced in just the last week. The "Mi Sueño, Tu Voto" (My Dream, Your Vote) program aims to connect DREAMer youth, whose temporary legal status and work authorization stems from an Obama immigration program Donald Trump has pledged to end, with neighbors and friends who will commit to vote to protect DREAMers.
This week, Clinton's vice presidential nominee Tim Kaine launched a small business program, named in the same style in Spanish, which translates to "Our Businesses, Our America." The campaign is connecting with small businesses in key states that will help register, re-register, and educate voters, but mostly serve as a trusted hub for Hispanic voters in their communities.
And BuzzFeed News has learned an upcoming Latino faith program will have similar goals, and include campaign surrogates attending service and speaking directly to churchgoers, after the campaign says its Latino vote teams in Florida and North Carolina saw their message connecting with Catholic and Evangelical communities in those states.
"I don't think we've done a good job of utilizing this in our organizing efforts," states director, Marlon Marshall, conceded of faith outreach. A separate staffer said progressives have too often let conservatives occupy this space on their own.

The campaign also boasts that it has found success with slowly increasing but effective English-language ads aimed at Hispanics, an approach operatives clamor for that has in previous cycles been shelved in favor of traditional Spanish-language advertising. The ads are seen as recognition that the Hispanic electorate is an increasingly young one, and English is the ideal way to speak to them.
An ad before the Nevada primary showed Clinton's softer side, when she comforted Karla Ortiz, a young U.S. citizen girl who was scared her parents would be deported. Other ads have highlighted Clinton's economic plans, as well as contrasted the stories of Hispanic citizens and Trump's attack on a Mexican-American federal judge.
"We started that in earnest in the Texas primary," one Clinton staffer said. "The border media markets are 95% Hispanic, anyway, so if you're on an English-language general market station you should still be Hispanic."
"These programs are not just innovative but they are matching the moment in history," said Democratic strategist Maria Cardona, who said a few cycles ago the extent of Latino outreach was two to three weeks of Spanish-language ads.

Obama campaign veterans say the novel English-language ads, like the added Hispanic vote directors and the DREAMer program, are areas where the Clinton campaign is taking key steps to forge a strong Latino program, but that the ads must be followed by on-air investment by the campaign.
"To truly validate these efforts that were seen as experimental last cycle the campaign should ensure that they have the investment that they need," said Nathaly Arriola, a top Democratic operative in Hispanic outreach who worked for Obama in 2012.
Social media can't do it alone. While the Ortiz video has more than 250,000 views on YouTube, the Curiel ad has fewer than 100. To that end, a Clinton aide said the campaign is making English-language television buys for Latino households which will hit 16 of the top 20 programs watched by Hispanics and appear on eight of the top 10 cable networks they frequent.
"A lot of our ads are diverse," Marshall said. "You might watch an ad on CNN, but behind the scenes we used one of those different news stations that communities of color watch, in addition to CNN."

Amanda Renteria, the national political director and the campaign's highest-ranking Hispanic staffer, who began making calls to Latino business and civil rights leaders 18 months ago, said the English-language ads are not just about reaching Hispanics, but a message that "Karla Ortiz is not just someone Latinos are proud of, but our country is proud of."
"It's no longer true that you have to only talk about Latino issues in Spanish," she added, arguing that the stories appeal to the progressive base, too.
(An Obama veteran said the 2012 campaign likely outspent the Clinton operation on Spanish-language paid media, for a strategic reason: Mitt Romney needed to be defined on Spanish-language television early, whereas Trump negatively defined himself without the Clinton campaign needing to lift a finger.)

Democratic operatives say that the campaign's Hispanic staffers have at times complained of a need for reinforcements, but they credit the Clinton operation with hiring Latinos up and down the campaign. The idea for the DREAMer vote program was hatched during a campaign brainstorming workshop.
For many Democrats, the time for persuasion is ending and the time to whip get out the vote efforts is beginning. But Garcia, the former Obama staffer, said persuasion with Latino voters is never-ending.
"Democrats view persuasion as getting people who are not on your team, on your team, rather than spending time to get to base voters, and given where polling is, we are the base," she said of Latinos. "But getting out the vote in communities of color where there are challenges, where someone may have two or three jobs, they need to be persuaded to get out and vote."
During a week where Trump is trying to haphazardly pivot on immigration, a Buckeye state example Renteria used is illustrative of the high-stakes turns campaigns can take.
Golden Week — when Ohioans can register to vote and cast an early ballot in one trip — was something that Latino staff could educate Hispanic voters on, Renteria said in an interview Tuesday morning. But by the evening, the six-day period had been struck down in court, the latest twist in an ongoing effort that began when Gov. John Kasich got rid of Golden Week in February 2014.
Latino outreach in a state like Ohio is key, though, Cardona said.
"It almost becomes more critical in those areas that are not used to having someone talk to them about why it's important to vote, that are not used to the Latino vote mattering in their state," she said.

Where the common grassroots refrain is you need to make three voter contacts for them to vote, for Hispanics it may be four or five, Cardona argued.
"You have to explain that their vote does matter and here's why: 'Your city in Ohio, your rural town in Iowa, will make the difference in us not electing Donald Trump,'" she said.
But it won't be enough to simply win, said former Harry Reid senior advisor Jose Parra, who hopes Clinton, with the Latino vote at her back, can run up the score.
"For everybody sake, including Republicans pissed at Trump, we need to win by a very clear margin," he said. "Sane Republicans need to go back to the RNC saying '[Trump's strategy] might work in a gerrymandered district in Alabama but it's going to turn us into a regional party.' It has to be a convincing win for Democrats. A one or two-point win and she's going to inherit a fractured country."