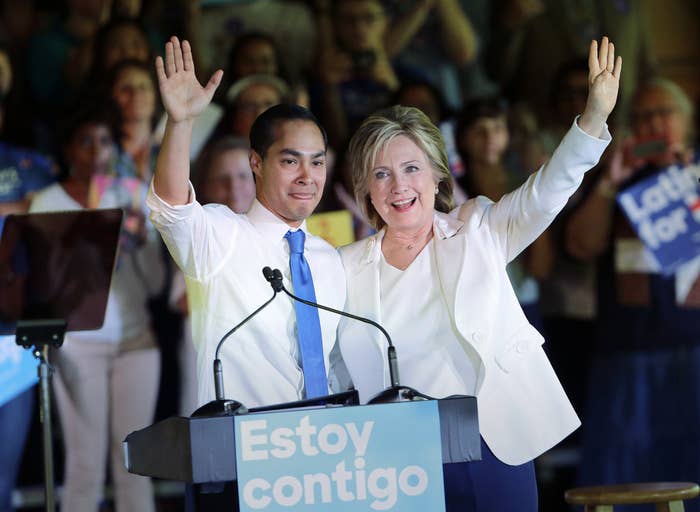 SAN ANTONIO — Rep. Joaquin Castro tried to introduce his brother, Julian Castro.
But as Jennifer Lopez's "Let's Get Loud" blasted in the background, Joaquin's clapping slowed, as he waited for his brother — and Hillary Clinton — to work their way along the rope line, through the crowd, and onto the stage where Julian would endorse Clinton for president.
Once they emerged, the crowd cheered, and Julian Castro, who is often mentioned as a possible vice presidential pick by Clinton, began outlining why he supports her.
Clinton, he said, is the best candidate for San Antonians and for Latinos — and her candidacy is historic, too. Castro told the crowd he'd once seen President Obama on television with his young daughter and, when he told her she could be president, she responded, "being president is for boys."
And then he went on the attack. In Spanish, Castro told the crowd that "the difference between her and the Republican candidates is that she respects the Latino community."
Even if Castro doesn't make the running mate shortlist, the former San Antonio mayor and current HUD secretary will be a surrogate for Clinton with Latinos, whose support Clinton has courted this year. Regardless of whether the speculation is accurate, the VP talk benefits both Castro and Clinton, elevating his profile and giving him more weight as a surrogate to Latinos. Castro has clearly improved his Spanish — the language he was not fluent in a few years ago, suggesting an eye toward the national stage.
And the candidate was enthused on Thursday at her first Texas event, which was adorned with large posters featuring Clinton's visage and "LA HILLARY." Fresh off her debate performance in Las Vegas, Clinton told the gathered audience of work registering primarily Latinos to vote in southwest Texas in the 1970s, and the smaller listening events she has done around the country this year.
She emphasized small businesses, particularly those that are Latina-owned; she bashed Republicans; and praised Obama's leadership: "I don't think president Obama gets the credit he deserves for preventing us..." she thundered, before being drowned out by the crowd.
She didn't seek to tamp down or avoid the idea of Castro as vice presidential nominee, either, but instead fanned the talk. When asked about the possibility before the rally during a Q&A event with the U.S. Hispanic Chamber of Commerce, she didn't shy away from it.
"I think really highly of him and I'm happy to have his endorsement today," she said to the USHCC president Javier Palomarez. "I will look at him for everything."
On display, too, on Thursday was the city of San Antonio.
"Many of them told me they felt that it was an honor to have Julian back and for him to shed the national spotlight on San Antonio," said Juany Torres, who led the Clinton volunteer operation for Thursday's event. After recently leaving her job at Google to come back to San Antonio, she got connected with the campaign's local efforts. Her job on Thursday was to make sure the crowd behind Clinton and Castro was diverse and made for the TV cameras. Torres has a history in Democratic politics, and she said San Antonians viewed the day as a big one. Many in the audience were buzzing about the vice presidential speculation, she said, and while the loudest chants were of "Hillary! Hillary!" there were brief chants of "Julian for VP!" as well.
Castro framed as a longtime Latino stronghold: It was the first major American city to elect a Hispanic mayor in Henry Cisneros and the place where major Latino organizations like MALDEF and the Southwest Voter Registration Project first got their start. The city also looks like what America is becoming, he argued: young, diverse and open-minded.
And with the crowd of 2,500 people in front of the stage and in an overflow area listening, Castro told them to take out their phones and text "Latinos" to 47246, which allows the campaign to engage them with "Latinos for Hillary" text messages, send shots at Republicans during their debates, and eventually turn out voters. Heads in the crowd could be seen looking down as they typed on their phones after his prompting.
Far outside San Antonio, Castro — and the Clinton campaign broadly — will be making the case to Latinos in states like Florida, Colorado, and Nevada, too.
His brother, Joaquin, argued Latino voters are primed to hear the message.
"The Latino community is on heightened awareness about this election, particularly because of the ugliness in this cycle coming from Republicans so far," he told BuzzFeed News after the rally. "And it will be helpful to Hillary to have somebody out there who is a countervailing force, somebody who can vouch for her, but also stands as a symbol of the American dream for millions of Hispanics."
But the Thursday crowd was a homecoming — a 93-year-old woman named Pat Gonzalez, for instance, stood up front, near where Clinton was expected to enter the event. She's long supported Clinton, and remembers paying a poll tax to vote as a Mexican-American. But she personally remembers the Castro twins as children from her days working at City Hall. "I've known him since he was a baby," she said, surrounded by friends and women in her family. "They used to drive me crazy running around because I didn't know which was which," she said, as those around her teased her for saying too much.
And local mariachi singer Sebastien de la Cruz, 13, sang the national anthem before the rally.
"They called me last night and I was very ecstatic when they told me that they would like me to sing," he said afterwards. "It was a great honor and a pleasure."
He also has ties to Julian Castro, who publicly supported him after the then 11-year-old was blasted on social media with racially insensitive remarks for singing the national anthem before a San Antonio Spurs playoff game. With his wife by his side, Castro introduced him after the furor when the Spurs had de la Cruz back to sing again during the same playoff series.
"I want to say thank you to Julian for having my back," he said Thursday. "It was great to have another San Antonian there for me."