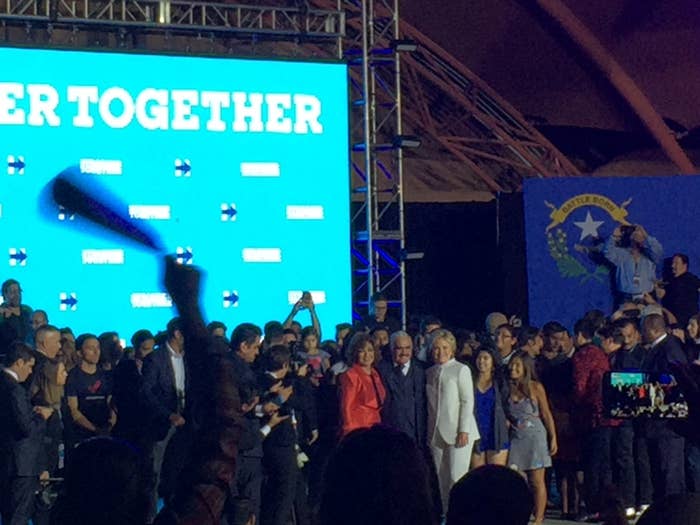 NORTH LAS VEGAS, Nevada — They came for Mexican ranchera legend Vicente Fernandez and norteño band Los Tigres del Norte, packing an amphitheater in North Las Vegas, but the hundreds of Latinos in the crowd also got a front row seat to watch Hillary Clinton and Donald Trump have their long-awaited clash on immigration in the final presidential debate.
And then to see Clinton herself.
The immigration issue, one central to Trump's rise that has also cratered his approval with Latinos, had been surprisingly absent from the first two presidential debates, and only mentioned in the vice presidential debate.
Trump led with his well-worn lines, calling for the wall along the southern border — which had crowd at the Clinton watch party whistling and jeering him — and said Clinton supports open borders and amnesty for undocumented immigrants.
He took a page, too, from Clinton's campaign, which had previously put people in the crowd during previous debates and then mentioned them by four people in the audience whose relatives were killed by undocumented immigrants. Of his controversial call for millions of deportations, Trump said bad people in the country have to go and he will make a determination on the rest.
"But we have some bad hombres here, and we're going to get them out," he said.
Trump senior advisor A.J. Delgado, as she has previously, said Clinton is the radical on immigration.
"It was particularly powerful when Mr. Trump pointed out that Hillary has no specific plan for protecting the border," she said, echoing what moderator Chris Wallace said, and acknowledging the widening gulf of immigration policy between the two parties. "It is key to underscore exactly how radical her immigration position is."
Clinton does call for border security efforts as part of a larger package to address immigration.
But Clinton began with a familiar tactic — she invoked Karla Ortiz, a young girl in the crowd who came to prominence and spoke at the Democratic convention after she broke down while asking Clinton a question on stopping the deportation of her parents during a Nevada campaign event in the primary, which later led to an effective ad.
Ortiz served as an example for Clinton of not just the 11 million undocumented immigrants potentially subject to deportation, but also of the 4 million US citizen children of people in the country illegally.
"And you're right I don't want to rip families apart," Clinton said. "I don't want to be sending parents away from children. I don't want to see the deportation force that Donald has talked about in action in our country."
At the debate watch party, Fabian Cordero, a 20-year-old student at the College of Southern Nevada clad in a white, red, and green shirt emblazoned with MEXICO across the front said he was waiting to hear about immigration from Trump and Clinton because it's a personal issue for him. Coming from a mixed-status family, his mother is US resident and his father is a citizen but he has uncles in the country illegally.
"I don't believe in deporting anyone with no papers for no reason, that's going to cause more harm," Cordero said as he watched the debate. "The wall is unrealistic; there's no way you can do that."
Clinton slammed Trump for talking about the wall but not mentioning it when he had a meeting with the Mexican president.
"He choked and then got into a Twitter war because the Mexican president said we're not paying for that wall," she said, as the watch party audience whooped and laughed, with even Trump appearing to enjoy the Trumpian insult.
After the debate, the party began, including speeches from Catherine Cortez-Masto, running to become the first Latina U.S. Senator and Ruben Kihuen, running for Congress in Las Vegas.
Performing songs like "Mis dos patrias," an examination of dual American and Mexican identity, Los Tigres del Norte urged the crowd that "si no votamos, no contamos" — if we don't vote, we don't count.

Vicente Fernandez came out, not to sing, but to make the case that this election is the most historic one for the Latino community. "They say there are two choices — but there is only one choice," he said, reading from prepared remarks, and crucially, mentioning the date when early voting begins.
The crowd loudly chanted his nickname "Chente!" but at one point those cheers mixed with chants of "Hillary!" too.
With "estoy contigo" signs in the crowd, Clinton reiterated her commitment to an immigration solution but also said half of undocumented immigrants pay taxes.
"That means you pay more to support this country than Donald Trump pays!" she said, in a message not just to Latinos but to immigrant families in the crowd.
Earlier, a host for the event, singer Jean Carlos laid out the stakes, calling for Latinos to vote and stressing a message of unity.
"When the story is told in the future, I hope it's said that we came out to vote in a major way," he said in Spanish, whipping up the crowd and stressing that while Latinos may speak Spanish with different accents, they should all unite and vote.