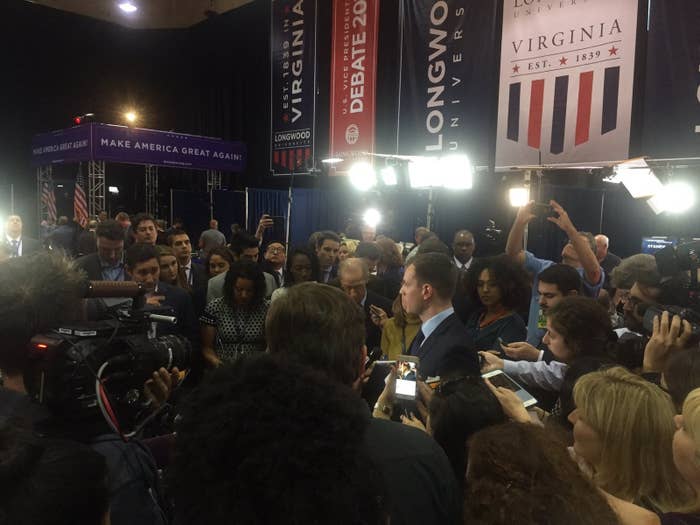 FARMVILLE, Virginia — Hillary Clinton's campaign touted "significant" numbers of Latino early voter requests and Black registration gains in the key states of Florida and North Carolina before the vice presidential debate Tuesday, arguing that they represent concrete evidence that the vaunted Obama coalition is coming back together for Clinton.

In the spin room before the debate, campaign manager Robby Mook outlined the latest numbers on early voting — the number of Latino voters requesting vote-by-mail ballots is up a considerable 73% since this point in 2012, he said. That increase follows higher registration numbers among Latino and Black voters in the state since 2012, the campaign said in a field report released Tuesday evening.
In North Carolina, there are 84,000 more Black voters registered than at the same point in 2012, and 52,000 more Latino voters did the same. Again, ballot requests rose in conjunction with higher registration numbers.
Of note, there is a 73% increase in requests for absentee ballots by Asian American voters and a 43% increase in ballot requests by Latino voters compared to the same point in 2012, according to the campaign.
"These are significant numbers because voting by mail makes it so much easier — when you get the ballot to your house it makes it much more likely that you're going to vote," said Jorge Silva, the campaign's director for Hispanic media. "You don't have to take time off, you don't have to wait in line."
The numbers come as Democrats have expressed concerns publicly and on a private campaign call about the enthusiasm of young Latinos and the state of the Spanish-language advertising operation. The campaign followed those questions by unveiling Spanish-language ads in swing states over the past two weeks.
All told, there are 359,000 more Black voters in battleground states than in 2012. There are 660,000 more Latino voters; 294,000 more voters aged 18 to 35; and 125,000 more registered Democrats.
In North Carolina, the numbers are especially encouraging for the Clinton campaign.
Over the summer, North Carolina's voter ID law was overturned because it was found to target Black voters "with racially discriminatory intent." While it's not clear whether the attention to the voter ID law spurred the increase in registrations, the increase bodes well for Democrats in North Carolina also hoping to elect Roy Cooper, a Democrat in the governor's race.
"There's intense interest in voter turnout in North Carolina," said the Rev. Jesse Jackson, who said he'll be helping to get out the vote there for Clinton next month. "You have communities that feel that their voting rights have been threatened and that's why the federal government had to intervene to stop the worse of it. We did not intend to go back."
CORRECTION
There is a 73% increase in requests for absentee ballots by Asian American voters. A previous statistic provided by the Clinton campaign to BuzzFeed News incorrectly said the 73% increase was for Black voters.