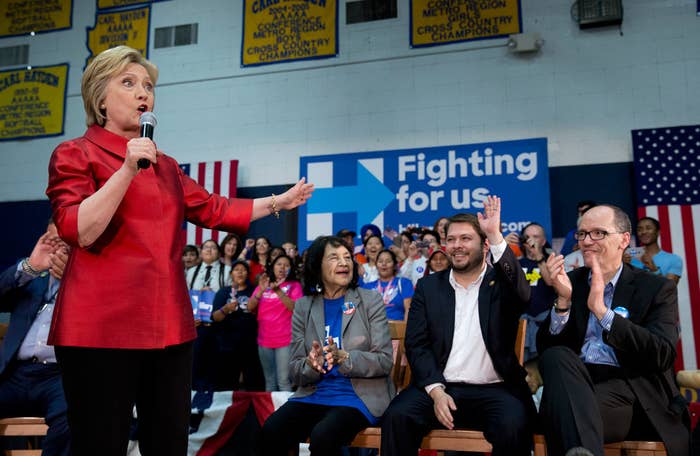 Hillary Clinton rolled to a win in the fifth-largest Latino state in the country, beating Sanders 60% to 37% with nearly three-quarters of the vote in.
While there are no exit polls in Arizona, the results from major Hispanic counties suggest Clinton is once again performing strongly with Latinos. Clinton took 70% of the vote in Santa Cruz county, which is 83% Hispanic, and 67% of the vote in Yuma county, which is 62% Latino, according to FiveThirtyEight's Harry Enten.
In 2008, Clinton received 60% of the Latino vote over Obama on her way to beating him in the state.
Sanders planted a flag in Arizona, doing lots of events aimed at Latinos in the state, where his Latino press secretary, Erika Andiola, emerged as a national face for the immigration movement before joining the campaign.
Sanders went to the border near Nogales, where he said "we don't need a wall and we don't need barbwire," referring to Donald Trump's polarizing plan to build a wall on the border between the U.S. and Mexico. His wife, Jane Sanders, also visited Joe Arpaio's "tent city" jail in Phoenix with immigration activists.
After the state was called, Sanders staffer Cesar Vargas shared an article on Twitter about the Arizona Democratic Party investigating voters who were rejected at the polls after receiving 20 phone calls about the issue.
"Sad! Guess Democratic establishment and their candidate can no longer win in a fair election," he tweeted.
An Arizona Democratic Party official told BuzzFeed News they "don't know where Cesar gets off talking about a fair election."
The "issue brought up by the party was of lifelong [Democrats] arriving at polls and being told they were independents or no party affiliation."
Arizona has more 18–35-year-olds than Florida, which voted last week, but the figure is less than Nevada, where Sanders was more competitive among Hispanics. Sanders does better with younger Latino voters and battled Clinton to a draw with Hispanics in Illinois last week but has struggled overall in densely populated Latino counties.

Clinton, who did well in early voting among women and older voters, aired an immigration ad in English and Spanish aimed at Latinos that featured an emotional Clinton comforting a young girl who feared her parents deportation.
The campaign, which was outspent by Sanders 2-to-1 in the state, also ran ads featuring Rep. Ruben Gallego, a local surrogate, and one contrasting her leadership with that of Trump and Arpaio.