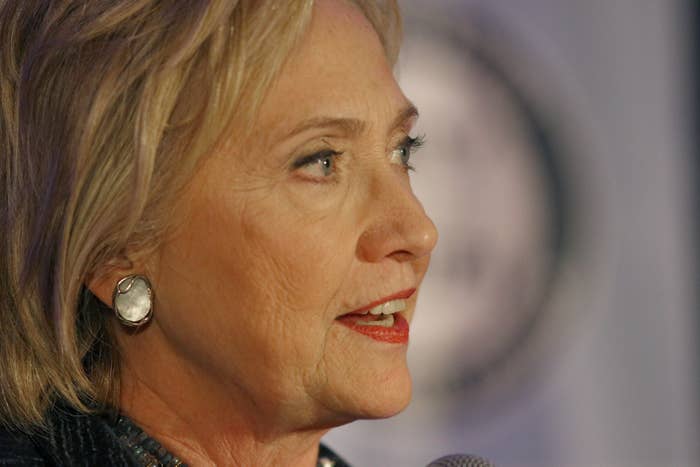 LAS VEGAS — As the Clinton campaign works to meet its $50 million fundraising goal for the first quarter of 2016, top campaign officials met with Latino donors and fundraisers on Tuesday in Brooklyn to set ambitious fundraising goals, three sources who attended told BuzzFeed News.
The meeting, which included presentations from campaign chair John Podesta and Marlon Marshall, featured about two dozen Hispanic donors, and gave them the opportunity to get an update on the status of the campaign and question senior staff about Latino outreach.
Donors were shown a map with the cities of the 87 Latinos that have donated more than $10,000, and were told that Hispanics have donated $6.1 million thus far, outpacing the Latino-led Futuro Fund at a similar point in the 2012 cycle.
According to one source present in the meeting, the map showed 13 donors from Los Angeles; four in San Francisco; 14 in Texas, 11 from the Washington, D.C., area; 12 from New York City; and nine from Puerto Rico. Two attendees described the numbers as numbers they would expect to be higher in major metropolitan areas with large Latino populations.
To that end, according to the sources, members of this Latino finance council, the first such meeting of a coalition group (a similar meeting for black fundraisers is set for Thursday), were asked to grow their ranks — each donor was asked to bring in five more Hispanics to donate $10,000 — and the campaign hopes to have 300 such donors by the end of the primary.
While the conversation with Podesta and senior leadership like Amanda Renteria was described as friendly, it was also direct, with donors peppering them with questions to make sure the Hispanic vote isn't being taken for granted and asking if the money they raise will be used for Latino initiatives in key states.
"Latino donors want to know that Latino dollars are going to initiatives that Latinos care about," a source who attended the meeting said.

Podesta was said to be responsive to the concern, which at least 10 people in the room echoed, according to a separate source, and said the campaign will respond with messaging that can be shared with prospective Hispanic donors to specify how their fundraising would further Latino initiatives.
Latino outreach director Lorella Praeli told donors that one of the areas their money is going is to efforts in the early caucus state of Nevada.
The Clinton campaign did not respond to a request for comment by publication.
The campaign, which raised $55 million in the fourth quarter and $112 million in primary money during 2015, is looking to continue a strong fundraising pace, which means Clinton's time will be short and Latino surrogates will be needed to anchor more events.
While the donors sat in the four-and-a-half hour meeting, a CNN/WMUR poll was released showing Sanders up 27 points in New Hampshire.
On a call with supporters Monday, the campaign shared internal polls that showed it up by 5 points in Iowa, trailing Sen. Bernie Sanders by 8 to 9 points in New Hampshire, but with large leads in the next two states with large Hispanic and black populations: up 25 points in Nevada and 35 points in South Carolina.
At the finance meeting, Podesta said the campaign is going to win Iowa, attendees said.
And they said it was a welcome opportunity to raise more specific questions on Latino outreach with senior leadership, where the focus was entirely on the primary, and the general election was barely mentioned.
The campaign was asked if it had, for example, began planning Florida outreach to the growing Puerto Rican population, separate from the engagement it might have with Cuban voters. Donors also said they want to see more Spanish-language ads from the campaign, like radio ads in Nevada.
Campaign officials said the campaign is focused on the four early states at the moment, but the donors mentioned Colorado and Texas, which have their primaries on March 1, as well as Florida and Illinois on March 15. With Sanders looking more competitive, supporters want to make sure Clinton isn't leaving Latino votes on the table.
Per a Pew Hispanic projection for BuzzFeed News, 11.2% of eligible voters in the 12 Super Tuesday states will be Latino.

At the meeting, an Obama veteran made a presentation showing how hard it is to raise money until the convention, something that was reflected by the discussion over what goal to set for Latino donors raising $10,000 or more by the end of the primary. At first someone yelled 500, with some murmurs of agreement, while others said it was too high a number. Then 250 was thrown out, with them eventually settling on a goal of 300 Latino donors at that level.

At the end of the long meeting, the campaign brought in their Hispanic staffers, pointing to Renteria as the highest-ranking Latina, and said their campaign is the most diverse in presidential history.
CORRECTION
Marlon Marshall attended the finance meeting, per sources. A previous version of this story misstated who attended with Podesta.