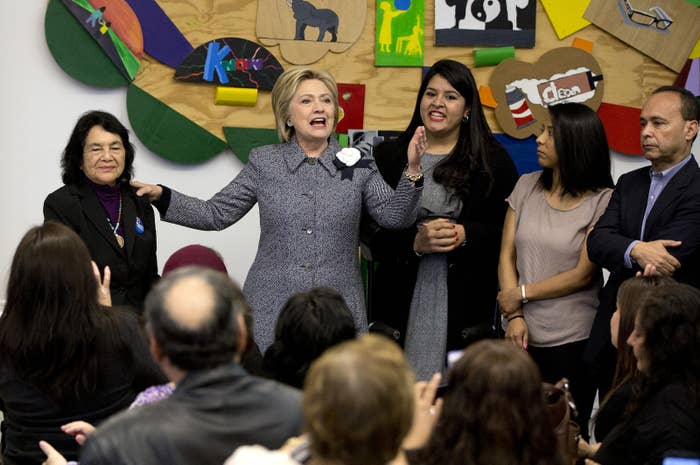 Faced with an opponent in Donald Trump with historically low national favorability among Hispanic voters, Hillary Clinton's campaign is growing its Latino vote program.
The campaign is hiring staffers nationally and regionally to work in battleground states with large Hispanic populations, as well as in states where Latinos live but are not expected to directly affect the electoral outcome, and states the campaign is monitoring that may eventually come into play, like Arizona.
Lorella Praeli, who developed a Latino outreach program in the primary, is now the national Latino vote director. She's brought on Keylin Rivera to serve as her deputy in charge of grassroots organizing to Latinos, and Sara Valenzuela as Latino outreach director, who will do surrogate work with elected officials and other stakeholders.
In addition to deputy political director Carlos Sanchez — who recently joined the campaign from Rep. Joaquin Castro's office and oversees the regional political directors — Eduardo Cisneros has joined the campaign from the labor department under Secretary Tom Perez. Cisneros will be a regional political director responsible for Michigan, New Hampshire, Wisconsin and Iowa.
Non-battleground states like California and Texas that are the center of much Latino volunteer energy will fit into the voter outreach mobilization side, which is focused on coalitions of voters, like black, Latino, women, youth, and labor voters. Cristobal Alex, the president of Latino Victory Fund, has joined as a deputy under Addisu Demissie.
Another recent hire, Sergio Gonzales, who served as Colorado political director for Obama in 2012, is serving as a regional director monitoring these so-called "expansion" states.

The Latino vote operation will employ traditional efforts in states like Nevada and Florida, but will also run programs in states with growing Latino populations like Wisconsin and Iowa.

This infusion of Hispanic staffers across the Clinton operation is part of a Latino vote program that will focus on ramping up efforts to reach Latinas and "millennial or billennial (bilingual millennial) voters," the campaign said. All along, the campaign expected that Latinas would respond positively to the prospect of the first woman president. During the primary it saw heightened success reaching Latinas — in Texas, the support was 72% compared to 69% for Hispanic men, and 74% in Florida compared to 69%, for example.
The campaign also feels confident about its SMS texting program aimed at Latinos. In November it boasted that tens of thousands of Latinos, many young, signed up for the bilingual texting program in key states like Florida, Arizona, Pennsylvania, and Georgia, along with Texas and California. Now the campaign says that number is a few hundred thousand Hispanics.
"We've used it as a way to get volunteers, as a policy explainer, for fundraising, rapid response and communications work," said digital organizing director Jessica Morales Rocketto. "One of the things we're proud about is using it for GOTV translation and voter education. In the final months, we used it as a voting place look-up tool. And as a reminder after you vote to share it with your friends."

Trump, of course, is not Bernie Sanders, and the campaign has already begun using the tools it developed during the long primary against him. After Trump attacked Gonzalo Curiel, the Mexican-American judge presiding over a civil suit involving Trump University, the campaign saw higher than average responses to its texts bashing Trump over Curiel, as well as the number of people who made it all the way through the follow-up texts.
"Another data point is how people feel," Morales Rocketto said of the Curiel texts. "They were responding, 'This isn't our country, this doesn't represent our values.'"

Led by Jorge Silva, the campaign's Hispanic media director who did the same work for the Congressional Hispanic Caucus during his time with Sen. Harry Reid, the campaign has built a database of small newspapers and radio stations in Hispanic communities around the country, which it weaponized regionally during the primary, by having Clinton speak to radio hosts with local clout and surrogates like Dolores Huerta write op-eds for welcoming local newspapers.
Clinton, who has been criticized for her infrequent press conferences with English-language media, routinely spoke to Spanish-language press ahead of the California primary and recently spoke to Univision's Enrique Santos in Florida. (Santos often tells his listeners that his conservative parents support Trump but he thinks the presumptive Republican nominee is crazy.)
While the Cuban-American Santos is a Spanish-language host, he's also listened to by young Hispanics, which the campaign considers crucial, mirroring the intersectional way it aims to integrate the Latino vote program into other facets of the operation and the multi-layered approach it believes must be taken in engaging Hispanics.
"The biggest mistake is to treat the community as one block," Praeli said, stressing that Latino operations will be part of every facet of the general election campaign. With women voters, the campaign has done events aimed at Latinas, like Latina-to-Latina phone banking and when it comes to reaching young people, the campaign is aiming to connect its youth outreach led by Sarah Audelo, who is Latina, to its Hispanic engagement because 44% of Latino voters are under the age of 35 and 25% of so-called millennials are Hispanic.
"You can't have a Latino vote program without a millennials component and you can't have a millennials program without youth of color," Praeli said.
Democratic strategist Maria Cardona said it would be easy for the campaign to rest on its laurels or save resources when it comes to Latino voters, which many consider in the bag for Democrats because of Trump's rhetoric and policies. "They're doing completely the opposite," she said. "They understand that it's never a given that a Latino is going to get out and vote."

While the focus during the primary was on early voting and mail-in ballots, the campaign acknowledges it will face challenges with voter ID issues and what it considers other voter restriction efforts. Another will be bringing young Sanders' supporting Hispanics into the fold.
"It's very important that they recalibrate the Latino strategy to include the large number of Latinos they did not win under the age of 30," said Solidarity Strategies' Chuck Rocha, a Sanders consultant during the primary.

He, like many within the Clinton campaign, said the message to Hispanics cannot merely be an anti-Trump one, but a pro-Clinton message that doesn't just rely on fear to motivate Latinos to vote.
"I'm not a fan of turnout via fear," one campaign operative said. "It's not the best of us — better to tell our common story and reach for our common goals."

Clinton's first splashy general election message to Latinos titled "Nuestra Historia" or our history, featured a little bit of both. The 60-second Univision ad, which aired during the Chile-Argentina Copa America final, began with Trump's words invoking a "deportation force" before featuring Hispanics of different ethnicities and concluding with a message of unity from Clinton.
And Praeli had a response to Democrats who have wondered publicly whether Trump was the extent of the Clinton Hispanic voter plan.
"The idea that Trump is a driver of our mobilization strategy is wrong because we've known from day one that the Latino community needs something to look towards," she said.

Still, "it's personal, it's about our families," she said. "It's about Hillary Clinton and the threat Trump offers to our country and our community."