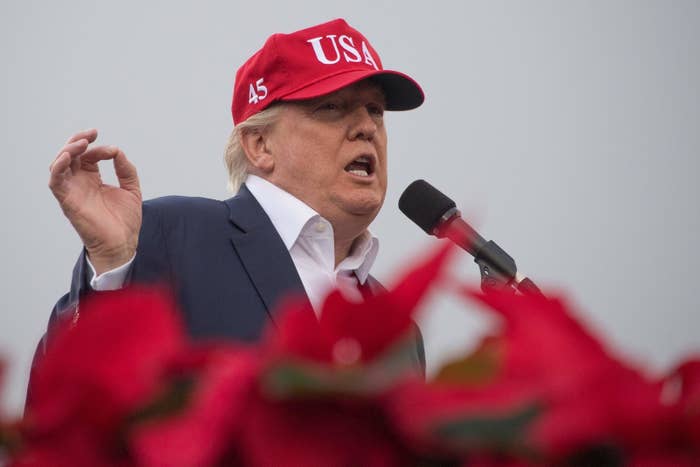 WEST PALM BEACH, FL — A nascent effort by a New York State Democrat to get Donald Trump to release his taxes ahead of the 2020 election is being buoyed by California lawmakers, a state where the legislation might actually pass.

California state senators Scott Wiener and Mike McGuire are introducing the TRUMP (Tax Returns Uniformly Made Public) Act, in a state where Democrats have a two-thirds majority in both houses of the state legislature. Control of the New York state senate and the fate of the bill, introduced by Senator Brad Hoylman, remains up in the air.
Weiner, who was a Harvard Law School classmate of Hoylman's in 1996, reached out to his old friend after being sworn in recently to study the TRUMP Act before introducing it.
"We talked about how it would be powerful to have more than one state move forward with something as important as government transparency," Wiener said.
Wiener stressed that the legislation isn't just about Trump, though both he and Hoylman discussed the unique situation Trump has benefitted from and the questions about his businesses and financial details that remain.
"It's an unprecedented situation that someone who is going to be president has a massive web of business interests throughout the country and throughout the world, including with countries that are not our friends, and he refuses to disclose what his business interests are," Wiener added.
Throughout the campaign, reports detailed that Trump had not always donated as much to charity as he said he had and since his victory, the scrutiny of his sprawling global businesses has only increased. A press conference scheduled for last week to outline how Trump's businesses will operate during his presidency was scrapped and has not yet been rescheduled.
The TRUMP Act legislation would force him to release five years of his taxes or electors in the state would be barred from voting for him and he would not appear on the ballot. Trump, who does not hesitate in lashing out after perceived slights or disrespect, would undoubtedly bristle at being left off any state ballots, including his in his home state of New York.
But for the legislation to have any tangible electoral impact, Wiener, whose district covers San Francisco and northern San Mateo county, knows battleground states would also have to take up the cause, which he acknowledged is unlikely.
"What we've seen is Democrats have really had our rear ends handed to us at the state level in the last six to eight years," he said. "A lot of these battleground states have Republican legislatures and governors, and a real hesitance to do any kind of reform — I'm not holding my breathe."

Luis Alvarado, a California GOP strategist who was firmly in the "Never Trump" camp until the end of the race, said Democrats are deluding themselves by focusing resources on Trump's taxes.
"At the end of the day I don't think it's going to be effective. I understand their argument but let's be honest, Trump is not going to sit there and ponder releasing his taxes," he said. By focusing time and energy on his taxes, he argued, Democrats may win the battle but will continue to lose the war.
"They need to figure out how to fight him on undoing what Obama did. Why did union members vote for Trump? Those are the things they need to be addressing," Alvarado said.
While he wanted to see Trump's taxes, too, "that battle was lost and there are other battles that are going to be relevant to the future of our country and our families."