Hispanic Leaders Push Trump Team For A Latino Cabinet Pick In Private Meeting
The bipartisan heads of major Hispanic organizations met with Trump officials to talk about the lack of a Latino in the cabinet thus far, anti-immigrant rhetoric, and working together where there is policy agreement.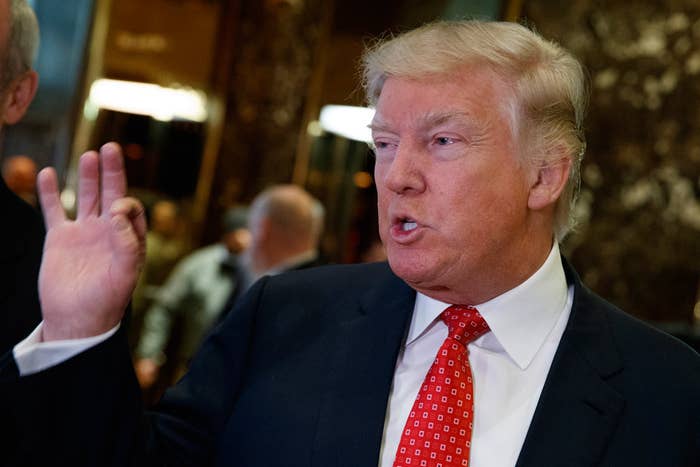 WASHINGTON — Approximately 60 Hispanic leaders met with Trump transition officials Tuesday as Sen. Jeff Sessions' confirmation hearing kicked off just four blocks away.
In the room at Hillsdale College's Kirby Center, where they were offered coffee and Coca-Cola, groups like National Council of La Raza (NCLR), the U.S. Hispanic Chamber of Commerce (USHCC), the National Association of Latino Elected Officials (NALEO), and the League of United Latin American Citizens (LULAC) — some of whom endorsed Hillary Clinton during the campaign — joined members of Trump's Hispanic advisory council, for a wide-ranging conversation on how the incoming administration can better serve the Hispanic community, according to five meeting participants.
Al Zapanta, head of the U.S.-Mexico Chamber of Commerce, and a member of the Hispanic advisory council, was the first to express disappointment that no Hispanic had been nominated to the cabinet, which would be the first time that happened since Ronald Reagan's first term.
Transition officials and those close to him have floated that Abel Maldonado, former California lieutenant governor, emerged as the frontrunner for the agriculture secretary position in recent days but other Republicans still say the smart money is on Sonny Purdue to nab the nomination.
Hector Sanchez, chair of the National Hispanic Leadership Agenda — a coalition of 40 of the top Latino organizations in the country — implored the Trump team to stop anti-immigrant rhetoric, arguing that it has led to an increase in reports of hate crimes and bullying against Hispanic schoolchildren, according to a meeting participant. He also lamented the lack of a Latino in Trump's cabinet and asked for a meeting with Trump to to talk Hispanic community priorities on the economy, health care, civil rights and immigration as he said his group has done for the last 25 years.
From the Trump end, officials included the Republican National Committee's Jennifer Korn, Mercedes Schlapp, a Fox News contributor and longtime Trump backer, and Katrina Campins, a Latina from season one of The Apprentice.
The meeting was not all criticism, however. Roger Rocha, the president of LULAC, argued in favor of the administration working together with Hispanic leaders where there are areas of agreement.
This point has become one of particular contention, as leaders grapple with wanting access to the administration to help the Hispanic community, but also face criticism for giving cover to Trump policies they feel are unacceptable on immigration, for example.
Just last week, the USHCC president Javier Palomarez spoke positively about Trump and said he had joined the national diversity council. He was promptly hit by Latino Victory, a Democrat-aligned group who said Palomarez was falling into a trap by supporting Trump before he has softened any of his policy stances.
While participants said the Trump side is genuine in trying to work together with national organizations, some questioned how much they can influence the process and how effectively messages will go up the ladder with a lack of top Trump officials in the room.
Mario Rodriguez of the Hispanic 100 appealed to the group to seek to work with the Trump team, and asked those in the room to raise their hand if they had contributed a letter in support of Hispanic cabinet officials, with only a few raising their hands like Brent Wilkes of LULAC and Albert Morales, the USHCC chief lobbyist.
Other meeting participants included the Pastor Tony Suarez, executive vice president of the National Hispanic Christian Leadership Conference (NHCLC), Jorge Lima of the LIBRE Initiative and Eric Rodriguez of NCLR.
But while the meeting was a listening session without response from the Trump team and many saw it as a necessary first step, it was clear that more work needs to be done if Hispanic leaders and the Trump administration hope to work together.
"The wound is still somewhat sore for some people in there," one meeting participant said.