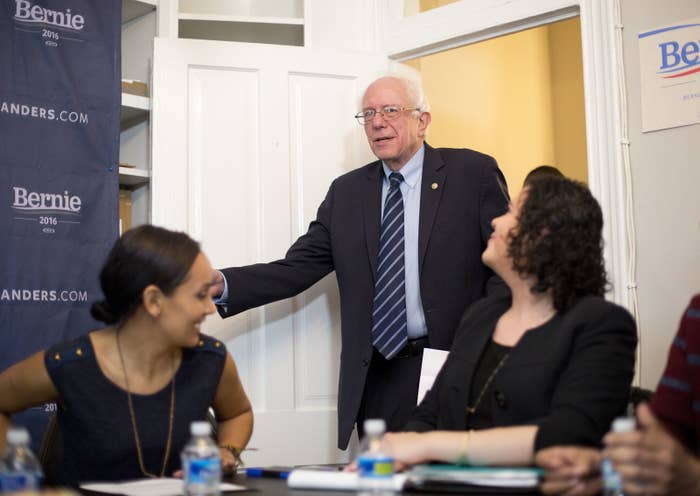 PHILADELPHIA — Erika Andiola, who played a role in shaping and drawing attention to the Bernie Sanders campaign's leftward policy shift on immigration, is set to join "Our Revolution," the Sanders-inspired post-election group created to harness the energy of his campaign, two sources told BuzzFeed News.
Andiola, who was the Latino press secretary for Sanders, looks to join the communications team of the new group.
It "will be no different from the goal of our campaign: We must transform American politics to make our political and economic systems once again responsive to the needs of working families," an email to supporters said Monday night.

As would be expected of a sharp-elbowed group with policy goals, the organization is a 501c4, which means it can engage in political activity for and against candidates. (That also means the group can accept big donations, something Sanders has railed against as a candidate.)
Andiola, a deeply respected activist in the national immigration movement, has blended on the ground work with undocumented immigrants in Arizona and across the country, with a willingness to battle Democrats, including President Obama and Hillary Clinton before and during the primary.
She has declined to discuss whether she would endorse Clinton, and argues that the media and Democratic Party were too easy on Clinton on issues that matter to Latinos.
Operatives in Sanders orbit said the addition of Andiola would be a big deal for the direction of Our Revolution.
Deputy political director Arturo Carmona disputed that Andiola had already joined Our Revolution but added that she would be a "fabulous asset" to the group.
Chuck Rocha, a consultant for the Sanders campaign, said a lot of work is still to be done in the progressive movement.
"Hiring the most prolific immigration activist in the country would be a clear signal to the Latino and immigrant community that 'Our Revolution" intends to pay attention to their issues," he said.
Andiola would not comment because she said the hiring was not yet official. She said she is going on vacation to Puerto Rico to assess what she wants to do next.