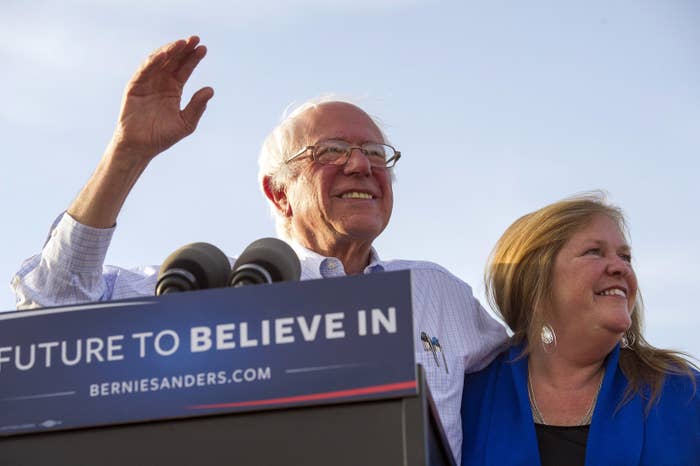 Bernie Sanders will speak at the National Association of Latino Elected and Appointed Officials (NALEO) conference in Washington D.C. Thursday morning, a week after he appeared in a video saying he will seek to work with Hillary Clinton to defeat Donald Trump and ensure the Democratic platform is the most progressive in its history.

His address is expected to be 20 minutes long at 8:30 a.m.
While Sanders did not dropout, he has been winding down his campaign since his loss in California closed out the primary cycle.
Presumptive nominees Clinton and Trump were invited but declined to address the group, which angered its executive director Arturo Vargas.
"Secretary Clinton came to our conference last year the day of the South Carolina shooting," Vargas told BuzzFeed News. "Exactly a year later, now our community is also reeling from what happened in Orlando, all the more that we have to hear from her and from Trump," he added of the shooting that killed 49 at a gay club in Orlando.

In a statement the Clinton campaign said it "will continue to ramp up efforts to engage the Latino community through various platforms to discuss Clinton's plans to help Latino families and highlight how Trump is temperamentally unfit to be president" but did not address the NALEO conference.

Libertarian candidate Gary Johnson will also speak at the conference.
Vargas said both nominees during the recent presidential cycles — Obama and John McCain in 2008 and Obama and Mitt Romney in 2012, addressed the group.

Both Clinton and Sanders addressed NALEO last year, as well as Ben Carson. No other Repubican spoke at the event.
While Clinton has engaged in robust outreach to Hispanics during the campaign, including a text messaging program with thousands of Latinos signed up, Trump has done very little. He has been criticized for his rhetoric and hardline immigration policies, most recently, attacking a federal judge overseeing lawsuits against Trump University, because of his Mexican heritage.