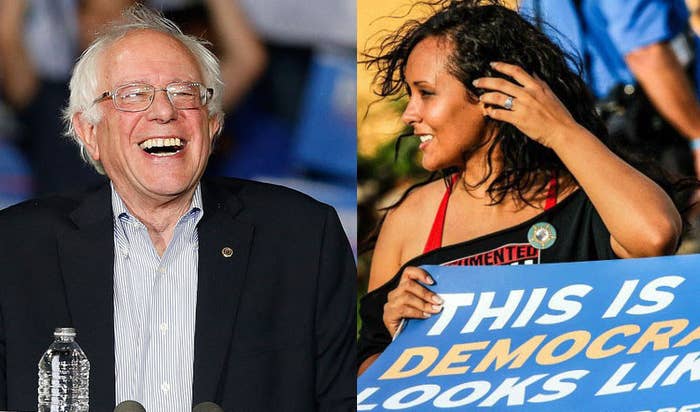 Erika Andiola, the most well-known immigration activist in the country, is joining the Bernie Sanders campaign, according to three sources with knowledge of the hire.
It's a big splash in the immigration movement, as Andiola is respected up and down the loosely connected advocacy apparatus that includes groups close to the Democratic establishment, groups far to the left, and undocumented immigrants in local communities, where Andiola has worked across the country.
Andiola joins her boyfriend Cesar Vargas, himself a high-profile DREAMer activist, who was hired by Sanders last week and will also focus on Latino outreach in the southwest states, with Nevada and its early caucus, a focal point.
Andiola declined to comment for the story.
But behind the scenes, she has been involved in the Democratic primary process for months, as each major campaign has reached out to her for suggestions and advice on immigration policy.
Before Hillary Clinton even announced that she was running for president, her National Political Director Amanda Renteria was talking to Andiola on the phone, and after Clinton's major spring event in May they exchanged emails for the campaign to connect with policy experts. The campaign would go on to hire another advocate, Lorella Praeli, from advocacy organization United We Dream, to lead Latino outreach.
Martin O'Malley's campaign and Director of Public Engagement Gabriela Domenzain also used Andiola, along with other activists, as a sounding board as they crafted their immigration policy.
Andiola has long explained that her objective during the cycle was to push Clinton, the presumed favorite for the Democratic nomination, to the left on immigration.
Now she joins Sanders, who has now hired a string of activists long-involved in immigration battles. In addition to Andiola and Vargas, the Sanders campaign recently hired Arturo Carmona of Presente to lead Latino outreach, and named Javier Gonzalez formerly of SEIU the campaign's Nevada field director.
"She is definitely one of the most well-known DREAMers and she has a huge community following in the undocumented and immigrant rights community," said Gaby Pacheco, herself a veteran of fights for immigration legislation over the last decade.
For Andiola, this reservoir of goodwill flows from her personal involvement in deportation cases for families, using her national celebrity to push for parents to get out of detention so they can be with their children or for prosecutorial discretion to be used to stop deportations.
In 2013, when her mother was taken in a nighttime raid, Andiola helped stop her deportation even though Maria Arreola was already on a bus headed toward the border.
"It's just a testament to the power of the individual, even if they're not able to vote, to have a voice," Pacheco said, noting how far activists have come with Praeli, Vargas, and Andiola now working on campaigns.
While Sanders has shown a real commitment to hiring immigration activists, he is also in catch-up mode when it comes to Hispanic voter engagement, name recognition among Latinos compared to Clinton, and organization in Nevada, where many of these hires will be focused.
Clinton, for example, has had operatives in place in Nevada since April. Sanders also has not been perfect on the issue in the minds of activists, who have criticized him for comments he made in 2007 and again this year.
As with other activists who have joined Democratic campaigns, Andiola now will become a target of advocates who aren't going to roll over just because one of their own now works for a candidate.

"When you join a campaign, you box yourself in and you can't be as critical an advocate," Pacheco said.