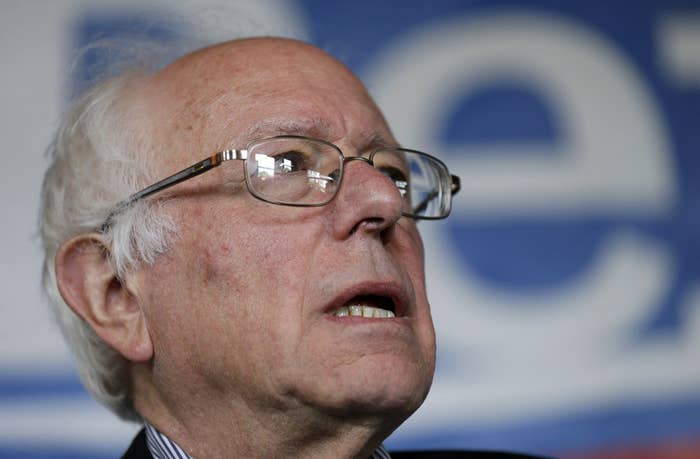 In a forceful speech at the NALEO conference of Latino elected officials in Las Vegas, Nevada, Friday, Democratic presidential candidate Bernie Sanders said he supports a path to citizenship and further executive action on immigration that would protect the parents of citizens, legal permanent residents, and the DREAMers.
Speaking to a noticeably sparser crowd than Hillary Clinton did in addressing the group Thursday, Sanders said undocumented workers are a critical part of the American economy and without them food production and agriculture would significantly decline.
"Despite the central role undocumented workers play in our economy and our lives these workers are too often reviled for political gain and shunted into the shadows," he said. "It's time to end the politics of division, playing one group against another group; White vs. black, male vs. female, straight vs. gay or native born vs. immigrant."
Sanders also said U.S. policy in Latin America has made issues worse, blaming the North American Free Trade Agreement (NAFTA), which he said he was proud to say he voted against.
"Supporters of NAFTA — I remember it like it was yesterday — said it would increase the standard of living in Mexico and stem the flow of undocumented immigrants into this country as a result, and I'm sad to say the opposite happened," Sanders said, adding that the number of Mexicans living under the poverty line has increased by 14 million since the agreement went into effect in 1994 during Bill Clinton's administration.
And Sanders took a shot at presidential opponent Hillary Clinton and others for their comments during the surge of unaccompanied minors from Central America last year.
Sanders said it was "appalling" to him when "so many voices were saying that these children should be sent back like a package marked return to sender."
In an interview with Jorge Ramos during the height of the surge last summer, Clinton said the children should be given as much love as possible but most, ultimately, should be sent back.
"America has always been a haven for the oppressed, we can not and should not shirk the historic role of the United States as a protector of people fleeing persecution," Sanders said.
On support for further executive actions on immigration, Sanders was following Clinton who surprised many by embracing more liberal immigration policies at an early May event in Nevada. He also struck a similar chord as Clinton on voting rights, training his sights on Republicans, and saying candidates should have the "guts" to stand up and argue for their positions to voters.
"Only cowards who can not defend their positions do things to lower voter turnout and suppress the vote," he said.
Republicans have embraced voter ID laws for years and both Clinton and Sanders have framed it as the GOP seeking to stop youth and minorities from voting.
Perhaps the loudest cheers came when Sanders thundered on his support for raising the minimum wage, saying that 1 out of every 4 Latinos live in poverty, 12 million people altogether, and that Hispanic children have a 1 in 3 chance of living in poverty. Many of those people, he argued, work two or three jobs.
"If we're going to improve the lives of Americans, we need to raise the minimum wage, which at $7.25, frankly speaking, is a starvation wage," he said.
Sanders has recently faced criticism over not talking more about immigration, which led him to add more on the issue to his stump speech.
Last week, Democratic Rep. Luis Gutierrez said, "I don't know if he likes immigrants because he doesn't seem to talk about immigrants."
That changed Friday, as he weaved the story of his Polish immigrant family with the story of the largely Latino crowd in front of him.
"Your story, our story is the story of America and we should be proud of that story," he said. "A story rooted in family and fueled by hope."