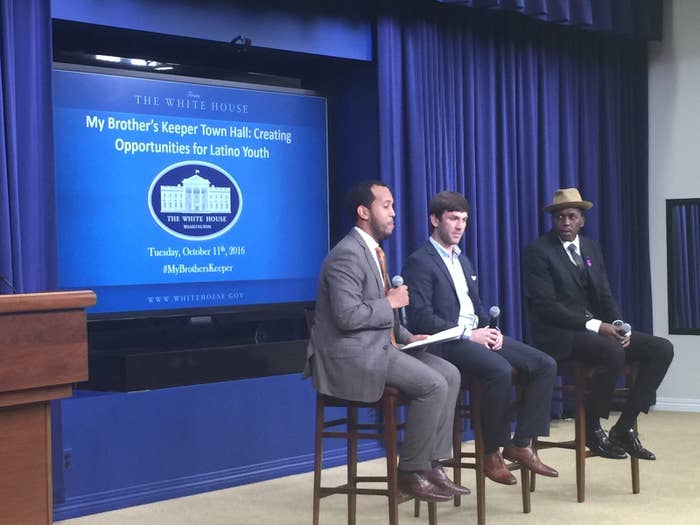 WASHINGTON — As President Obama talked about the importance of family and mentorship during a town hall at North Carolina A&T State University where most of the crowd was black, more than 100 Latino youth at the White House were the first outside the university to see the remarks.
Obama was there to talk about the success of one of his signature programs, My Brother's Keeper, an effort to increase mentorship to black and brown boys across the country. While the events have previously incorporated Hispanic youth, their focus has primarily been on black young men, along with the stars brought in to meet with them, like rapper Kendrick Lamar and NBA star Stephen Curry.
Tuesday's White House event was the first My Brother's Keeper event focused on Latino kids, featuring NBA Cares ambassador Felipe Lopez and NASCAR's Daniel Suarez, a 2015 NASCAR rookie of the year.
The focus on mentorship for them, "is also important because the Latino community is growing so quickly," HUD Secretary Julián Castro told BuzzFeed News after addressing the audience, noting that 25% of youth in the country under 18 are Hispanic. The difference between engaging black and Latino youth was also on display with language and immigration coming up from the speakers and the audience.
Suarez stressed to the kids that five years ago, he wasn't even in the country, and didn't speak English. Despite the hard journey into NASCAR and American racing he told the students learning English on his own was one of his biggest accomplishments.
Lopez, who brought 25 students from the Bronx, Queens, and Manhattan, said he had a bad story and a good story about his background and his journey in the U.S. after coming from the Dominican Republic at the age of 14.
Towering over every other student in eighth grade, he didn't speak English but he knew he could dunk, which gave him confidence. When students came up to him and said, "Felipe, you dumb?" He threw down a thundering fake dunk and answered affirmatively that yes, he was dumb, confusing the two words.
Years later, during his five year career in the NBA, he said Venezuelans, Colombians, Dominicans, Mexicans, Puerto Ricans, all different ethnicities, knew who he was and were drawn to him because of a sense of shared Latino culture.
My Brother's Keeper, which aimed to get 25,000 mentors in five years, accomplished the goal in just two years and Obama clearly views it as an important part of his legacy as president.
At the town hall, he said that when he was elected he needed to stabilize the economy and end two wars. But after that he wanted to focus on helping disadvantaged communities that needed help even before the recession, and My Brother's Keeper was born after the racially charged death of Trayvon Martin.
Answering a question about being a good parent from a young black mother, Obama said the message he had was more for her husband. He recalled a time he begged off a basketball game with friends because he had to "babysit" his daughter Malia. When he got off the phone Michelle Obama shot back, "you know if it's your own child, it's not babysitting."
He quickly learned about the level of responsibility and commitment needed to be a good man and good father, he said, a lesson that was simultaneously being delivered to the Latino teens and college students in Washington.
While My Brother's Keeper isn't perfect (Latino leaders have noted that the program doesn't translate well into Spanish, affecting community involvement and lack of media coverage), it has also had its agencies like the Department of Education key into issues like disproportionate suspensions of black and Latino students — as early as preschool — for the same infractions white boys were not being suspended for.
When it was time for questions from the students, Castro was asked if he ever was a victim of racism, and he said it was never overt, but more a feeling that some type of prejudice was perhaps behind the way people viewed him or spoke to him after he left predominantly Latino San Antonio to go to college.
He was asked advice on pushing an in-state tuition bill for students that had benefitted from Obama's DACA immigration program in deeply conservative Tennessee and said an argument on the economic benefits in other states like Texas that had passed in-state tuition might work.
Afterwards, Castro said that his hope would be that the program is continued in the next administration.
"This has been an effective initiative, it provides good mentorship for young people who often feel like they don't know where to turn because nobody in their family has been an engineer, or a doctor or a lawyer or a business owner," he said. "This kind of initiative makes sense for any president and my hope is that it will continue into the next administration."
For the students, who heard a lot about mentorship, race, language and immigration at the event, just being around people like them was a blast.
At one point, two Latinas towards the back of the audience who met for the first time at the event, made a breakthrough.
"Are you Salvadoran?!" one girl exclaimed, the other nodding, excitedly. "I'm Salvadoran!" the first said, as they high-fived.