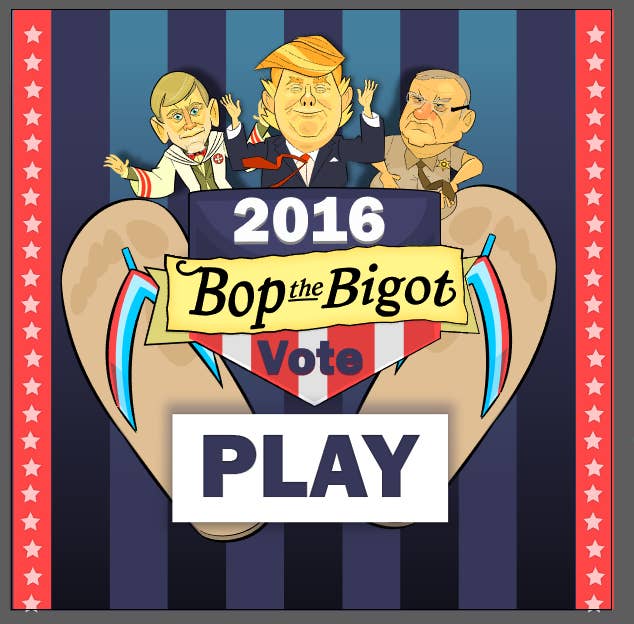 The election may almost be over, but not before you can hit Donald Trump, Joe Arpaio, and David Duke with a chancla (sandal) as was promised.

Bazta Arpaio, a group of Arizona activists trying to finally defeat controversial Maricopa County Sheriff Joe Arpaio and tie him to Trump, contacted game developer Kojo Kumah and illustrator Matthew Moss of Touch Touch Studio to create Bop the Bigot, an online game where the three men get thwacked.
It is a meme that Latino kids are familiar with the threat of an airborne sandal (chancla) from their exasperated mother or abuela.
"The chancla takes everybody back to when you weren't acting right so your grandma would take care of you," said the respected community activist Carlos Garcia who leads the Bazta Arpaio efforts. "It's something connected to our childhood, but it's something that comes out when things are serious, everyone knows what the flying chancla is."

Duke, a former grandmaster of the Ku Klux Klan and Arpaio, who was found to be racially profiling Latinos by a judge that ordered him to stop (he didn't, which again sent him to court), supported Trump early. Trump has been criticized for his support from white nationalists, who he has disavowed, albeit in a waffling way. Arpaio — whose immigration views have been echoed by the Republican nominee — was given a plum speaking engagement at the GOP convention.
"We hope this gives people a fun outlet for the frustration and anger these candidates' racism causes and that it motivates them to get out to the polls on election day," Bazta Arpaio spokesman B. Loewe said.
Bazta Arpaio, a play on Stop Arpaio in Spanish, is one of the efforts driven by young Latinos and immigrants to take on the specter of both Trump and the hardline sheriff winning in Arizona. They have 100 people knocking on doors, phone banking, and planning rallies and events in Maricopa County ahead of election day.