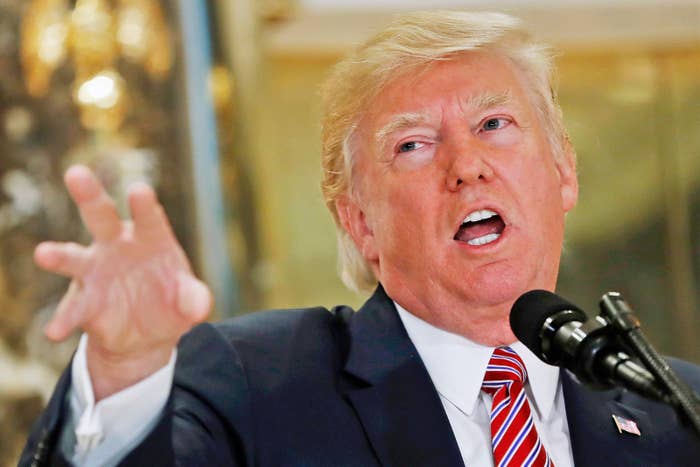 President Trump was supposed to talk about infrastructure in Manhattan on Tuesday afternoon. Instead, he vehemently defended white supremacists, sending shockwaves through the Republican Party and his own administration.

"Beyond being wrong, it is just another totally needless, self-inflicted wound," said a source close to the administration. The source added that new White House chief of staff John Kelly, who was supposed to tighten up a flailing operation, "will be seen as having failed his first test. Fair or unfair."
Trump began lashing out nearly as soon as his infrastructure press conference began, surrounded in his Trump Tower lobby by reporters who had sharp questions about why he waited 48 hours to denounce Saturday's white supremacist rally in Charlottesville, Virginia, which led to dozens of injuries and the deaths of a young woman and two police officers.
"What about the alt-left that came charging at the, as you say, alt-right?" Trump said. "Do they have any semblance of guilt? What about the fact they came charging with clubs in their hands? As far as I'm concerned that was a horrible, horrible day."

Trump said that while he condemns neo-Nazis, "not all" of the people who attended Saturday's white nationalist rally were "white supremacists, by any stretch." And he went on a tangent about how marchers were upset about the removal of a confederate statue of Robert E. Lee, and asked if statues of George Washington were next.
"It's fine, you're changing history, you're changing culture," he said.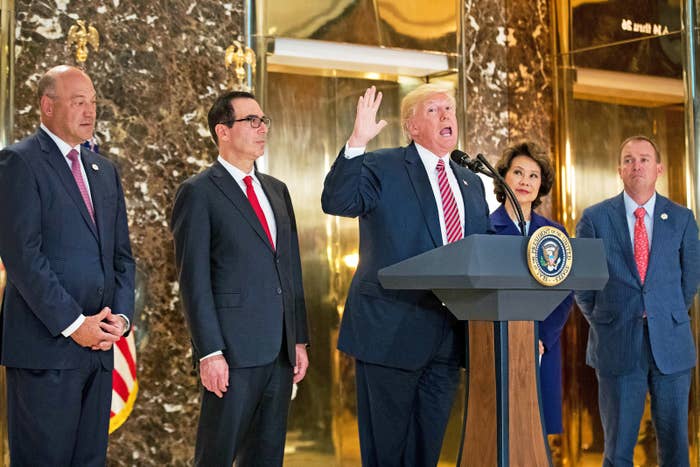 Trump's initial Charlottesville comments Saturday about "many sides" being responsible for the violence drove some congressional Republicans to explicitly and publicly break with the president during a serious domestic crisis. Now, with Trump forcefully digging in on those comments, his policy agenda and political relationships with his own party are wavering.
"All of this racial hatred and bigotry, no matter where it manifests itself, is an impediment to the country moving forward and the government being able to conduct its business," said another source close to the administration, who added that the current divisive mood only makes it harder for Trump to push through his agenda.
Republicans wearily looking at that faltering legislative agenda, and hoping that Trump can focus on pursuing it, are perplexed and reeling.

"I don't understand what's so hard about this," said Rep. Steve Stivers, chair of the National Republican Congressional Committee, in a statement after the president's press conference. "White supremacists and Neo-Nazis are evil and shouldn't be defended."
"I'm baffled," said one GOP strategist Tuesday afternoon. "Truly mind-boggling," said a House Republican aide.
"We are not a party that embraces any form of racism, we have no tolerance for that, and we need to make that clear, no matter what the president is thinking, or no matter what his statements may be," said Clarence Mingo, a candidate for Ohio state treasurer and the state's only black delegate to the 2012 Republican National Convention.
"I am no longer looking at the president to lead on this issue," he said.
"If you are a conservative Republican and you refuse to call Nazism a form of hate and something that should be repudiated, then I am not sure that your standing should be in our party," he added.
Several Republicans had already called out Trump over the weekend for not denouncing white supremacists in his original comments after Saturday's car attack. Trump appeased some of those Republicans two days later with a revised statement, but after his comments Tuesday, GOP lawmakers reignited their criticism.

Home for August recess, many Republican members of Congress took to Twitter or television to sideswipe the president for his latest rhetoric.
"We must be clear. White supremacy is repulsive. This bigotry is counter to all this country stands for. There can be no moral ambiguity," House Speaker Paul Ryan tweeted.

"'Very fine people' do not participate in rallies with groups chanting racist and anti-Semitic slogans and displaying vile symbols of hate," tweeted Michigan Republican Rep. Justin Amash.
Texas GOP Rep. Will Hurd on CNN called on Trump to apologize following the press conference. "Racism, bigotry, anti-Semitism of any form is unacceptable," he said. "The leader of the free world should be unambiguous about that."

Florida Sen. Marco Rubio, who had been one of the senators over the weekend to push the president to single out racist groups, asked that Trump not "allow #WhiteSupremacists to share only part of blame," in a series of tweets Tuesday. "They support idea which cost nation & world so much pain," he wrote.
A spokesman for Senate Majority Leader Mitch McConnell declined to comment on Trump's comments at the press conference Tuesday, and the senator did not issue a statement until Wednesday morning in response to a planned white supremacist rally in Kentucky. "The white supremacist, KKK, and neo-nazi groups who brought hatred and violence to Charlottesville are not planning a rally in Lexington," he said. "Their messages of hate and bigotry are not welcome in Kentucky and should not be welcome anywhere in America."
While he didn't directly address the president or his remarks, he added, "There are no good neo-nazis, and those who espouse their views are not supporters of American ideals and freedoms. We all have a responsibility to stand against hate and violence, wherever it raises its evil head."

Josh Holmes, a former close aide to McConnell, meanwhile said on Twitter Tuesday that Trump's latest comments are "unbelievable."
"I think Congress is exhausted in terms of one step forward, two steps back," said a House GOP aide.
"There's things out there that could be real wins, but every time we kind of try to get there, something like this happens, an unforced error that everybody's gotta spend a couple of weeks trying to make sense out of," the aide added.
But Republicans on and off the Hill acknowledge that they still need the president to pass their legislative agenda, and his latest comments are unlikely to radically alter how Republicans treat the president.
Michael Steel, a former aide to former House speaker John Boehner and presidential candidate Jeb Bush, told BuzzFeed News, "Honestly, congressional Republicans have been forced to deal with unhelpful remarks from candidate and then president Trump for two years now. They are, sadly, used to it."

"There's always going to be noise, and stresses, and difficulties," said Arizona Rep. David Schweikert, a Republican member of the Ways and Means Committee. "And we also have to just accept in this political environment, we just have to sort of, those of us who have the responsibility of writing tax reform, have to hunker down and just do our job."
Schweikert said when something bad happens in the world, it's right to "show the appropriate outrage. Have your heart sink a bit in disgust. And, once you have some things in perspective, then it's a chance to maybe try to understand what's going on through our modern-day politics"
Another House Republican aide said the relationship between the president and congressional Republicans "will continue to be one of convenience." For years, Republicans have been working to pass legislative priorities like tax reform, something that is particularly dear to Ryan. "He's not going to let one of another in a string of comments get in the way of one of his lifetime goals," the aide predicted.

The aide noted that his own boss has focused on condemning the white supremacist and neo-Nazi groups involved, and avoided commenting on the president's rhetoric. "We have learned very quickly we can't come out and condemn everything the president does. We largely have to set our own course. We're responsible for what we say, and that's it. Legislatively, we're responsible for what we pass, and that's it," the aide said.
A Republican Senate strategist echoed that point, saying, "Republicans in Congress believe they have a job to do" and don't want to "waste this opportunity" to enact their policy priorities.
But Trump's comments on Charlottesville, the strategist said, have only been harmful to that effort.

"If he actually wants those things, why doesn't he act like it?" the Senate strategist exclaimed. "I mean, how many times have we had an infrastructure press conference at the head of an infrastructure week where he's talked about everything but? It's lunacy."
Republicans acknowledge they need Trump to be an effective advocate for their priorities if they are to succeed. "The fact that he can't hit a softball is devastatingly bad," a Republican strategist working on tax reform lamented. "But you can't get major legislation through with the president sitting on the sidelines, either."

"Whether the president is interested in participating is up to him. But it's gonna be very hard to get something passed without his help," the Senate strategist said.
How useful that help will be when the president has proven to be prone to turning policy statements into off-topic media circuses is an open question.
It was immediately easy for Republicans to see that Trump's Tuesday press conference had gone wildly off the rails, with a picture of Kelly going around Twitter of him listening, hands clasped and looking down, standing off to the right of the elevator banks, away from other aides.
"Maybe he had no idea," one of the sources close to the administration said of Kelly. "Either way, that's the point though, isn't it?"
And some worry that this, like so many of Trump's other comments, will eventually just be swept away in the flurry that surrounds this presidency.
"It's the next story, it's the next thing, it's the next thing," said one Republican strategist. "This'll be wiped off in two months, and he'll still be doing stupid shit."
Henry Gomez contributed additional reporting to this story.

Outside Your Bubble is a BuzzFeed News effort to bring you a diversity of thought and opinion from around the internet. If you don't see your viewpoint represented, contact the curator at bubble@buzzfeed.com. Click here for more on Outside Your Bubble.